It is rainy and gloomy this morning on the east coast, and more specifically South Jersey. It was drizzling, but I got the mower out and trimmed the front lawn and side field before it started to come down a little harder.
Then I moved onto do a little bit of trenching. My backyard floods when it rains hard, so having some water on the grounds helps me to see where I need to trench from. I was very careful, because of my back, and just moved slow and easy. I got about 10ft of trench 1 ft of depth. I'm really just trying to get the surface water into the woods behind my house so my dogs and outside cats don't have to traverse the swamp that happens when it rains.
So after all that it took a bit of willpower to get on the treadmill and stay there. It helped motivate me that I didn't make weight this week, even if it was just by 0.1 lbs, but goals are goals, and I didn't make it.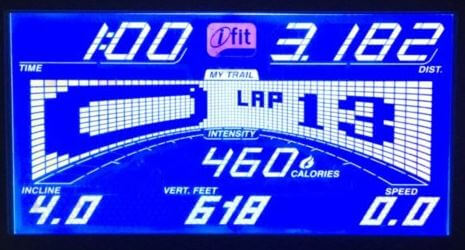 | Day | Date | Distance | Exercise Type |
| --- | --- | --- | --- |
| 231 | 8/15/2022 | 4.51 | Stationary Bike |
| 230 | 8/14/2022 | 5.18 | Walk |
| 229 | 8/9/2022 | 4.52 | Stationary Bike |
| 228 | 8/8/2022 | 4.98 | Stationary Bike |
| 226 | 7/31/2022 | 5.16 | Walk |
| 225 | 7/27/2022 | 4.78 | Stationary Bike |
| 224 | 7/26/2022 | 4.68 | Stationary Bike |
| 223 | 7/24/2022 | 3.800 | Walk |
| 222 | 7/17/2022 | 3.920 | Walk/Run |
| 221 | 7/10/2022 | 4.48 | Walk/Run |
| 220 | 7/6/2022 | 4.39 | Stationary Bike |
| 219 | 7/4/2022 | 3.984 | Walk/Run |
| 218 | 7/3/2022 | 3.327 | Walk/Run |
| 217 | 7/2/2022 | 1.866 | Walk/Run |
| 216 | 6/26/2022 | 1.905 | Walk/Run |
| 215 | 6/20/2022 | 3.884 | Walk/Run |
| 214 | 6/16/2022 | 3.94 | Stationary Bike |
| 213 | 6/15/2022 | 6.78 | Stationary Bike |
| 212 | 6/14/2022 | 1.075 | Walk/Run |
| 211 | 6/13/2022 | 7.08 | Stationary Bike |
| 210 | 6/10/2022 | 6.74 | Stationary Bike |
| 209 | 6/7/2022 | 5.58 | Stationary Bike |
| 208 | 6/6/2022 | 5.18 | Stationary Bike |
| 207 | 6/5/2022 | 3.327 | Walk/Run |
| 206 | 6/1/2022 | 4.96 | Stationary Bike |
| 205 | 5/31/2022 | 4.72 | Stationary Bike |
| 204 | 5/31/2022 | 1.067 | Walk/Run |
| 203 | 5/30/2022 | 3.328 | Walk/Run |
| 202 | 5/25/2022 | 4.14 | Stationary Bike |
| 201 | 5/23/2022 | 3.93 | Stationary Bike |
| 200 | 5/22/2022 | 3.43 | Stationary Bike |
| 200 | 5/22/2022 | 1.894 | Walk/Run |
| 199 | 5/18/2022 | 6.38 | Stationary Bike |
| 198 | 5/15/2022 | 2.87 | Stationary Bike |
| 198 | 5/15/2022 | 1.929 | Walk/Run |
| 197 | 4/26/2022 | 6.70 | Stationary Bike |
| 196 | 4/25/2022 | 5.96 | Stationary Bike |
| 195 | 4/24/2022 | 2.86 | Stationary Bike |
| 194 | 4/11/2022 | 1.875 | Walk/Run |
| 193 | 3/20/2022 | 1.790 | Walk/Run |
| 192 | 3/13/2022 | 1.917 | Walk/Run |
| 191 | 3/6/2022 | 2.195 | Walk/Run |
| 190 | 2/19/2022 | 1.000 | Walk/Run |
| 189 | 1/2/2022 | 5.095 | Walk/Run |
| 188 | 1/1/2022 | 4.754 | Walk/Run |
| 187 | 12/26/2021 | 2.225 | Walk/Run |
| 186 | 12/12/2021 | 3.819 | Walk/Run |
| 185 | 12/5/2021 | 1.776 | Walk/Run |
| 184 | 11/28/2021 | 4.278 | Walk/Run |
| 183 | 11/21/2021 | 1.882 | Walk/Run |
| 182 | 10/24/2021 | 4.423 | Walk/Run |
| 181 | 10/17/2021 | 3.400 | Walk/Run |
| 180 | 9/12/2021 | 4.933 | Walk/Run |
| 179 | 9/6/2021 | 4.684 | Walk/Run |
| 178 | 8/29/2021 | 4.524 | Walk/Run |
| 177 | 8/22/2021 | 4.233 | Walk/Run |
| 176 | 8/21/2021 | 1.831 | Walk/Run |
| 175 | 8/17/2021 | 4.076 | Walk/Run |
| 174 | 8/15/2021 | 3.915 | Walk/Run |
| 173 | 8/11/2021 | 3.161 | Walk/Run |
| 172 | 8/8/2021 | 3.225 | Walk/Run |
| 171 | 8/1/2021 | 1.799 | Walk/Run |
| 170 | 6/6/2021 | 3.660 | Walk/Run |
| 169 | 5/23/2021 | 3.660 | Walk/Run |
| 168 | 4/182021 | 1.700 | Walk/Run |
| 167 | 4/17/2021 | 1.700 | Walk/Run |
| 166 | 4/16/2021 | 1.0 | Walk/Run |
| 165 | 5/4/2021 | 1.700 | Walk/Run |
| 164 | 5/3/2021 | 1.700 | Walk/Run |
| 163 | 4/28/2021 | 3.660 | Walk/Run |
| 162 | 4/25/2021 | 3.660 | Walk/Run |
| 161 | 4/20/2021 | 3.660 | Walk/Run |
| 160 | 4/13/2021 | 3.660 | Walk/Run |
| 159 | 4/12/2021 | 2.610 | Walk/Run |
| 158 | 4/11/2021 | 3.060 | Walk/Run |
| 157 | 4/10/2021 | 3.060 | Walk/Run |
| 156 | 4/8/2021 | 3.060 | Walk/Run |
| 155 | 4/6/2021 | 3.060 | Walk/Run |
| 154 | 4/5/2021 | 1.005 | Walk/Run |
| 153 | 3/27/2021 | 3.660 | Walk/Run |
| 152 | 3/24/2021 | 4.070 | Walk/Run |
| 151 | 3/22/2021 | 3.060 | Walk/Run |
| 150 | 3/15/2021 | 4.000 | Walk/Run |
| 149 | 3/13/2021 | 3.920 | Walk/Run |
| 148 | 3/10/2021 | 3.850 | Walk/Run |
| 147 | 3/7/2021 | 3.800 | Walk/Run |
| 146 | 3/5/2021 | 3.750 | Walk/Run |
| 145 | 3/3/2021 | 3.700 | Walk/Run |
| 144 | 3/1/2021 | 3.650 | Walk/Run |
| 143 | 2/27/2021 | 3.600 | Walk/Run |
| 142 | 2/25/2021 | 3.550 | Walk/Run |
| 141 | 2/23/2021 | 3.500 | Walk/Run |
| 140 | 2/21/2021 | 3.440 | Walk/Run |
| 139 | 2/20/2021 | 3.385 | Walk/Run |
| 138 | 2/17/2021 | 3.330 | Walk/Run |
| 137 | 2/16/2021 | 3.275 | Walk/Run |
| 136 | 2/15/2021 | 3.225 | Walk/Run |
| 135 | 2/13/2021 | 3.170 | Walk/Run |
| 134 | 2/12/2021 | 3.130 | Walk/Run |
| 133 | 2/10/2021 | 4.610 | Walk/Run |
| 132 | 2/9/2021 | 4.530 | Walk/Run |
| 131 | 2/7/2021 | 4.480 | Walk/Run |
| 130 | 2/6/2021 | 4.425 | Walk/Run |
| 129 | 2/3/2021 | 4.375 | Walk/Run |
| 128 | 1/28/2021 | 4.320 | Walk/Run |
| 127 | 1/27/2021 | 4.271 | Walk/Run |
| 126 | 1/26/2021 | 4.220 | Walk/Run |
| 125 | 1/24/2021 | 4.165 | Walk/Run |
| 124 | 1/23/2021 | 4.110 | Walk/Run |
| 123 | 1/20/2021 | 4.110 | Walk/Run |
| 122 | 1/17/2021 | 4.060 | Walk/Run |
| 121 | 1/16/2021 | 4.010 | Walk/Run |
| 120 | 1/14/2021 | 3.960 | Walk/Run |
| 119 | 1/10/2021 | 3.910 | Walk/Run |
| 118 | 1/9/2021 | 3.850 | Walk/Run |
| 117 | 1/6/2021 | 3.801 | Walk/Run |
| 116 | 1/5/2021 | 3.750 | Walk/Run |
| 115 | 1/3/2021 | 3.700 | Walk/Run |
| 114 | 1/1/2021 | 3.655 | Walk/Run |
| 113 | 12/31/2020 | 3.600 | Walk/Run |
| 112 | 12/29/2020 | 3.540 | Walk/Run |
| 111 | 12/27/2020 | 3.490 | Walk/Run |
| 110 | 12/25/2020 | 3.440 | Walk/Run |
| 109 | 12/24/2020 | 3.380 | Walk/Run |
| 108 | 12/23/2020 | 3.335 | Walk/Run |
| 107 | 12/22/2020 | 3.285 | Walk/Run |
| 106 | 12/21/2020 | 3.235 | Walk/Run |
| 105 | 12/18/2020 | 3.250 | Walk/Run |
| 104 | 12/17/2020 | 3.181 | Walk/Run |
| 103 | 12/16/2020 | 3.100 | Walk/Run |
| 102 | 12/15/2020 | 3.021 | Walk/Run |
| 101 | 12/14/2020 | 4.45 | Walk/Run |
| 100 | 12/12/2020 | 4.400 | Walk/Run |
| 99 | 12/9/2020 | 4.350 | Walk/Run |
| 98 | 12/8/2020 | 4.300 | Walk/Run |
| 97 | 12/6/2020 | 4.250 | Walk/Run |
| 96 | 12/5/2020 | 4.200 | Walk/Run |
| 95 | 12/3/2020 | 4.150 | Walk/Run |
| 94 | 12/2/2020 | 4.100 | Walk/Run |
| 93 | 12/1/2020 | 4.005 | Walk/Run |
| 92 | 11/29/2020 | 4.000 | Walk/Run |
| 91 | 11/28/2020 | 3.500 | Walk/Run |
| 90 | 11/27/2020 | 3.950 | Walk/Run |
| 89 | 11/25/2020 | 3.900 | Walk/Run |
| 88 | 11/24/2020 | 3.850 | Walk/Run |
| 87 | 11/23/2020 | 3.800 | Walk/Run |
| 86 | 11/21/2020 | 3.750 | Walk/Run |
| 85 | 11/19/2020 | 3.639 | Walk/Run |
| 84 | 11/17/2020 | 3.650 | Walk/Run |
| 83 | 11/16/2020 | 3.600 | Walk/Run |
| 82 | 11/15/2020 | 3.550 | Walk/Run |
| 81 | 11/13/2020 | 3.500 | Walk/Run |
| 80 | 11/12/2020 | 3.451 | Walk/Run |
| 79 | 11/11/2020 | 3.408 | Walk/Run |
| 78 | 11/9/2020 | 3.350 | Walk/Run |
| 77 | 11/8/2020 | 3.300 | Walk/Run |
| 76 | 11/7/2020 | 3.250 | Walk/Run |
| 75 | 11/4/2020 | 3.200 | Walk/Run |
| 74 | 11/2/2020 | 3.145 | Walk/Run |
| 73 | 11/1/2020 | 3.081 | Walk/Run |
| 72 | 10/31/2020 | 3.052 | Walk/Run |
| 71 | 10/28/2020 | 3.050 | Walk/Run |
| 70 | 10/27/2020 | 2.966 | Walk/Run |
| 69 | 10/25/2020 | 2.885 | Walk/Run |
| 68 | 10/24/2020 | 2.849 | Walk/Run |
| 67 | 10/22/2020 | 2.812 | Walk/Run |
| 66 | 10/21/2020 | 2.754 | Walk/Run |
| 65 | 10/20/2020 | 2.699 | Walk/Run |
| 64 | 10/18/2020 | 2.625 | Walk/Run |
| 63 | 10/17/2020 | 2.557 | Walk/Run |
| 62 | 10/13/2020 | 2.427 | Walk/Run |
| 61 | 10/10/2020 | 2.276 | Walk/Run |
| 60 | 10/8/2020 | 2.159 | Walk/Run |
| 59 | 10/7/2020 | 2.126 | Walk/Run |
| 58 | 10/4/2020 | 2.00 | Walk/Run |
| 57 | 7/16/2020 | 2.418 | Walk/Run |
| 56 | 7/13/2020 | 2.347 | Walk/Run |
| 55 | 7/11/2020 | 2.697 | Walk/Run |
| 54 | 7/10/2020 | 2.595 | Walk/Run |
| 53 | 7/8/2020 | 2.515 | Walk/Run |
| 52 | 7/7/2020 | 2.498 | Walk/Run |
| 51 | 7/6/2020 | 2.427 | Walk/Run |
| 50 | 6/30/2020 | 2.431 | Walk/Run |
| 49 | 6/24/2020 | 2.435 | Walk/Run |
| 48 | 6/4/2020 | 3.470 | Walk/Run |
| 47 | 6/2/2020 | 3.403 | Walk/Run |
| 46 | 6/1/2020 | 3.397 | Walk/Run |
| 45 | 5/31/2020 | 3.187 | Walk/Run |
| 44 | 5/28/2020 | 3.510 | Walk/Run |
| 43 | 5/26/2020 | 3.317 | Walk/Run |
| 42 | 5/25/2020 | 3.434 | Walk/Run |
| 41 | 5/24/2020 | 3.220 | Walk/Run |
| 40 | 5/18/2020 | 2.467 | Walk/Run |
| 39 | 5/17/2020 | 2.628 | Walk/Run |
| 38 | 5/16/2020 | 3.077 | Walk/Run |
| 37 | 5/14/2020 | 2.754 | Walk/Run |
| 36 | 5/13/2020 | 3.332 | Walk/Run |
| 35 | 5/12/2020 | 2.955 | Walk/Run |
| 34 | 5/11/2020 | 3.271 | Walk/Run |
| 33 | 5/10/2020 | 3.122 | Walk/Run |
| 32 | 5/7/2020 | 3.174 | Walk/Run |
| 31 | 5/5/2020 | 3.116 | Walk/Run |
| 30 | 5/4/2020 | 3.336 | Walk/Run |
| 29 | 4/30/2020 | 2.269 | Walk/Run |
| 28 | 4/27/2020 | 2.291 | Walk/Run |
| 27 | 4/26/2020 | 3.356 | Walk/Run |
| 26 | 4/24/2020 | 3.304 | Walk/Run |
| 25 | 4/22/2020 | 3.265 | Walk/Run |
| 24 | 4/21/2020 | 3.301 | Walk/Run |
| 23 | 4/20/2020 | 3.173 | Walk/Run |
| 22 | 4/19/2020 | 3.271 | Walk/Run |
| 21 | 4/18/2020 | 3.182 | Walk/Run |
| 20 | 4/16/2020 | 3.208 | Walk/Run |
| 19 | 4/15/2020 | 3.148 | Walk/Run |
| 18 | 4/12/2020 | 3.156 | Walk/Run |
| 17 | 4/11/2020 | 3.129 | Walk/Run |
| 16 | 4/9/2020 | 3.083 | Walk/Run |
| 15 | 4/8/2020 | 3.092 | Walk/Run |
| 14 | 4/6/2020 | 2.642 | Walk/Run |
| 13 | 4/5/2020 | 2.956 | Walk/Run |
| 12 | 4/1/2020 | 3.082 | Walk/Run |
| 11 | 3/30/2020 | 3.039 | Walk/Run |
| 10 | 3/29/2020 | 3.008 | Walk/Run |
| 9 | 3/28/2020 | 2.750 | Walk/Run |
| 8 | 3/24/2020 | 3.116 | Walk/Run |
| 7 | 3/22/2020 | 3.103 | Walk/Run |
| 6 | 3/21/2020 | 3.098 | Walk/Run |
| 5 | 3/20/2020 | 3.009 | Walk/Run |
| 4 | 3/16/2020 | 3.501 | Walk/Run |
| 3 | 3/13/2020 | 3.445 | Walk/Run |
| 2 | 3/11/2020 | 3.390 | Walk/Run |
| 1 | 3/9/2020 | 3.171 | Walk/Run |