I'm halfway to making my three day streak a reality. It's supposed to rain here Saturday so I want to get on the treadmill tomorrow, then do yard work on Friday.
Overall felt really good today, some minor lower back aching, but nothing that really bothered me, and my right thigh only had one short bit of pain.
My stretching is mostly unchanged, but I am able to get my finger tip to the bottoms of my kneecaps now.
The thing I have to put the most effort into is the Cross Crunches. I'm sad, and amazed how such a basic movement takes my breath away, and how much my core complains. I guess that tells me I need to keep doing them though. I was able to get 40 in today but took breaks between each set of 10.
Standing Touch My Toes Stretch: Finger Tips at Bottom of Kneecap
Stretch Straps: 35 Degrees
Cross Crunches: 40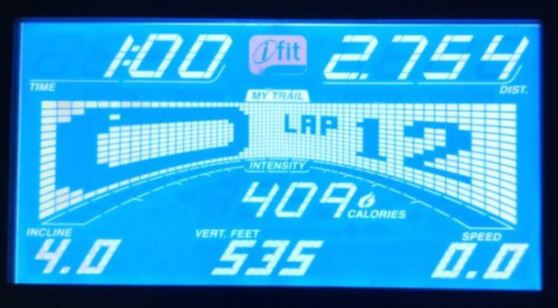 | Day | Date | Distance | Exercise Type |
| --- | --- | --- | --- |
| 231 | 8/15/2022 | 4.51 | Stationary Bike |
| 230 | 8/14/2022 | 5.18 | Walk |
| 229 | 8/9/2022 | 4.52 | Stationary Bike |
| 228 | 8/8/2022 | 4.98 | Stationary Bike |
| 226 | 7/31/2022 | 5.16 | Walk |
| 225 | 7/27/2022 | 4.78 | Stationary Bike |
| 224 | 7/26/2022 | 4.68 | Stationary Bike |
| 223 | 7/24/2022 | 3.800 | Walk |
| 222 | 7/17/2022 | 3.920 | Walk/Run |
| 221 | 7/10/2022 | 4.48 | Walk/Run |
| 220 | 7/6/2022 | 4.39 | Stationary Bike |
| 219 | 7/4/2022 | 3.984 | Walk/Run |
| 218 | 7/3/2022 | 3.327 | Walk/Run |
| 217 | 7/2/2022 | 1.866 | Walk/Run |
| 216 | 6/26/2022 | 1.905 | Walk/Run |
| 215 | 6/20/2022 | 3.884 | Walk/Run |
| 214 | 6/16/2022 | 3.94 | Stationary Bike |
| 213 | 6/15/2022 | 6.78 | Stationary Bike |
| 212 | 6/14/2022 | 1.075 | Walk/Run |
| 211 | 6/13/2022 | 7.08 | Stationary Bike |
| 210 | 6/10/2022 | 6.74 | Stationary Bike |
| 209 | 6/7/2022 | 5.58 | Stationary Bike |
| 208 | 6/6/2022 | 5.18 | Stationary Bike |
| 207 | 6/5/2022 | 3.327 | Walk/Run |
| 206 | 6/1/2022 | 4.96 | Stationary Bike |
| 205 | 5/31/2022 | 4.72 | Stationary Bike |
| 204 | 5/31/2022 | 1.067 | Walk/Run |
| 203 | 5/30/2022 | 3.328 | Walk/Run |
| 202 | 5/25/2022 | 4.14 | Stationary Bike |
| 201 | 5/23/2022 | 3.93 | Stationary Bike |
| 200 | 5/22/2022 | 3.43 | Stationary Bike |
| 200 | 5/22/2022 | 1.894 | Walk/Run |
| 199 | 5/18/2022 | 6.38 | Stationary Bike |
| 198 | 5/15/2022 | 2.87 | Stationary Bike |
| 198 | 5/15/2022 | 1.929 | Walk/Run |
| 197 | 4/26/2022 | 6.70 | Stationary Bike |
| 196 | 4/25/2022 | 5.96 | Stationary Bike |
| 195 | 4/24/2022 | 2.86 | Stationary Bike |
| 194 | 4/11/2022 | 1.875 | Walk/Run |
| 193 | 3/20/2022 | 1.790 | Walk/Run |
| 192 | 3/13/2022 | 1.917 | Walk/Run |
| 191 | 3/6/2022 | 2.195 | Walk/Run |
| 190 | 2/19/2022 | 1.000 | Walk/Run |
| 189 | 1/2/2022 | 5.095 | Walk/Run |
| 188 | 1/1/2022 | 4.754 | Walk/Run |
| 187 | 12/26/2021 | 2.225 | Walk/Run |
| 186 | 12/12/2021 | 3.819 | Walk/Run |
| 185 | 12/5/2021 | 1.776 | Walk/Run |
| 184 | 11/28/2021 | 4.278 | Walk/Run |
| 183 | 11/21/2021 | 1.882 | Walk/Run |
| 182 | 10/24/2021 | 4.423 | Walk/Run |
| 181 | 10/17/2021 | 3.400 | Walk/Run |
| 180 | 9/12/2021 | 4.933 | Walk/Run |
| 179 | 9/6/2021 | 4.684 | Walk/Run |
| 178 | 8/29/2021 | 4.524 | Walk/Run |
| 177 | 8/22/2021 | 4.233 | Walk/Run |
| 176 | 8/21/2021 | 1.831 | Walk/Run |
| 175 | 8/17/2021 | 4.076 | Walk/Run |
| 174 | 8/15/2021 | 3.915 | Walk/Run |
| 173 | 8/11/2021 | 3.161 | Walk/Run |
| 172 | 8/8/2021 | 3.225 | Walk/Run |
| 171 | 8/1/2021 | 1.799 | Walk/Run |
| 170 | 6/6/2021 | 3.660 | Walk/Run |
| 169 | 5/23/2021 | 3.660 | Walk/Run |
| 168 | 4/182021 | 1.700 | Walk/Run |
| 167 | 4/17/2021 | 1.700 | Walk/Run |
| 166 | 4/16/2021 | 1.0 | Walk/Run |
| 165 | 5/4/2021 | 1.700 | Walk/Run |
| 164 | 5/3/2021 | 1.700 | Walk/Run |
| 163 | 4/28/2021 | 3.660 | Walk/Run |
| 162 | 4/25/2021 | 3.660 | Walk/Run |
| 161 | 4/20/2021 | 3.660 | Walk/Run |
| 160 | 4/13/2021 | 3.660 | Walk/Run |
| 159 | 4/12/2021 | 2.610 | Walk/Run |
| 158 | 4/11/2021 | 3.060 | Walk/Run |
| 157 | 4/10/2021 | 3.060 | Walk/Run |
| 156 | 4/8/2021 | 3.060 | Walk/Run |
| 155 | 4/6/2021 | 3.060 | Walk/Run |
| 154 | 4/5/2021 | 1.005 | Walk/Run |
| 153 | 3/27/2021 | 3.660 | Walk/Run |
| 152 | 3/24/2021 | 4.070 | Walk/Run |
| 151 | 3/22/2021 | 3.060 | Walk/Run |
| 150 | 3/15/2021 | 4.000 | Walk/Run |
| 149 | 3/13/2021 | 3.920 | Walk/Run |
| 148 | 3/10/2021 | 3.850 | Walk/Run |
| 147 | 3/7/2021 | 3.800 | Walk/Run |
| 146 | 3/5/2021 | 3.750 | Walk/Run |
| 145 | 3/3/2021 | 3.700 | Walk/Run |
| 144 | 3/1/2021 | 3.650 | Walk/Run |
| 143 | 2/27/2021 | 3.600 | Walk/Run |
| 142 | 2/25/2021 | 3.550 | Walk/Run |
| 141 | 2/23/2021 | 3.500 | Walk/Run |
| 140 | 2/21/2021 | 3.440 | Walk/Run |
| 139 | 2/20/2021 | 3.385 | Walk/Run |
| 138 | 2/17/2021 | 3.330 | Walk/Run |
| 137 | 2/16/2021 | 3.275 | Walk/Run |
| 136 | 2/15/2021 | 3.225 | Walk/Run |
| 135 | 2/13/2021 | 3.170 | Walk/Run |
| 134 | 2/12/2021 | 3.130 | Walk/Run |
| 133 | 2/10/2021 | 4.610 | Walk/Run |
| 132 | 2/9/2021 | 4.530 | Walk/Run |
| 131 | 2/7/2021 | 4.480 | Walk/Run |
| 130 | 2/6/2021 | 4.425 | Walk/Run |
| 129 | 2/3/2021 | 4.375 | Walk/Run |
| 128 | 1/28/2021 | 4.320 | Walk/Run |
| 127 | 1/27/2021 | 4.271 | Walk/Run |
| 126 | 1/26/2021 | 4.220 | Walk/Run |
| 125 | 1/24/2021 | 4.165 | Walk/Run |
| 124 | 1/23/2021 | 4.110 | Walk/Run |
| 123 | 1/20/2021 | 4.110 | Walk/Run |
| 122 | 1/17/2021 | 4.060 | Walk/Run |
| 121 | 1/16/2021 | 4.010 | Walk/Run |
| 120 | 1/14/2021 | 3.960 | Walk/Run |
| 119 | 1/10/2021 | 3.910 | Walk/Run |
| 118 | 1/9/2021 | 3.850 | Walk/Run |
| 117 | 1/6/2021 | 3.801 | Walk/Run |
| 116 | 1/5/2021 | 3.750 | Walk/Run |
| 115 | 1/3/2021 | 3.700 | Walk/Run |
| 114 | 1/1/2021 | 3.655 | Walk/Run |
| 113 | 12/31/2020 | 3.600 | Walk/Run |
| 112 | 12/29/2020 | 3.540 | Walk/Run |
| 111 | 12/27/2020 | 3.490 | Walk/Run |
| 110 | 12/25/2020 | 3.440 | Walk/Run |
| 109 | 12/24/2020 | 3.380 | Walk/Run |
| 108 | 12/23/2020 | 3.335 | Walk/Run |
| 107 | 12/22/2020 | 3.285 | Walk/Run |
| 106 | 12/21/2020 | 3.235 | Walk/Run |
| 105 | 12/18/2020 | 3.250 | Walk/Run |
| 104 | 12/17/2020 | 3.181 | Walk/Run |
| 103 | 12/16/2020 | 3.100 | Walk/Run |
| 102 | 12/15/2020 | 3.021 | Walk/Run |
| 101 | 12/14/2020 | 4.45 | Walk/Run |
| 100 | 12/12/2020 | 4.400 | Walk/Run |
| 99 | 12/9/2020 | 4.350 | Walk/Run |
| 98 | 12/8/2020 | 4.300 | Walk/Run |
| 97 | 12/6/2020 | 4.250 | Walk/Run |
| 96 | 12/5/2020 | 4.200 | Walk/Run |
| 95 | 12/3/2020 | 4.150 | Walk/Run |
| 94 | 12/2/2020 | 4.100 | Walk/Run |
| 93 | 12/1/2020 | 4.005 | Walk/Run |
| 92 | 11/29/2020 | 4.000 | Walk/Run |
| 91 | 11/28/2020 | 3.500 | Walk/Run |
| 90 | 11/27/2020 | 3.950 | Walk/Run |
| 89 | 11/25/2020 | 3.900 | Walk/Run |
| 88 | 11/24/2020 | 3.850 | Walk/Run |
| 87 | 11/23/2020 | 3.800 | Walk/Run |
| 86 | 11/21/2020 | 3.750 | Walk/Run |
| 85 | 11/19/2020 | 3.639 | Walk/Run |
| 84 | 11/17/2020 | 3.650 | Walk/Run |
| 83 | 11/16/2020 | 3.600 | Walk/Run |
| 82 | 11/15/2020 | 3.550 | Walk/Run |
| 81 | 11/13/2020 | 3.500 | Walk/Run |
| 80 | 11/12/2020 | 3.451 | Walk/Run |
| 79 | 11/11/2020 | 3.408 | Walk/Run |
| 78 | 11/9/2020 | 3.350 | Walk/Run |
| 77 | 11/8/2020 | 3.300 | Walk/Run |
| 76 | 11/7/2020 | 3.250 | Walk/Run |
| 75 | 11/4/2020 | 3.200 | Walk/Run |
| 74 | 11/2/2020 | 3.145 | Walk/Run |
| 73 | 11/1/2020 | 3.081 | Walk/Run |
| 72 | 10/31/2020 | 3.052 | Walk/Run |
| 71 | 10/28/2020 | 3.050 | Walk/Run |
| 70 | 10/27/2020 | 2.966 | Walk/Run |
| 69 | 10/25/2020 | 2.885 | Walk/Run |
| 68 | 10/24/2020 | 2.849 | Walk/Run |
| 67 | 10/22/2020 | 2.812 | Walk/Run |
| 66 | 10/21/2020 | 2.754 | Walk/Run |
| 65 | 10/20/2020 | 2.699 | Walk/Run |
| 64 | 10/18/2020 | 2.625 | Walk/Run |
| 63 | 10/17/2020 | 2.557 | Walk/Run |
| 62 | 10/13/2020 | 2.427 | Walk/Run |
| 61 | 10/10/2020 | 2.276 | Walk/Run |
| 60 | 10/8/2020 | 2.159 | Walk/Run |
| 59 | 10/7/2020 | 2.126 | Walk/Run |
| 58 | 10/4/2020 | 2.00 | Walk/Run |
| 57 | 7/16/2020 | 2.418 | Walk/Run |
| 56 | 7/13/2020 | 2.347 | Walk/Run |
| 55 | 7/11/2020 | 2.697 | Walk/Run |
| 54 | 7/10/2020 | 2.595 | Walk/Run |
| 53 | 7/8/2020 | 2.515 | Walk/Run |
| 52 | 7/7/2020 | 2.498 | Walk/Run |
| 51 | 7/6/2020 | 2.427 | Walk/Run |
| 50 | 6/30/2020 | 2.431 | Walk/Run |
| 49 | 6/24/2020 | 2.435 | Walk/Run |
| 48 | 6/4/2020 | 3.470 | Walk/Run |
| 47 | 6/2/2020 | 3.403 | Walk/Run |
| 46 | 6/1/2020 | 3.397 | Walk/Run |
| 45 | 5/31/2020 | 3.187 | Walk/Run |
| 44 | 5/28/2020 | 3.510 | Walk/Run |
| 43 | 5/26/2020 | 3.317 | Walk/Run |
| 42 | 5/25/2020 | 3.434 | Walk/Run |
| 41 | 5/24/2020 | 3.220 | Walk/Run |
| 40 | 5/18/2020 | 2.467 | Walk/Run |
| 39 | 5/17/2020 | 2.628 | Walk/Run |
| 38 | 5/16/2020 | 3.077 | Walk/Run |
| 37 | 5/14/2020 | 2.754 | Walk/Run |
| 36 | 5/13/2020 | 3.332 | Walk/Run |
| 35 | 5/12/2020 | 2.955 | Walk/Run |
| 34 | 5/11/2020 | 3.271 | Walk/Run |
| 33 | 5/10/2020 | 3.122 | Walk/Run |
| 32 | 5/7/2020 | 3.174 | Walk/Run |
| 31 | 5/5/2020 | 3.116 | Walk/Run |
| 30 | 5/4/2020 | 3.336 | Walk/Run |
| 29 | 4/30/2020 | 2.269 | Walk/Run |
| 28 | 4/27/2020 | 2.291 | Walk/Run |
| 27 | 4/26/2020 | 3.356 | Walk/Run |
| 26 | 4/24/2020 | 3.304 | Walk/Run |
| 25 | 4/22/2020 | 3.265 | Walk/Run |
| 24 | 4/21/2020 | 3.301 | Walk/Run |
| 23 | 4/20/2020 | 3.173 | Walk/Run |
| 22 | 4/19/2020 | 3.271 | Walk/Run |
| 21 | 4/18/2020 | 3.182 | Walk/Run |
| 20 | 4/16/2020 | 3.208 | Walk/Run |
| 19 | 4/15/2020 | 3.148 | Walk/Run |
| 18 | 4/12/2020 | 3.156 | Walk/Run |
| 17 | 4/11/2020 | 3.129 | Walk/Run |
| 16 | 4/9/2020 | 3.083 | Walk/Run |
| 15 | 4/8/2020 | 3.092 | Walk/Run |
| 14 | 4/6/2020 | 2.642 | Walk/Run |
| 13 | 4/5/2020 | 2.956 | Walk/Run |
| 12 | 4/1/2020 | 3.082 | Walk/Run |
| 11 | 3/30/2020 | 3.039 | Walk/Run |
| 10 | 3/29/2020 | 3.008 | Walk/Run |
| 9 | 3/28/2020 | 2.750 | Walk/Run |
| 8 | 3/24/2020 | 3.116 | Walk/Run |
| 7 | 3/22/2020 | 3.103 | Walk/Run |
| 6 | 3/21/2020 | 3.098 | Walk/Run |
| 5 | 3/20/2020 | 3.009 | Walk/Run |
| 4 | 3/16/2020 | 3.501 | Walk/Run |
| 3 | 3/13/2020 | 3.445 | Walk/Run |
| 2 | 3/11/2020 | 3.390 | Walk/Run |
| 1 | 3/9/2020 | 3.171 | Walk/Run |
My Gear: