I took yesterday off to drink like a fish while watching the election returns, and let my feet rest a little.
I started to have right thigh pain as I walked, and it came and went throughout the walk. What worries me a little is that it continued to come and and go as I was in the shower.
I didn't do any crunches today (again). I was short on time, and that is the last thing I usually do, so it didn't happen.
Going to try and get on the treadmill again tomorrow, take Friday off, and then workout both weekend days. Let's see how it goes…
Starting Speed: 2.5 mph
Ending Speed: 3.0 mph
Duration: 65 Minutes
Standing Touch My Toes Stretch: Finger tips just below knees
Stretch Straps: 35 Degrees
Cross Crunches: 0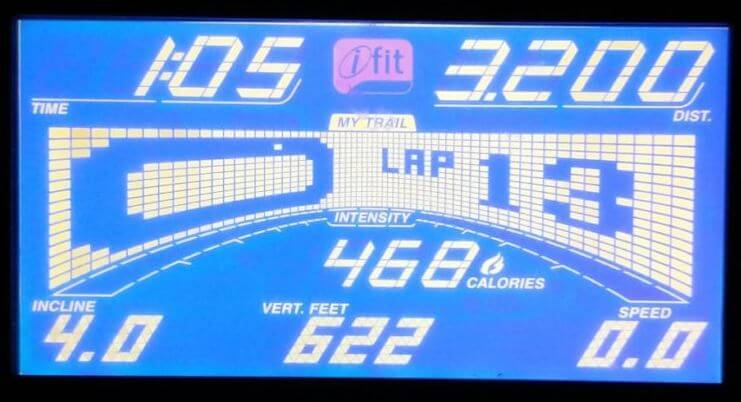 | Day | Date | Distance | Exercise Type |
| --- | --- | --- | --- |
| 232 | 8/16/2022 | 4.64 | Stationary Bike |
| 231 | 8/15/2022 | 4.51 | Stationary Bike |
| 230 | 8/14/2022 | 5.18 | Walk |
| 229 | 8/9/2022 | 4.52 | Stationary Bike |
| 228 | 8/8/2022 | 4.98 | Stationary Bike |
| 226 | 7/31/2022 | 5.16 | Walk |
| 225 | 7/27/2022 | 4.78 | Stationary Bike |
| 224 | 7/26/2022 | 4.68 | Stationary Bike |
| 223 | 7/24/2022 | 3.800 | Walk |
| 222 | 7/17/2022 | 3.920 | Walk/Run |
| 221 | 7/10/2022 | 4.48 | Walk/Run |
| 220 | 7/6/2022 | 4.39 | Stationary Bike |
| 219 | 7/4/2022 | 3.984 | Walk/Run |
| 218 | 7/3/2022 | 3.327 | Walk/Run |
| 217 | 7/2/2022 | 1.866 | Walk/Run |
| 216 | 6/26/2022 | 1.905 | Walk/Run |
| 215 | 6/20/2022 | 3.884 | Walk/Run |
| 214 | 6/16/2022 | 3.94 | Stationary Bike |
| 213 | 6/15/2022 | 6.78 | Stationary Bike |
| 212 | 6/14/2022 | 1.075 | Walk/Run |
| 211 | 6/13/2022 | 7.08 | Stationary Bike |
| 210 | 6/10/2022 | 6.74 | Stationary Bike |
| 209 | 6/7/2022 | 5.58 | Stationary Bike |
| 208 | 6/6/2022 | 5.18 | Stationary Bike |
| 207 | 6/5/2022 | 3.327 | Walk/Run |
| 206 | 6/1/2022 | 4.96 | Stationary Bike |
| 205 | 5/31/2022 | 4.72 | Stationary Bike |
| 204 | 5/31/2022 | 1.067 | Walk/Run |
| 203 | 5/30/2022 | 3.328 | Walk/Run |
| 202 | 5/25/2022 | 4.14 | Stationary Bike |
| 201 | 5/23/2022 | 3.93 | Stationary Bike |
| 200 | 5/22/2022 | 3.43 | Stationary Bike |
| 200 | 5/22/2022 | 1.894 | Walk/Run |
| 199 | 5/18/2022 | 6.38 | Stationary Bike |
| 198 | 5/15/2022 | 2.87 | Stationary Bike |
| 198 | 5/15/2022 | 1.929 | Walk/Run |
| 197 | 4/26/2022 | 6.70 | Stationary Bike |
| 196 | 4/25/2022 | 5.96 | Stationary Bike |
| 195 | 4/24/2022 | 2.86 | Stationary Bike |
| 194 | 4/11/2022 | 1.875 | Walk/Run |
| 193 | 3/20/2022 | 1.790 | Walk/Run |
| 192 | 3/13/2022 | 1.917 | Walk/Run |
| 191 | 3/6/2022 | 2.195 | Walk/Run |
| 190 | 2/19/2022 | 1.000 | Walk/Run |
| 189 | 1/2/2022 | 5.095 | Walk/Run |
| 188 | 1/1/2022 | 4.754 | Walk/Run |
| 187 | 12/26/2021 | 2.225 | Walk/Run |
| 186 | 12/12/2021 | 3.819 | Walk/Run |
| 185 | 12/5/2021 | 1.776 | Walk/Run |
| 184 | 11/28/2021 | 4.278 | Walk/Run |
| 183 | 11/21/2021 | 1.882 | Walk/Run |
| 182 | 10/24/2021 | 4.423 | Walk/Run |
| 181 | 10/17/2021 | 3.400 | Walk/Run |
| 180 | 9/12/2021 | 4.933 | Walk/Run |
| 179 | 9/6/2021 | 4.684 | Walk/Run |
| 178 | 8/29/2021 | 4.524 | Walk/Run |
| 177 | 8/22/2021 | 4.233 | Walk/Run |
| 176 | 8/21/2021 | 1.831 | Walk/Run |
| 175 | 8/17/2021 | 4.076 | Walk/Run |
| 174 | 8/15/2021 | 3.915 | Walk/Run |
| 173 | 8/11/2021 | 3.161 | Walk/Run |
| 172 | 8/8/2021 | 3.225 | Walk/Run |
| 171 | 8/1/2021 | 1.799 | Walk/Run |
| 170 | 6/6/2021 | 3.660 | Walk/Run |
| 169 | 5/23/2021 | 3.660 | Walk/Run |
| 168 | 4/182021 | 1.700 | Walk/Run |
| 167 | 4/17/2021 | 1.700 | Walk/Run |
| 166 | 4/16/2021 | 1.0 | Walk/Run |
| 165 | 5/4/2021 | 1.700 | Walk/Run |
| 164 | 5/3/2021 | 1.700 | Walk/Run |
| 163 | 4/28/2021 | 3.660 | Walk/Run |
| 162 | 4/25/2021 | 3.660 | Walk/Run |
| 161 | 4/20/2021 | 3.660 | Walk/Run |
| 160 | 4/13/2021 | 3.660 | Walk/Run |
| 159 | 4/12/2021 | 2.610 | Walk/Run |
| 158 | 4/11/2021 | 3.060 | Walk/Run |
| 157 | 4/10/2021 | 3.060 | Walk/Run |
| 156 | 4/8/2021 | 3.060 | Walk/Run |
| 155 | 4/6/2021 | 3.060 | Walk/Run |
| 154 | 4/5/2021 | 1.005 | Walk/Run |
| 153 | 3/27/2021 | 3.660 | Walk/Run |
| 152 | 3/24/2021 | 4.070 | Walk/Run |
| 151 | 3/22/2021 | 3.060 | Walk/Run |
| 150 | 3/15/2021 | 4.000 | Walk/Run |
| 149 | 3/13/2021 | 3.920 | Walk/Run |
| 148 | 3/10/2021 | 3.850 | Walk/Run |
| 147 | 3/7/2021 | 3.800 | Walk/Run |
| 146 | 3/5/2021 | 3.750 | Walk/Run |
| 145 | 3/3/2021 | 3.700 | Walk/Run |
| 144 | 3/1/2021 | 3.650 | Walk/Run |
| 143 | 2/27/2021 | 3.600 | Walk/Run |
| 142 | 2/25/2021 | 3.550 | Walk/Run |
| 141 | 2/23/2021 | 3.500 | Walk/Run |
| 140 | 2/21/2021 | 3.440 | Walk/Run |
| 139 | 2/20/2021 | 3.385 | Walk/Run |
| 138 | 2/17/2021 | 3.330 | Walk/Run |
| 137 | 2/16/2021 | 3.275 | Walk/Run |
| 136 | 2/15/2021 | 3.225 | Walk/Run |
| 135 | 2/13/2021 | 3.170 | Walk/Run |
| 134 | 2/12/2021 | 3.130 | Walk/Run |
| 133 | 2/10/2021 | 4.610 | Walk/Run |
| 132 | 2/9/2021 | 4.530 | Walk/Run |
| 131 | 2/7/2021 | 4.480 | Walk/Run |
| 130 | 2/6/2021 | 4.425 | Walk/Run |
| 129 | 2/3/2021 | 4.375 | Walk/Run |
| 128 | 1/28/2021 | 4.320 | Walk/Run |
| 127 | 1/27/2021 | 4.271 | Walk/Run |
| 126 | 1/26/2021 | 4.220 | Walk/Run |
| 125 | 1/24/2021 | 4.165 | Walk/Run |
| 124 | 1/23/2021 | 4.110 | Walk/Run |
| 123 | 1/20/2021 | 4.110 | Walk/Run |
| 122 | 1/17/2021 | 4.060 | Walk/Run |
| 121 | 1/16/2021 | 4.010 | Walk/Run |
| 120 | 1/14/2021 | 3.960 | Walk/Run |
| 119 | 1/10/2021 | 3.910 | Walk/Run |
| 118 | 1/9/2021 | 3.850 | Walk/Run |
| 117 | 1/6/2021 | 3.801 | Walk/Run |
| 116 | 1/5/2021 | 3.750 | Walk/Run |
| 115 | 1/3/2021 | 3.700 | Walk/Run |
| 114 | 1/1/2021 | 3.655 | Walk/Run |
| 113 | 12/31/2020 | 3.600 | Walk/Run |
| 112 | 12/29/2020 | 3.540 | Walk/Run |
| 111 | 12/27/2020 | 3.490 | Walk/Run |
| 110 | 12/25/2020 | 3.440 | Walk/Run |
| 109 | 12/24/2020 | 3.380 | Walk/Run |
| 108 | 12/23/2020 | 3.335 | Walk/Run |
| 107 | 12/22/2020 | 3.285 | Walk/Run |
| 106 | 12/21/2020 | 3.235 | Walk/Run |
| 105 | 12/18/2020 | 3.250 | Walk/Run |
| 104 | 12/17/2020 | 3.181 | Walk/Run |
| 103 | 12/16/2020 | 3.100 | Walk/Run |
| 102 | 12/15/2020 | 3.021 | Walk/Run |
| 101 | 12/14/2020 | 4.45 | Walk/Run |
| 100 | 12/12/2020 | 4.400 | Walk/Run |
| 99 | 12/9/2020 | 4.350 | Walk/Run |
| 98 | 12/8/2020 | 4.300 | Walk/Run |
| 97 | 12/6/2020 | 4.250 | Walk/Run |
| 96 | 12/5/2020 | 4.200 | Walk/Run |
| 95 | 12/3/2020 | 4.150 | Walk/Run |
| 94 | 12/2/2020 | 4.100 | Walk/Run |
| 93 | 12/1/2020 | 4.005 | Walk/Run |
| 92 | 11/29/2020 | 4.000 | Walk/Run |
| 91 | 11/28/2020 | 3.500 | Walk/Run |
| 90 | 11/27/2020 | 3.950 | Walk/Run |
| 89 | 11/25/2020 | 3.900 | Walk/Run |
| 88 | 11/24/2020 | 3.850 | Walk/Run |
| 87 | 11/23/2020 | 3.800 | Walk/Run |
| 86 | 11/21/2020 | 3.750 | Walk/Run |
| 85 | 11/19/2020 | 3.639 | Walk/Run |
| 84 | 11/17/2020 | 3.650 | Walk/Run |
| 83 | 11/16/2020 | 3.600 | Walk/Run |
| 82 | 11/15/2020 | 3.550 | Walk/Run |
| 81 | 11/13/2020 | 3.500 | Walk/Run |
| 80 | 11/12/2020 | 3.451 | Walk/Run |
| 79 | 11/11/2020 | 3.408 | Walk/Run |
| 78 | 11/9/2020 | 3.350 | Walk/Run |
| 77 | 11/8/2020 | 3.300 | Walk/Run |
| 76 | 11/7/2020 | 3.250 | Walk/Run |
| 75 | 11/4/2020 | 3.200 | Walk/Run |
| 74 | 11/2/2020 | 3.145 | Walk/Run |
| 73 | 11/1/2020 | 3.081 | Walk/Run |
| 72 | 10/31/2020 | 3.052 | Walk/Run |
| 71 | 10/28/2020 | 3.050 | Walk/Run |
| 70 | 10/27/2020 | 2.966 | Walk/Run |
| 69 | 10/25/2020 | 2.885 | Walk/Run |
| 68 | 10/24/2020 | 2.849 | Walk/Run |
| 67 | 10/22/2020 | 2.812 | Walk/Run |
| 66 | 10/21/2020 | 2.754 | Walk/Run |
| 65 | 10/20/2020 | 2.699 | Walk/Run |
| 64 | 10/18/2020 | 2.625 | Walk/Run |
| 63 | 10/17/2020 | 2.557 | Walk/Run |
| 62 | 10/13/2020 | 2.427 | Walk/Run |
| 61 | 10/10/2020 | 2.276 | Walk/Run |
| 60 | 10/8/2020 | 2.159 | Walk/Run |
| 59 | 10/7/2020 | 2.126 | Walk/Run |
| 58 | 10/4/2020 | 2.00 | Walk/Run |
| 57 | 7/16/2020 | 2.418 | Walk/Run |
| 56 | 7/13/2020 | 2.347 | Walk/Run |
| 55 | 7/11/2020 | 2.697 | Walk/Run |
| 54 | 7/10/2020 | 2.595 | Walk/Run |
| 53 | 7/8/2020 | 2.515 | Walk/Run |
| 52 | 7/7/2020 | 2.498 | Walk/Run |
| 51 | 7/6/2020 | 2.427 | Walk/Run |
| 50 | 6/30/2020 | 2.431 | Walk/Run |
| 49 | 6/24/2020 | 2.435 | Walk/Run |
| 48 | 6/4/2020 | 3.470 | Walk/Run |
| 47 | 6/2/2020 | 3.403 | Walk/Run |
| 46 | 6/1/2020 | 3.397 | Walk/Run |
| 45 | 5/31/2020 | 3.187 | Walk/Run |
| 44 | 5/28/2020 | 3.510 | Walk/Run |
| 43 | 5/26/2020 | 3.317 | Walk/Run |
| 42 | 5/25/2020 | 3.434 | Walk/Run |
| 41 | 5/24/2020 | 3.220 | Walk/Run |
| 40 | 5/18/2020 | 2.467 | Walk/Run |
| 39 | 5/17/2020 | 2.628 | Walk/Run |
| 38 | 5/16/2020 | 3.077 | Walk/Run |
| 37 | 5/14/2020 | 2.754 | Walk/Run |
| 36 | 5/13/2020 | 3.332 | Walk/Run |
| 35 | 5/12/2020 | 2.955 | Walk/Run |
| 34 | 5/11/2020 | 3.271 | Walk/Run |
| 33 | 5/10/2020 | 3.122 | Walk/Run |
| 32 | 5/7/2020 | 3.174 | Walk/Run |
| 31 | 5/5/2020 | 3.116 | Walk/Run |
| 30 | 5/4/2020 | 3.336 | Walk/Run |
| 29 | 4/30/2020 | 2.269 | Walk/Run |
| 28 | 4/27/2020 | 2.291 | Walk/Run |
| 27 | 4/26/2020 | 3.356 | Walk/Run |
| 26 | 4/24/2020 | 3.304 | Walk/Run |
| 25 | 4/22/2020 | 3.265 | Walk/Run |
| 24 | 4/21/2020 | 3.301 | Walk/Run |
| 23 | 4/20/2020 | 3.173 | Walk/Run |
| 22 | 4/19/2020 | 3.271 | Walk/Run |
| 21 | 4/18/2020 | 3.182 | Walk/Run |
| 20 | 4/16/2020 | 3.208 | Walk/Run |
| 19 | 4/15/2020 | 3.148 | Walk/Run |
| 18 | 4/12/2020 | 3.156 | Walk/Run |
| 17 | 4/11/2020 | 3.129 | Walk/Run |
| 16 | 4/9/2020 | 3.083 | Walk/Run |
| 15 | 4/8/2020 | 3.092 | Walk/Run |
| 14 | 4/6/2020 | 2.642 | Walk/Run |
| 13 | 4/5/2020 | 2.956 | Walk/Run |
| 12 | 4/1/2020 | 3.082 | Walk/Run |
| 11 | 3/30/2020 | 3.039 | Walk/Run |
| 10 | 3/29/2020 | 3.008 | Walk/Run |
| 9 | 3/28/2020 | 2.750 | Walk/Run |
| 8 | 3/24/2020 | 3.116 | Walk/Run |
| 7 | 3/22/2020 | 3.103 | Walk/Run |
| 6 | 3/21/2020 | 3.098 | Walk/Run |
| 5 | 3/20/2020 | 3.009 | Walk/Run |
| 4 | 3/16/2020 | 3.501 | Walk/Run |
| 3 | 3/13/2020 | 3.445 | Walk/Run |
| 2 | 3/11/2020 | 3.390 | Walk/Run |
| 1 | 3/9/2020 | 3.171 | Walk/Run |
My Fitness Gear