I took yesterday off. We had one of my older boys, his girlfriend, and our family friend Steph over for game night, and since we started the fun around lunchtime, I didn't have time to get on the treadmill yesterday.
Overall I felt good, but I did have some tightness in my lower back, but nothing that came close to making me quit.
I was also able to keep up my streak of increasing my duration by another minute, and doing one more crunch.
I'm going to try and make it on the treadmill at least three times this week between Monday and Friday as I really want to get into the 230s, and the only way that is going to happen is if I burn some extra calories.
With me luck…
Starting Speed: 2.5 mph
Ending Speed: 3.0 mph
Duration: 72 Minutes
Standing Touch My Toes Stretch: Finger tips just below knees
Stretch Straps: 35 Degrees
Cross Crunches: 51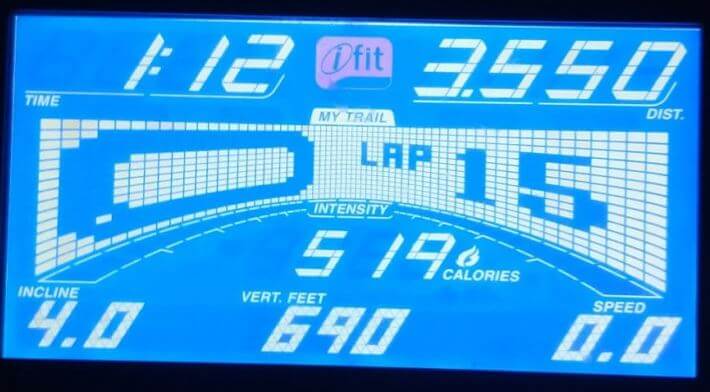 | Day | Date | Distance | Exercise Type |
| --- | --- | --- | --- |
| 231 | 8/15/2022 | 4.51 | Stationary Bike |
| 230 | 8/14/2022 | 5.18 | Walk |
| 229 | 8/9/2022 | 4.52 | Stationary Bike |
| 228 | 8/8/2022 | 4.98 | Stationary Bike |
| 226 | 7/31/2022 | 5.16 | Walk |
| 225 | 7/27/2022 | 4.78 | Stationary Bike |
| 224 | 7/26/2022 | 4.68 | Stationary Bike |
| 223 | 7/24/2022 | 3.800 | Walk |
| 222 | 7/17/2022 | 3.920 | Walk/Run |
| 221 | 7/10/2022 | 4.48 | Walk/Run |
| 220 | 7/6/2022 | 4.39 | Stationary Bike |
| 219 | 7/4/2022 | 3.984 | Walk/Run |
| 218 | 7/3/2022 | 3.327 | Walk/Run |
| 217 | 7/2/2022 | 1.866 | Walk/Run |
| 216 | 6/26/2022 | 1.905 | Walk/Run |
| 215 | 6/20/2022 | 3.884 | Walk/Run |
| 214 | 6/16/2022 | 3.94 | Stationary Bike |
| 213 | 6/15/2022 | 6.78 | Stationary Bike |
| 212 | 6/14/2022 | 1.075 | Walk/Run |
| 211 | 6/13/2022 | 7.08 | Stationary Bike |
| 210 | 6/10/2022 | 6.74 | Stationary Bike |
| 209 | 6/7/2022 | 5.58 | Stationary Bike |
| 208 | 6/6/2022 | 5.18 | Stationary Bike |
| 207 | 6/5/2022 | 3.327 | Walk/Run |
| 206 | 6/1/2022 | 4.96 | Stationary Bike |
| 205 | 5/31/2022 | 4.72 | Stationary Bike |
| 204 | 5/31/2022 | 1.067 | Walk/Run |
| 203 | 5/30/2022 | 3.328 | Walk/Run |
| 202 | 5/25/2022 | 4.14 | Stationary Bike |
| 201 | 5/23/2022 | 3.93 | Stationary Bike |
| 200 | 5/22/2022 | 3.43 | Stationary Bike |
| 200 | 5/22/2022 | 1.894 | Walk/Run |
| 199 | 5/18/2022 | 6.38 | Stationary Bike |
| 198 | 5/15/2022 | 2.87 | Stationary Bike |
| 198 | 5/15/2022 | 1.929 | Walk/Run |
| 197 | 4/26/2022 | 6.70 | Stationary Bike |
| 196 | 4/25/2022 | 5.96 | Stationary Bike |
| 195 | 4/24/2022 | 2.86 | Stationary Bike |
| 194 | 4/11/2022 | 1.875 | Walk/Run |
| 193 | 3/20/2022 | 1.790 | Walk/Run |
| 192 | 3/13/2022 | 1.917 | Walk/Run |
| 191 | 3/6/2022 | 2.195 | Walk/Run |
| 190 | 2/19/2022 | 1.000 | Walk/Run |
| 189 | 1/2/2022 | 5.095 | Walk/Run |
| 188 | 1/1/2022 | 4.754 | Walk/Run |
| 187 | 12/26/2021 | 2.225 | Walk/Run |
| 186 | 12/12/2021 | 3.819 | Walk/Run |
| 185 | 12/5/2021 | 1.776 | Walk/Run |
| 184 | 11/28/2021 | 4.278 | Walk/Run |
| 183 | 11/21/2021 | 1.882 | Walk/Run |
| 182 | 10/24/2021 | 4.423 | Walk/Run |
| 181 | 10/17/2021 | 3.400 | Walk/Run |
| 180 | 9/12/2021 | 4.933 | Walk/Run |
| 179 | 9/6/2021 | 4.684 | Walk/Run |
| 178 | 8/29/2021 | 4.524 | Walk/Run |
| 177 | 8/22/2021 | 4.233 | Walk/Run |
| 176 | 8/21/2021 | 1.831 | Walk/Run |
| 175 | 8/17/2021 | 4.076 | Walk/Run |
| 174 | 8/15/2021 | 3.915 | Walk/Run |
| 173 | 8/11/2021 | 3.161 | Walk/Run |
| 172 | 8/8/2021 | 3.225 | Walk/Run |
| 171 | 8/1/2021 | 1.799 | Walk/Run |
| 170 | 6/6/2021 | 3.660 | Walk/Run |
| 169 | 5/23/2021 | 3.660 | Walk/Run |
| 168 | 4/182021 | 1.700 | Walk/Run |
| 167 | 4/17/2021 | 1.700 | Walk/Run |
| 166 | 4/16/2021 | 1.0 | Walk/Run |
| 165 | 5/4/2021 | 1.700 | Walk/Run |
| 164 | 5/3/2021 | 1.700 | Walk/Run |
| 163 | 4/28/2021 | 3.660 | Walk/Run |
| 162 | 4/25/2021 | 3.660 | Walk/Run |
| 161 | 4/20/2021 | 3.660 | Walk/Run |
| 160 | 4/13/2021 | 3.660 | Walk/Run |
| 159 | 4/12/2021 | 2.610 | Walk/Run |
| 158 | 4/11/2021 | 3.060 | Walk/Run |
| 157 | 4/10/2021 | 3.060 | Walk/Run |
| 156 | 4/8/2021 | 3.060 | Walk/Run |
| 155 | 4/6/2021 | 3.060 | Walk/Run |
| 154 | 4/5/2021 | 1.005 | Walk/Run |
| 153 | 3/27/2021 | 3.660 | Walk/Run |
| 152 | 3/24/2021 | 4.070 | Walk/Run |
| 151 | 3/22/2021 | 3.060 | Walk/Run |
| 150 | 3/15/2021 | 4.000 | Walk/Run |
| 149 | 3/13/2021 | 3.920 | Walk/Run |
| 148 | 3/10/2021 | 3.850 | Walk/Run |
| 147 | 3/7/2021 | 3.800 | Walk/Run |
| 146 | 3/5/2021 | 3.750 | Walk/Run |
| 145 | 3/3/2021 | 3.700 | Walk/Run |
| 144 | 3/1/2021 | 3.650 | Walk/Run |
| 143 | 2/27/2021 | 3.600 | Walk/Run |
| 142 | 2/25/2021 | 3.550 | Walk/Run |
| 141 | 2/23/2021 | 3.500 | Walk/Run |
| 140 | 2/21/2021 | 3.440 | Walk/Run |
| 139 | 2/20/2021 | 3.385 | Walk/Run |
| 138 | 2/17/2021 | 3.330 | Walk/Run |
| 137 | 2/16/2021 | 3.275 | Walk/Run |
| 136 | 2/15/2021 | 3.225 | Walk/Run |
| 135 | 2/13/2021 | 3.170 | Walk/Run |
| 134 | 2/12/2021 | 3.130 | Walk/Run |
| 133 | 2/10/2021 | 4.610 | Walk/Run |
| 132 | 2/9/2021 | 4.530 | Walk/Run |
| 131 | 2/7/2021 | 4.480 | Walk/Run |
| 130 | 2/6/2021 | 4.425 | Walk/Run |
| 129 | 2/3/2021 | 4.375 | Walk/Run |
| 128 | 1/28/2021 | 4.320 | Walk/Run |
| 127 | 1/27/2021 | 4.271 | Walk/Run |
| 126 | 1/26/2021 | 4.220 | Walk/Run |
| 125 | 1/24/2021 | 4.165 | Walk/Run |
| 124 | 1/23/2021 | 4.110 | Walk/Run |
| 123 | 1/20/2021 | 4.110 | Walk/Run |
| 122 | 1/17/2021 | 4.060 | Walk/Run |
| 121 | 1/16/2021 | 4.010 | Walk/Run |
| 120 | 1/14/2021 | 3.960 | Walk/Run |
| 119 | 1/10/2021 | 3.910 | Walk/Run |
| 118 | 1/9/2021 | 3.850 | Walk/Run |
| 117 | 1/6/2021 | 3.801 | Walk/Run |
| 116 | 1/5/2021 | 3.750 | Walk/Run |
| 115 | 1/3/2021 | 3.700 | Walk/Run |
| 114 | 1/1/2021 | 3.655 | Walk/Run |
| 113 | 12/31/2020 | 3.600 | Walk/Run |
| 112 | 12/29/2020 | 3.540 | Walk/Run |
| 111 | 12/27/2020 | 3.490 | Walk/Run |
| 110 | 12/25/2020 | 3.440 | Walk/Run |
| 109 | 12/24/2020 | 3.380 | Walk/Run |
| 108 | 12/23/2020 | 3.335 | Walk/Run |
| 107 | 12/22/2020 | 3.285 | Walk/Run |
| 106 | 12/21/2020 | 3.235 | Walk/Run |
| 105 | 12/18/2020 | 3.250 | Walk/Run |
| 104 | 12/17/2020 | 3.181 | Walk/Run |
| 103 | 12/16/2020 | 3.100 | Walk/Run |
| 102 | 12/15/2020 | 3.021 | Walk/Run |
| 101 | 12/14/2020 | 4.45 | Walk/Run |
| 100 | 12/12/2020 | 4.400 | Walk/Run |
| 99 | 12/9/2020 | 4.350 | Walk/Run |
| 98 | 12/8/2020 | 4.300 | Walk/Run |
| 97 | 12/6/2020 | 4.250 | Walk/Run |
| 96 | 12/5/2020 | 4.200 | Walk/Run |
| 95 | 12/3/2020 | 4.150 | Walk/Run |
| 94 | 12/2/2020 | 4.100 | Walk/Run |
| 93 | 12/1/2020 | 4.005 | Walk/Run |
| 92 | 11/29/2020 | 4.000 | Walk/Run |
| 91 | 11/28/2020 | 3.500 | Walk/Run |
| 90 | 11/27/2020 | 3.950 | Walk/Run |
| 89 | 11/25/2020 | 3.900 | Walk/Run |
| 88 | 11/24/2020 | 3.850 | Walk/Run |
| 87 | 11/23/2020 | 3.800 | Walk/Run |
| 86 | 11/21/2020 | 3.750 | Walk/Run |
| 85 | 11/19/2020 | 3.639 | Walk/Run |
| 84 | 11/17/2020 | 3.650 | Walk/Run |
| 83 | 11/16/2020 | 3.600 | Walk/Run |
| 82 | 11/15/2020 | 3.550 | Walk/Run |
| 81 | 11/13/2020 | 3.500 | Walk/Run |
| 80 | 11/12/2020 | 3.451 | Walk/Run |
| 79 | 11/11/2020 | 3.408 | Walk/Run |
| 78 | 11/9/2020 | 3.350 | Walk/Run |
| 77 | 11/8/2020 | 3.300 | Walk/Run |
| 76 | 11/7/2020 | 3.250 | Walk/Run |
| 75 | 11/4/2020 | 3.200 | Walk/Run |
| 74 | 11/2/2020 | 3.145 | Walk/Run |
| 73 | 11/1/2020 | 3.081 | Walk/Run |
| 72 | 10/31/2020 | 3.052 | Walk/Run |
| 71 | 10/28/2020 | 3.050 | Walk/Run |
| 70 | 10/27/2020 | 2.966 | Walk/Run |
| 69 | 10/25/2020 | 2.885 | Walk/Run |
| 68 | 10/24/2020 | 2.849 | Walk/Run |
| 67 | 10/22/2020 | 2.812 | Walk/Run |
| 66 | 10/21/2020 | 2.754 | Walk/Run |
| 65 | 10/20/2020 | 2.699 | Walk/Run |
| 64 | 10/18/2020 | 2.625 | Walk/Run |
| 63 | 10/17/2020 | 2.557 | Walk/Run |
| 62 | 10/13/2020 | 2.427 | Walk/Run |
| 61 | 10/10/2020 | 2.276 | Walk/Run |
| 60 | 10/8/2020 | 2.159 | Walk/Run |
| 59 | 10/7/2020 | 2.126 | Walk/Run |
| 58 | 10/4/2020 | 2.00 | Walk/Run |
| 57 | 7/16/2020 | 2.418 | Walk/Run |
| 56 | 7/13/2020 | 2.347 | Walk/Run |
| 55 | 7/11/2020 | 2.697 | Walk/Run |
| 54 | 7/10/2020 | 2.595 | Walk/Run |
| 53 | 7/8/2020 | 2.515 | Walk/Run |
| 52 | 7/7/2020 | 2.498 | Walk/Run |
| 51 | 7/6/2020 | 2.427 | Walk/Run |
| 50 | 6/30/2020 | 2.431 | Walk/Run |
| 49 | 6/24/2020 | 2.435 | Walk/Run |
| 48 | 6/4/2020 | 3.470 | Walk/Run |
| 47 | 6/2/2020 | 3.403 | Walk/Run |
| 46 | 6/1/2020 | 3.397 | Walk/Run |
| 45 | 5/31/2020 | 3.187 | Walk/Run |
| 44 | 5/28/2020 | 3.510 | Walk/Run |
| 43 | 5/26/2020 | 3.317 | Walk/Run |
| 42 | 5/25/2020 | 3.434 | Walk/Run |
| 41 | 5/24/2020 | 3.220 | Walk/Run |
| 40 | 5/18/2020 | 2.467 | Walk/Run |
| 39 | 5/17/2020 | 2.628 | Walk/Run |
| 38 | 5/16/2020 | 3.077 | Walk/Run |
| 37 | 5/14/2020 | 2.754 | Walk/Run |
| 36 | 5/13/2020 | 3.332 | Walk/Run |
| 35 | 5/12/2020 | 2.955 | Walk/Run |
| 34 | 5/11/2020 | 3.271 | Walk/Run |
| 33 | 5/10/2020 | 3.122 | Walk/Run |
| 32 | 5/7/2020 | 3.174 | Walk/Run |
| 31 | 5/5/2020 | 3.116 | Walk/Run |
| 30 | 5/4/2020 | 3.336 | Walk/Run |
| 29 | 4/30/2020 | 2.269 | Walk/Run |
| 28 | 4/27/2020 | 2.291 | Walk/Run |
| 27 | 4/26/2020 | 3.356 | Walk/Run |
| 26 | 4/24/2020 | 3.304 | Walk/Run |
| 25 | 4/22/2020 | 3.265 | Walk/Run |
| 24 | 4/21/2020 | 3.301 | Walk/Run |
| 23 | 4/20/2020 | 3.173 | Walk/Run |
| 22 | 4/19/2020 | 3.271 | Walk/Run |
| 21 | 4/18/2020 | 3.182 | Walk/Run |
| 20 | 4/16/2020 | 3.208 | Walk/Run |
| 19 | 4/15/2020 | 3.148 | Walk/Run |
| 18 | 4/12/2020 | 3.156 | Walk/Run |
| 17 | 4/11/2020 | 3.129 | Walk/Run |
| 16 | 4/9/2020 | 3.083 | Walk/Run |
| 15 | 4/8/2020 | 3.092 | Walk/Run |
| 14 | 4/6/2020 | 2.642 | Walk/Run |
| 13 | 4/5/2020 | 2.956 | Walk/Run |
| 12 | 4/1/2020 | 3.082 | Walk/Run |
| 11 | 3/30/2020 | 3.039 | Walk/Run |
| 10 | 3/29/2020 | 3.008 | Walk/Run |
| 9 | 3/28/2020 | 2.750 | Walk/Run |
| 8 | 3/24/2020 | 3.116 | Walk/Run |
| 7 | 3/22/2020 | 3.103 | Walk/Run |
| 6 | 3/21/2020 | 3.098 | Walk/Run |
| 5 | 3/20/2020 | 3.009 | Walk/Run |
| 4 | 3/16/2020 | 3.501 | Walk/Run |
| 3 | 3/13/2020 | 3.445 | Walk/Run |
| 2 | 3/11/2020 | 3.390 | Walk/Run |
| 1 | 3/9/2020 | 3.171 | Walk/Run |
My Fitness Gear