I worked out like a fiend this week because I noticed that when I stepped on the scale my weight was staying pretty study the first few days of the week. I know I'm not supposed to look, but its honestly very hard not to, so I was glad that for my official weekly weigh in, I actually made my goal.
Which means I get to eat some chicken wings!!! Or at least I would get chicken wings if I could. Between the company I work for apparently being insolvent, and my local pizza/sub/wing place being intermittently open, I think I'm getting screwed out of wings this week one way or the other.
Oh well, I'met my goal, am alive, and so is my family, which means there is nothing to complain about it.
Please be safe, wear a mask if you have to go out to grab groceries, and have an awesome weekend.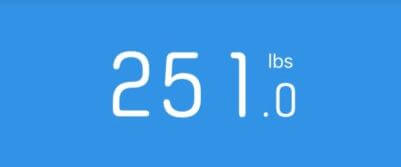 | Date | Weight (lbs) | Week | Target | Weight Left To Lose |
| --- | --- | --- | --- | --- |
| 7/31/2022 | 253.8 | 30 | 234 | 28.8 |
| 7/24/022 | 253.4 | 29 | 234.5 | 28.4 |
| 7/17/2022 | 260.2 | 28 | 235 | 35.2 |
| 7/10/2022 | 253.8 | 27 | 235.5 | 28.8 |
| 7/3/2022 | 262.4 | 26 | 236 | 37.4 |
| 6/26/2022 | 250.9 | 25 | 236.5 | 25.9 |
| 6/19/2022 | 250.5 | 24 | 237 | 25.5 |
| 5/15/2022 | 256.3 | 19 | 237.5 | 31.3 |
| 4/24/2022 | 256.3 | 16 | 238 | 31.3 |
| 4/17/2022 | 247.2 | 15 | 238.5 | 22.2 |
| 4/3/2022 | 247.4 | 14 | 239 | 22.4 |
| 3/20/2022 | 245.2 | 12 | 239.5 | 20.2 |
| 3/12/2022 | 248.7 | 11 | 240 | 23.7 |
| 3/6/2022 | 255.8 | 10 | 240.5 | 30.8 |
| 2/27/2022 | 242.7 | 9 | 241 | 17.7 |
| 2/20/2022 | 243.3 | 8 | 241.5 | 18.3 |
| 2/13/2022 | 244.3 | 7 | 242 | 19.3 |
| 2/6/2022 | 245.3 | 6 | 242.5 | 20.3 |
| 1/30/2022 | 246.8 | 5 | 243 | 21.8 |
| 1/23/2022 | 252.4 | 4 | 243.5 | 27.4 |
| 1/16/2022 | 246.3 | 3 | 244 | 21.3 |
| 1/9/2022 | 248.7 | 2 | 244.5 | 23.7 |
| 1/2/2022 | 247.2 | 1 | 245 | 22.2 |
| 12/26/2021 | 246.1 | 52 | 225 | 21.1 |
| 12/19/2021 | 240.8 | 51 | 225.5 | 15.8 |
| 12/12/2021 | 245.2 | 50 | 226 | 20.2 |
| 12/5/2021 | 242.2 | 49 | 226.5 | 17.2 |
| 11/28/2021 | 243.0 | 48 | 227 | 18 |
| 11/14/2021 | 237.5 | 47 | 227.5 | 12.5 |
| 11/7/2021 | 238.1 | 46 | 228 | 13.1 |
| 10/31/2021 | 238.3 | 45 | 228.5 | 13.3 |
| 10/24/2021 | 239.4 | 44 | 229 | 14.4 |
| 10/17/2021 | 242.7 | 43 | 229.5 | 17.7 |
| 10/10/2021 | 241.7 | 42 | 230 | 16.7 |
| 9/19/2021 | 231.8 | 38 | 230.5 | 6.8 |
| 9/12/2021 | 231.6 | 37 | 231 | 6.6 |
| 9/5/2021 | 233.0 | 36 | 231.5 | 8 |
| 8/28/2021 | 233.8 | 35 | 232 | 8.8 |
| 8/22/2021 | 234.5 | 34 | 232.5 | 9.5 |
| 8/15/2021 | 234.1 | 33 | 233 | 9.1 |
| 8/8/2021 | 234.3 | 32 | 233.5 | 9.3 |
| 8/1/2021 | 234.6 | 31 | 234 | 9.6 |
| 7/25/2021 | 235.0 | 30 | 234.5 | 10 |
| 7/18/2021 | 235.0 | 29 | 235 | 10 |
| 7/11/2021 | 234.0 | 28 | 235.5 | 9 |
| 7/5/2021 | 232.5 | 27 | 236 | 7.5 |
| 6/27/2021 | 234.6 | 26 | 236.5 | 9.6 |
| 6/20/2021 | 235.9 | 25 | 237 | 10.9 |
| 6/13/2021 | 236.2 | 24 | 237.5 | 11.2 |
| 6/5/2021 | 238.4 | 23 | 238 | 13.4 |
| 5/30/2021 | 236.3 | 22 | 238.5 | 11.3 |
| 5/23/2021 | 238.1 | 21 | 239 | 13.1 |
| 5/16/2021 | 240.3 | 20 | 239.5 | 15.3 |
| 5/9/2021 | 238.9 | 19 | 240 | 13.9 |
| 5/2/2021 | 240.7 | 18 | 240.5 | 15.7 |
| 4/25/2021 | 240.2 | 17 | 241 | 15.2 |
| 4/11/2021 | 238.8 | 15 | 241.5 | 13.8 |
| 4/4/2021 | 240.9 | 14 | 242 | 15.9 |
| 3/28/2021 | 242.0 | 13 | 242.5 | 17 |
| 3/21/2021 | 243.7 | 12 | 243 | 18.7 |
| 3/14/2021 | 241.9 | 11 | 243.5 | 16.9 |
| 3/7/2021 | 240.9 | 10 | 244 | 15.9 |
| 2/28/2021 | 241.2 | 9 | 244.5 | 16.2 |
| 2/21/2021 | 242.9 | 8 | 245.0 | 17.9 |
| 2/14/2021 | 241.7 | 7 | 245.5 | 16.7 |
| 2/7/2021 | 241.5 | 6 | 246.0 | 16.5 |
| 1/31/2021 | 242.0 | 5 | 246.5 | 17 |
| 1/24/2021 | 242.4 | 4 | 247.0 | 17.4 |
| 1/17/2021 | 242.9 | 3 | 247.5 | 17.9 |
| 1/10/2021 | 245.3 | 2 | 248.0 | 20.3 |
| 1/3/2021 | 249.1 | 1 | 248.5 | 24.1 |
| 12/20/2020 | 241.6 | 51 | 224 | 16.6 |
| 12/13/2020 | 241.9 | 50 | 225 | 16.9 |
| 12/6/2020 | 243.3 | 49 | 226 | 18.3 |
| 11/29/2020 | 247.1 | 48 | 227 | 22.1 |
| 11/22/2020 | 242.1 | 47 | 228 | 17.1 |
| 11/15/2020 | 245.4 | 46 | 229 | 20.4 |
| 11/8/2020 | 248.5 | 45 | 230 | 23.5 |
| 11/1/2020 | 245.9 | 44 | 231 | 20.9 |
| 10/25/2020 | 244.5 | 43 | 232 | 19.5 |
| 10/18/2020 | 243.7 | 42 | 233 | 18.7 |
| 10/11/2020 | 247.9 | 41 | 234 | 22.9 |
| 10/4/2020 | 250.5 | 40 | 235 | 25.5 |
| 9/20/2020 | 242.2 | 39 | 236 | 17.2 |
| 9/13/2020 | 241.7 | 38 | 237 | 16.7 |
| 9/6/2020 | 242.9 | 37 | 238 | 17.9 |
| 8/30/2020 | 240.7 | 36 | 239 | 15.7 |
| 8/23/2020 | 241.8 | 35 | 240 | 16.8 |
| 8/16/2020 | 243.1 | 34 | 241 | 18.1 |
| 8/9/2020 | 241.2 | 33 | 242 | 16.2 |
| 8/1/2020 | 242.2 | 32 | 243 | 17.2 |
| 7/26/2020 | 245.0 | 31 | 244 | 20 |
| 7/19/2020 | 243.3 | 30 | 245 | 18.3 |
| 7/12/2020 | 245.6 | 29 | 246 | 20.6 |
| 7/4/2020 | 244.1 | 28 | 247 | 19.1 |
| 6/27/2020 | 245.6 | 27 | 248 | 20.6 |
| 6/19/2020 | 245.3 | 26 | 249 | 20.3 |
| 6/14/2020 | 246.2 | 25 | 250 | 21.2 |
| 6/8/2020 | 248.5 | 24 | 251 | 23.5 |
| 5/30/2020 | 247.6 | 23 | 252 | 22.6 |
| 5/24/2020 | 248.9 | 22 | 253 | 23.9 |
| 5/17/2020 | 254.6 | 21 | 254 | 29.6 |
| 5/10/2020 | 252.1 | 20 | 255 | 27.1 |
| 5/2/2020 | 250.2 | 19 | 256 | 25.2 |
| 4/25/2020 | 251.0 | 18 | 257 | 26 |
| 4/17/2020 | 253.0 | 17 | 258 | 28 |
| 4/12/2020 | 253.9 | 16 | 259 | 28.9 |
| 4/4/2020 | 255.8 | 15 | 260 | 30.8 |
| 3/28/2020 | 257.9 | 14 | 261 | 32.9 |
| 3/21/2020 | 258.0 | 13 | 262 | 33 |
| 3/14/2020 | 259.2 | 12 | 263 | 34.2 |
| 3/8/2020 | 261.3 | 11 | 264 | 36.3 |
| 3/1/2020 | 263.3 | 10 | 265 | 38.3 |
| 2/22/2020 | 262.5 | 9 | 266 | 37.5 |
| 2/15/2020 | 265.3 | 8 | 267 | 40.3 |
| 2/8/2020 | 265.3 | 7 | 268 | 40.3 |
| 1/31/2020 | 266.1 | 6 | 269 | 41.1 |
| 1/25/2020 | 268.2 | 5 | 270 | 43.2 |
| 1/18/2020 | 269.9 | 4 | 272 | 44.9 |
| 1/11/2020 | 270.5 | 3 | 273 | 45.5 |
| 1/3/2020 | 271.9 | 2 | 274 | 44.9 |
| 1/1/2020 | 275.0 | 1 | 275 | 50 |