Its been a rough ten days or so when it comes to my back and the treadmill. I pushed too hard about ten days ago and had to basically take some time to recover. I'm not sure what hurt more, the mental blow of having that burning nerve pain again, or the actual pain. I'd been doing really well since the 1st of the year, but I guess I pushed my back past that red line and it wanted to remind me that running just isn't in my immediate future.
Which made trying to hit my weekly goal pretty hard as well. I had to cut back my calorie intake to about 800 calories a day, which fore me basically means about 100 grams of almonds plus a jar of jalapenos or garlic olives a day.
The end result is that I did get back on track, but it really wasn't much fun. I'm going to take today off from the treadmill and try to get back on the horse tomorrow and see how my back responds.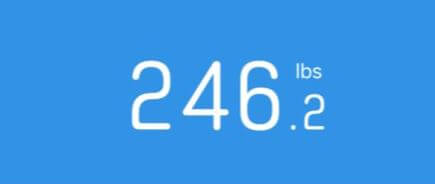 | Date | Weight (lbs) | Week | Target | Weight Left To Lose |
| --- | --- | --- | --- | --- |
| 7/31/2022 | 253.8 | 30 | 234 | 28.8 |
| 7/24/022 | 253.4 | 29 | 234.5 | 28.4 |
| 7/17/2022 | 260.2 | 28 | 235 | 35.2 |
| 7/10/2022 | 253.8 | 27 | 235.5 | 28.8 |
| 7/3/2022 | 262.4 | 26 | 236 | 37.4 |
| 6/26/2022 | 250.9 | 25 | 236.5 | 25.9 |
| 6/19/2022 | 250.5 | 24 | 237 | 25.5 |
| 5/15/2022 | 256.3 | 19 | 237.5 | 31.3 |
| 4/24/2022 | 256.3 | 16 | 238 | 31.3 |
| 4/17/2022 | 247.2 | 15 | 238.5 | 22.2 |
| 4/3/2022 | 247.4 | 14 | 239 | 22.4 |
| 3/20/2022 | 245.2 | 12 | 239.5 | 20.2 |
| 3/12/2022 | 248.7 | 11 | 240 | 23.7 |
| 3/6/2022 | 255.8 | 10 | 240.5 | 30.8 |
| 2/27/2022 | 242.7 | 9 | 241 | 17.7 |
| 2/20/2022 | 243.3 | 8 | 241.5 | 18.3 |
| 2/13/2022 | 244.3 | 7 | 242 | 19.3 |
| 2/6/2022 | 245.3 | 6 | 242.5 | 20.3 |
| 1/30/2022 | 246.8 | 5 | 243 | 21.8 |
| 1/23/2022 | 252.4 | 4 | 243.5 | 27.4 |
| 1/16/2022 | 246.3 | 3 | 244 | 21.3 |
| 1/9/2022 | 248.7 | 2 | 244.5 | 23.7 |
| 1/2/2022 | 247.2 | 1 | 245 | 22.2 |
| 12/26/2021 | 246.1 | 52 | 225 | 21.1 |
| 12/19/2021 | 240.8 | 51 | 225.5 | 15.8 |
| 12/12/2021 | 245.2 | 50 | 226 | 20.2 |
| 12/5/2021 | 242.2 | 49 | 226.5 | 17.2 |
| 11/28/2021 | 243.0 | 48 | 227 | 18 |
| 11/14/2021 | 237.5 | 47 | 227.5 | 12.5 |
| 11/7/2021 | 238.1 | 46 | 228 | 13.1 |
| 10/31/2021 | 238.3 | 45 | 228.5 | 13.3 |
| 10/24/2021 | 239.4 | 44 | 229 | 14.4 |
| 10/17/2021 | 242.7 | 43 | 229.5 | 17.7 |
| 10/10/2021 | 241.7 | 42 | 230 | 16.7 |
| 9/19/2021 | 231.8 | 38 | 230.5 | 6.8 |
| 9/12/2021 | 231.6 | 37 | 231 | 6.6 |
| 9/5/2021 | 233.0 | 36 | 231.5 | 8 |
| 8/28/2021 | 233.8 | 35 | 232 | 8.8 |
| 8/22/2021 | 234.5 | 34 | 232.5 | 9.5 |
| 8/15/2021 | 234.1 | 33 | 233 | 9.1 |
| 8/8/2021 | 234.3 | 32 | 233.5 | 9.3 |
| 8/1/2021 | 234.6 | 31 | 234 | 9.6 |
| 7/25/2021 | 235.0 | 30 | 234.5 | 10 |
| 7/18/2021 | 235.0 | 29 | 235 | 10 |
| 7/11/2021 | 234.0 | 28 | 235.5 | 9 |
| 7/5/2021 | 232.5 | 27 | 236 | 7.5 |
| 6/27/2021 | 234.6 | 26 | 236.5 | 9.6 |
| 6/20/2021 | 235.9 | 25 | 237 | 10.9 |
| 6/13/2021 | 236.2 | 24 | 237.5 | 11.2 |
| 6/5/2021 | 238.4 | 23 | 238 | 13.4 |
| 5/30/2021 | 236.3 | 22 | 238.5 | 11.3 |
| 5/23/2021 | 238.1 | 21 | 239 | 13.1 |
| 5/16/2021 | 240.3 | 20 | 239.5 | 15.3 |
| 5/9/2021 | 238.9 | 19 | 240 | 13.9 |
| 5/2/2021 | 240.7 | 18 | 240.5 | 15.7 |
| 4/25/2021 | 240.2 | 17 | 241 | 15.2 |
| 4/11/2021 | 238.8 | 15 | 241.5 | 13.8 |
| 4/4/2021 | 240.9 | 14 | 242 | 15.9 |
| 3/28/2021 | 242.0 | 13 | 242.5 | 17 |
| 3/21/2021 | 243.7 | 12 | 243 | 18.7 |
| 3/14/2021 | 241.9 | 11 | 243.5 | 16.9 |
| 3/7/2021 | 240.9 | 10 | 244 | 15.9 |
| 2/28/2021 | 241.2 | 9 | 244.5 | 16.2 |
| 2/21/2021 | 242.9 | 8 | 245.0 | 17.9 |
| 2/14/2021 | 241.7 | 7 | 245.5 | 16.7 |
| 2/7/2021 | 241.5 | 6 | 246.0 | 16.5 |
| 1/31/2021 | 242.0 | 5 | 246.5 | 17 |
| 1/24/2021 | 242.4 | 4 | 247.0 | 17.4 |
| 1/17/2021 | 242.9 | 3 | 247.5 | 17.9 |
| 1/10/2021 | 245.3 | 2 | 248.0 | 20.3 |
| 1/3/2021 | 249.1 | 1 | 248.5 | 24.1 |
| 12/20/2020 | 241.6 | 51 | 224 | 16.6 |
| 12/13/2020 | 241.9 | 50 | 225 | 16.9 |
| 12/6/2020 | 243.3 | 49 | 226 | 18.3 |
| 11/29/2020 | 247.1 | 48 | 227 | 22.1 |
| 11/22/2020 | 242.1 | 47 | 228 | 17.1 |
| 11/15/2020 | 245.4 | 46 | 229 | 20.4 |
| 11/8/2020 | 248.5 | 45 | 230 | 23.5 |
| 11/1/2020 | 245.9 | 44 | 231 | 20.9 |
| 10/25/2020 | 244.5 | 43 | 232 | 19.5 |
| 10/18/2020 | 243.7 | 42 | 233 | 18.7 |
| 10/11/2020 | 247.9 | 41 | 234 | 22.9 |
| 10/4/2020 | 250.5 | 40 | 235 | 25.5 |
| 9/20/2020 | 242.2 | 39 | 236 | 17.2 |
| 9/13/2020 | 241.7 | 38 | 237 | 16.7 |
| 9/6/2020 | 242.9 | 37 | 238 | 17.9 |
| 8/30/2020 | 240.7 | 36 | 239 | 15.7 |
| 8/23/2020 | 241.8 | 35 | 240 | 16.8 |
| 8/16/2020 | 243.1 | 34 | 241 | 18.1 |
| 8/9/2020 | 241.2 | 33 | 242 | 16.2 |
| 8/1/2020 | 242.2 | 32 | 243 | 17.2 |
| 7/26/2020 | 245.0 | 31 | 244 | 20 |
| 7/19/2020 | 243.3 | 30 | 245 | 18.3 |
| 7/12/2020 | 245.6 | 29 | 246 | 20.6 |
| 7/4/2020 | 244.1 | 28 | 247 | 19.1 |
| 6/27/2020 | 245.6 | 27 | 248 | 20.6 |
| 6/19/2020 | 245.3 | 26 | 249 | 20.3 |
| 6/14/2020 | 246.2 | 25 | 250 | 21.2 |
| 6/8/2020 | 248.5 | 24 | 251 | 23.5 |
| 5/30/2020 | 247.6 | 23 | 252 | 22.6 |
| 5/24/2020 | 248.9 | 22 | 253 | 23.9 |
| 5/17/2020 | 254.6 | 21 | 254 | 29.6 |
| 5/10/2020 | 252.1 | 20 | 255 | 27.1 |
| 5/2/2020 | 250.2 | 19 | 256 | 25.2 |
| 4/25/2020 | 251.0 | 18 | 257 | 26 |
| 4/17/2020 | 253.0 | 17 | 258 | 28 |
| 4/12/2020 | 253.9 | 16 | 259 | 28.9 |
| 4/4/2020 | 255.8 | 15 | 260 | 30.8 |
| 3/28/2020 | 257.9 | 14 | 261 | 32.9 |
| 3/21/2020 | 258.0 | 13 | 262 | 33 |
| 3/14/2020 | 259.2 | 12 | 263 | 34.2 |
| 3/8/2020 | 261.3 | 11 | 264 | 36.3 |
| 3/1/2020 | 263.3 | 10 | 265 | 38.3 |
| 2/22/2020 | 262.5 | 9 | 266 | 37.5 |
| 2/15/2020 | 265.3 | 8 | 267 | 40.3 |
| 2/8/2020 | 265.3 | 7 | 268 | 40.3 |
| 1/31/2020 | 266.1 | 6 | 269 | 41.1 |
| 1/25/2020 | 268.2 | 5 | 270 | 43.2 |
| 1/18/2020 | 269.9 | 4 | 272 | 44.9 |
| 1/11/2020 | 270.5 | 3 | 273 | 45.5 |
| 1/3/2020 | 271.9 | 2 | 274 | 44.9 |
| 1/1/2020 | 275.0 | 1 | 275 | 50 |