I've started physical therapy again, and it really is amazing how much it helps. I just switched to Boston Associates Rehabilitation and so far I am very happy. They pick up the phone when you call (the main reason I changed from Cross Keys) and my new therapist is amazing. I shuffled into my first appointment with my new physical therapist, Ms. Griscom, and by the time she was done I was actually above to stand up without hunching over.
Losing weight when you can't move is hard. Quite honestly, it is also easy to get depressed when you can't just pick up a bag of groceries without having to think about how much it weighs and how far you need to move it. The mental side of back pain can be devastating. Before this last episode I had been "good" for almost a year and was up to 3 miles on the treadmill. I honestly thought that if I kept losing weight maybe my back pain would disappear. I was thinking about getting a motorcycle again. I was looking at different models and was even working on getting into the weekend motorcycle course so I could get my license again. (Like an idiot I let my motorcycle license lapse a decade ago. I haven't ridden a bike since college.)
These mental blow of realizing I'm physically able to get on a bike safely, and won't likely be anytime soon, was something that really hit me. When things like that happen its easy to just say f*ck it and order a pizza. Trust me, I've been there.
Losing weight in the face of all that can be really hard. It is really hard. There are no easy ways to lose weight, much less when your mobility is lowered due to back pain. You have to count calories, and do it at every meal. But if you do, you can still manage your weight, even if your back hates you.
So even thought my target weight for this week was 240 lbs and I'm over that, I'm still going in the right direction from last week, so I'm going to count this week as a win.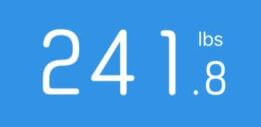 | Date | Weight (lbs) | Week | Target | Weight Left To Lose |
| --- | --- | --- | --- | --- |
| 7/31/2022 | 253.8 | 30 | 234 | 28.8 |
| 7/24/022 | 253.4 | 29 | 234.5 | 28.4 |
| 7/17/2022 | 260.2 | 28 | 235 | 35.2 |
| 7/10/2022 | 253.8 | 27 | 235.5 | 28.8 |
| 7/3/2022 | 262.4 | 26 | 236 | 37.4 |
| 6/26/2022 | 250.9 | 25 | 236.5 | 25.9 |
| 6/19/2022 | 250.5 | 24 | 237 | 25.5 |
| 5/15/2022 | 256.3 | 19 | 237.5 | 31.3 |
| 4/24/2022 | 256.3 | 16 | 238 | 31.3 |
| 4/17/2022 | 247.2 | 15 | 238.5 | 22.2 |
| 4/3/2022 | 247.4 | 14 | 239 | 22.4 |
| 3/20/2022 | 245.2 | 12 | 239.5 | 20.2 |
| 3/12/2022 | 248.7 | 11 | 240 | 23.7 |
| 3/6/2022 | 255.8 | 10 | 240.5 | 30.8 |
| 2/27/2022 | 242.7 | 9 | 241 | 17.7 |
| 2/20/2022 | 243.3 | 8 | 241.5 | 18.3 |
| 2/13/2022 | 244.3 | 7 | 242 | 19.3 |
| 2/6/2022 | 245.3 | 6 | 242.5 | 20.3 |
| 1/30/2022 | 246.8 | 5 | 243 | 21.8 |
| 1/23/2022 | 252.4 | 4 | 243.5 | 27.4 |
| 1/16/2022 | 246.3 | 3 | 244 | 21.3 |
| 1/9/2022 | 248.7 | 2 | 244.5 | 23.7 |
| 1/2/2022 | 247.2 | 1 | 245 | 22.2 |
| 12/26/2021 | 246.1 | 52 | 225 | 21.1 |
| 12/19/2021 | 240.8 | 51 | 225.5 | 15.8 |
| 12/12/2021 | 245.2 | 50 | 226 | 20.2 |
| 12/5/2021 | 242.2 | 49 | 226.5 | 17.2 |
| 11/28/2021 | 243.0 | 48 | 227 | 18 |
| 11/14/2021 | 237.5 | 47 | 227.5 | 12.5 |
| 11/7/2021 | 238.1 | 46 | 228 | 13.1 |
| 10/31/2021 | 238.3 | 45 | 228.5 | 13.3 |
| 10/24/2021 | 239.4 | 44 | 229 | 14.4 |
| 10/17/2021 | 242.7 | 43 | 229.5 | 17.7 |
| 10/10/2021 | 241.7 | 42 | 230 | 16.7 |
| 9/19/2021 | 231.8 | 38 | 230.5 | 6.8 |
| 9/12/2021 | 231.6 | 37 | 231 | 6.6 |
| 9/5/2021 | 233.0 | 36 | 231.5 | 8 |
| 8/28/2021 | 233.8 | 35 | 232 | 8.8 |
| 8/22/2021 | 234.5 | 34 | 232.5 | 9.5 |
| 8/15/2021 | 234.1 | 33 | 233 | 9.1 |
| 8/8/2021 | 234.3 | 32 | 233.5 | 9.3 |
| 8/1/2021 | 234.6 | 31 | 234 | 9.6 |
| 7/25/2021 | 235.0 | 30 | 234.5 | 10 |
| 7/18/2021 | 235.0 | 29 | 235 | 10 |
| 7/11/2021 | 234.0 | 28 | 235.5 | 9 |
| 7/5/2021 | 232.5 | 27 | 236 | 7.5 |
| 6/27/2021 | 234.6 | 26 | 236.5 | 9.6 |
| 6/20/2021 | 235.9 | 25 | 237 | 10.9 |
| 6/13/2021 | 236.2 | 24 | 237.5 | 11.2 |
| 6/5/2021 | 238.4 | 23 | 238 | 13.4 |
| 5/30/2021 | 236.3 | 22 | 238.5 | 11.3 |
| 5/23/2021 | 238.1 | 21 | 239 | 13.1 |
| 5/16/2021 | 240.3 | 20 | 239.5 | 15.3 |
| 5/9/2021 | 238.9 | 19 | 240 | 13.9 |
| 5/2/2021 | 240.7 | 18 | 240.5 | 15.7 |
| 4/25/2021 | 240.2 | 17 | 241 | 15.2 |
| 4/11/2021 | 238.8 | 15 | 241.5 | 13.8 |
| 4/4/2021 | 240.9 | 14 | 242 | 15.9 |
| 3/28/2021 | 242.0 | 13 | 242.5 | 17 |
| 3/21/2021 | 243.7 | 12 | 243 | 18.7 |
| 3/14/2021 | 241.9 | 11 | 243.5 | 16.9 |
| 3/7/2021 | 240.9 | 10 | 244 | 15.9 |
| 2/28/2021 | 241.2 | 9 | 244.5 | 16.2 |
| 2/21/2021 | 242.9 | 8 | 245.0 | 17.9 |
| 2/14/2021 | 241.7 | 7 | 245.5 | 16.7 |
| 2/7/2021 | 241.5 | 6 | 246.0 | 16.5 |
| 1/31/2021 | 242.0 | 5 | 246.5 | 17 |
| 1/24/2021 | 242.4 | 4 | 247.0 | 17.4 |
| 1/17/2021 | 242.9 | 3 | 247.5 | 17.9 |
| 1/10/2021 | 245.3 | 2 | 248.0 | 20.3 |
| 1/3/2021 | 249.1 | 1 | 248.5 | 24.1 |
| 12/20/2020 | 241.6 | 51 | 224 | 16.6 |
| 12/13/2020 | 241.9 | 50 | 225 | 16.9 |
| 12/6/2020 | 243.3 | 49 | 226 | 18.3 |
| 11/29/2020 | 247.1 | 48 | 227 | 22.1 |
| 11/22/2020 | 242.1 | 47 | 228 | 17.1 |
| 11/15/2020 | 245.4 | 46 | 229 | 20.4 |
| 11/8/2020 | 248.5 | 45 | 230 | 23.5 |
| 11/1/2020 | 245.9 | 44 | 231 | 20.9 |
| 10/25/2020 | 244.5 | 43 | 232 | 19.5 |
| 10/18/2020 | 243.7 | 42 | 233 | 18.7 |
| 10/11/2020 | 247.9 | 41 | 234 | 22.9 |
| 10/4/2020 | 250.5 | 40 | 235 | 25.5 |
| 9/20/2020 | 242.2 | 39 | 236 | 17.2 |
| 9/13/2020 | 241.7 | 38 | 237 | 16.7 |
| 9/6/2020 | 242.9 | 37 | 238 | 17.9 |
| 8/30/2020 | 240.7 | 36 | 239 | 15.7 |
| 8/23/2020 | 241.8 | 35 | 240 | 16.8 |
| 8/16/2020 | 243.1 | 34 | 241 | 18.1 |
| 8/9/2020 | 241.2 | 33 | 242 | 16.2 |
| 8/1/2020 | 242.2 | 32 | 243 | 17.2 |
| 7/26/2020 | 245.0 | 31 | 244 | 20 |
| 7/19/2020 | 243.3 | 30 | 245 | 18.3 |
| 7/12/2020 | 245.6 | 29 | 246 | 20.6 |
| 7/4/2020 | 244.1 | 28 | 247 | 19.1 |
| 6/27/2020 | 245.6 | 27 | 248 | 20.6 |
| 6/19/2020 | 245.3 | 26 | 249 | 20.3 |
| 6/14/2020 | 246.2 | 25 | 250 | 21.2 |
| 6/8/2020 | 248.5 | 24 | 251 | 23.5 |
| 5/30/2020 | 247.6 | 23 | 252 | 22.6 |
| 5/24/2020 | 248.9 | 22 | 253 | 23.9 |
| 5/17/2020 | 254.6 | 21 | 254 | 29.6 |
| 5/10/2020 | 252.1 | 20 | 255 | 27.1 |
| 5/2/2020 | 250.2 | 19 | 256 | 25.2 |
| 4/25/2020 | 251.0 | 18 | 257 | 26 |
| 4/17/2020 | 253.0 | 17 | 258 | 28 |
| 4/12/2020 | 253.9 | 16 | 259 | 28.9 |
| 4/4/2020 | 255.8 | 15 | 260 | 30.8 |
| 3/28/2020 | 257.9 | 14 | 261 | 32.9 |
| 3/21/2020 | 258.0 | 13 | 262 | 33 |
| 3/14/2020 | 259.2 | 12 | 263 | 34.2 |
| 3/8/2020 | 261.3 | 11 | 264 | 36.3 |
| 3/1/2020 | 263.3 | 10 | 265 | 38.3 |
| 2/22/2020 | 262.5 | 9 | 266 | 37.5 |
| 2/15/2020 | 265.3 | 8 | 267 | 40.3 |
| 2/8/2020 | 265.3 | 7 | 268 | 40.3 |
| 1/31/2020 | 266.1 | 6 | 269 | 41.1 |
| 1/25/2020 | 268.2 | 5 | 270 | 43.2 |
| 1/18/2020 | 269.9 | 4 | 272 | 44.9 |
| 1/11/2020 | 270.5 | 3 | 273 | 45.5 |
| 1/3/2020 | 271.9 | 2 | 274 | 44.9 |
| 1/1/2020 | 275.0 | 1 | 275 | 50 |