Thanks to a ton of time on the treadmill and reducing calories 4 days a week to one egg and half a cup of mixed nuts, I've got my weight going in the right direction!!!
My goal this week is to get into the 230s, but its been a massive fight to get this close, and its Thanksgiving week which will make it even harder!
We will see next Sunday if I'm weak and give in to the call of Cherry Pie and Ice Cream or if I'm strong enough to resist.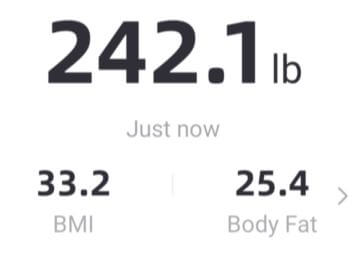 | Date | Weight (lbs) | Week | Target | Weight Left To Lose |
| --- | --- | --- | --- | --- |
| 7/31/2022 | 253.8 | 30 | 234 | 28.8 |
| 7/24/022 | 253.4 | 29 | 234.5 | 28.4 |
| 7/17/2022 | 260.2 | 28 | 235 | 35.2 |
| 7/10/2022 | 253.8 | 27 | 235.5 | 28.8 |
| 7/3/2022 | 262.4 | 26 | 236 | 37.4 |
| 6/26/2022 | 250.9 | 25 | 236.5 | 25.9 |
| 6/19/2022 | 250.5 | 24 | 237 | 25.5 |
| 5/15/2022 | 256.3 | 19 | 237.5 | 31.3 |
| 4/24/2022 | 256.3 | 16 | 238 | 31.3 |
| 4/17/2022 | 247.2 | 15 | 238.5 | 22.2 |
| 4/3/2022 | 247.4 | 14 | 239 | 22.4 |
| 3/20/2022 | 245.2 | 12 | 239.5 | 20.2 |
| 3/12/2022 | 248.7 | 11 | 240 | 23.7 |
| 3/6/2022 | 255.8 | 10 | 240.5 | 30.8 |
| 2/27/2022 | 242.7 | 9 | 241 | 17.7 |
| 2/20/2022 | 243.3 | 8 | 241.5 | 18.3 |
| 2/13/2022 | 244.3 | 7 | 242 | 19.3 |
| 2/6/2022 | 245.3 | 6 | 242.5 | 20.3 |
| 1/30/2022 | 246.8 | 5 | 243 | 21.8 |
| 1/23/2022 | 252.4 | 4 | 243.5 | 27.4 |
| 1/16/2022 | 246.3 | 3 | 244 | 21.3 |
| 1/9/2022 | 248.7 | 2 | 244.5 | 23.7 |
| 1/2/2022 | 247.2 | 1 | 245 | 22.2 |
| 12/26/2021 | 246.1 | 52 | 225 | 21.1 |
| 12/19/2021 | 240.8 | 51 | 225.5 | 15.8 |
| 12/12/2021 | 245.2 | 50 | 226 | 20.2 |
| 12/5/2021 | 242.2 | 49 | 226.5 | 17.2 |
| 11/28/2021 | 243.0 | 48 | 227 | 18 |
| 11/14/2021 | 237.5 | 47 | 227.5 | 12.5 |
| 11/7/2021 | 238.1 | 46 | 228 | 13.1 |
| 10/31/2021 | 238.3 | 45 | 228.5 | 13.3 |
| 10/24/2021 | 239.4 | 44 | 229 | 14.4 |
| 10/17/2021 | 242.7 | 43 | 229.5 | 17.7 |
| 10/10/2021 | 241.7 | 42 | 230 | 16.7 |
| 9/19/2021 | 231.8 | 38 | 230.5 | 6.8 |
| 9/12/2021 | 231.6 | 37 | 231 | 6.6 |
| 9/5/2021 | 233.0 | 36 | 231.5 | 8 |
| 8/28/2021 | 233.8 | 35 | 232 | 8.8 |
| 8/22/2021 | 234.5 | 34 | 232.5 | 9.5 |
| 8/15/2021 | 234.1 | 33 | 233 | 9.1 |
| 8/8/2021 | 234.3 | 32 | 233.5 | 9.3 |
| 8/1/2021 | 234.6 | 31 | 234 | 9.6 |
| 7/25/2021 | 235.0 | 30 | 234.5 | 10 |
| 7/18/2021 | 235.0 | 29 | 235 | 10 |
| 7/11/2021 | 234.0 | 28 | 235.5 | 9 |
| 7/5/2021 | 232.5 | 27 | 236 | 7.5 |
| 6/27/2021 | 234.6 | 26 | 236.5 | 9.6 |
| 6/20/2021 | 235.9 | 25 | 237 | 10.9 |
| 6/13/2021 | 236.2 | 24 | 237.5 | 11.2 |
| 6/5/2021 | 238.4 | 23 | 238 | 13.4 |
| 5/30/2021 | 236.3 | 22 | 238.5 | 11.3 |
| 5/23/2021 | 238.1 | 21 | 239 | 13.1 |
| 5/16/2021 | 240.3 | 20 | 239.5 | 15.3 |
| 5/9/2021 | 238.9 | 19 | 240 | 13.9 |
| 5/2/2021 | 240.7 | 18 | 240.5 | 15.7 |
| 4/25/2021 | 240.2 | 17 | 241 | 15.2 |
| 4/11/2021 | 238.8 | 15 | 241.5 | 13.8 |
| 4/4/2021 | 240.9 | 14 | 242 | 15.9 |
| 3/28/2021 | 242.0 | 13 | 242.5 | 17 |
| 3/21/2021 | 243.7 | 12 | 243 | 18.7 |
| 3/14/2021 | 241.9 | 11 | 243.5 | 16.9 |
| 3/7/2021 | 240.9 | 10 | 244 | 15.9 |
| 2/28/2021 | 241.2 | 9 | 244.5 | 16.2 |
| 2/21/2021 | 242.9 | 8 | 245.0 | 17.9 |
| 2/14/2021 | 241.7 | 7 | 245.5 | 16.7 |
| 2/7/2021 | 241.5 | 6 | 246.0 | 16.5 |
| 1/31/2021 | 242.0 | 5 | 246.5 | 17 |
| 1/24/2021 | 242.4 | 4 | 247.0 | 17.4 |
| 1/17/2021 | 242.9 | 3 | 247.5 | 17.9 |
| 1/10/2021 | 245.3 | 2 | 248.0 | 20.3 |
| 1/3/2021 | 249.1 | 1 | 248.5 | 24.1 |
| 12/20/2020 | 241.6 | 51 | 224 | 16.6 |
| 12/13/2020 | 241.9 | 50 | 225 | 16.9 |
| 12/6/2020 | 243.3 | 49 | 226 | 18.3 |
| 11/29/2020 | 247.1 | 48 | 227 | 22.1 |
| 11/22/2020 | 242.1 | 47 | 228 | 17.1 |
| 11/15/2020 | 245.4 | 46 | 229 | 20.4 |
| 11/8/2020 | 248.5 | 45 | 230 | 23.5 |
| 11/1/2020 | 245.9 | 44 | 231 | 20.9 |
| 10/25/2020 | 244.5 | 43 | 232 | 19.5 |
| 10/18/2020 | 243.7 | 42 | 233 | 18.7 |
| 10/11/2020 | 247.9 | 41 | 234 | 22.9 |
| 10/4/2020 | 250.5 | 40 | 235 | 25.5 |
| 9/20/2020 | 242.2 | 39 | 236 | 17.2 |
| 9/13/2020 | 241.7 | 38 | 237 | 16.7 |
| 9/6/2020 | 242.9 | 37 | 238 | 17.9 |
| 8/30/2020 | 240.7 | 36 | 239 | 15.7 |
| 8/23/2020 | 241.8 | 35 | 240 | 16.8 |
| 8/16/2020 | 243.1 | 34 | 241 | 18.1 |
| 8/9/2020 | 241.2 | 33 | 242 | 16.2 |
| 8/1/2020 | 242.2 | 32 | 243 | 17.2 |
| 7/26/2020 | 245.0 | 31 | 244 | 20 |
| 7/19/2020 | 243.3 | 30 | 245 | 18.3 |
| 7/12/2020 | 245.6 | 29 | 246 | 20.6 |
| 7/4/2020 | 244.1 | 28 | 247 | 19.1 |
| 6/27/2020 | 245.6 | 27 | 248 | 20.6 |
| 6/19/2020 | 245.3 | 26 | 249 | 20.3 |
| 6/14/2020 | 246.2 | 25 | 250 | 21.2 |
| 6/8/2020 | 248.5 | 24 | 251 | 23.5 |
| 5/30/2020 | 247.6 | 23 | 252 | 22.6 |
| 5/24/2020 | 248.9 | 22 | 253 | 23.9 |
| 5/17/2020 | 254.6 | 21 | 254 | 29.6 |
| 5/10/2020 | 252.1 | 20 | 255 | 27.1 |
| 5/2/2020 | 250.2 | 19 | 256 | 25.2 |
| 4/25/2020 | 251.0 | 18 | 257 | 26 |
| 4/17/2020 | 253.0 | 17 | 258 | 28 |
| 4/12/2020 | 253.9 | 16 | 259 | 28.9 |
| 4/4/2020 | 255.8 | 15 | 260 | 30.8 |
| 3/28/2020 | 257.9 | 14 | 261 | 32.9 |
| 3/21/2020 | 258.0 | 13 | 262 | 33 |
| 3/14/2020 | 259.2 | 12 | 263 | 34.2 |
| 3/8/2020 | 261.3 | 11 | 264 | 36.3 |
| 3/1/2020 | 263.3 | 10 | 265 | 38.3 |
| 2/22/2020 | 262.5 | 9 | 266 | 37.5 |
| 2/15/2020 | 265.3 | 8 | 267 | 40.3 |
| 2/8/2020 | 265.3 | 7 | 268 | 40.3 |
| 1/31/2020 | 266.1 | 6 | 269 | 41.1 |
| 1/25/2020 | 268.2 | 5 | 270 | 43.2 |
| 1/18/2020 | 269.9 | 4 | 272 | 44.9 |
| 1/11/2020 | 270.5 | 3 | 273 | 45.5 |
| 1/3/2020 | 271.9 | 2 | 274 | 44.9 |
| 1/1/2020 | 275.0 | 1 | 275 | 50 |