The Battery is the story of two survivors, making their way across a decimated country. The country is overrun by the undead. Ben and Mickey have fled into the wilderness in the hopes that there will be less Zombies. Ben appears to be the more resilient, better prepared survivor. Mickey is a bit more fragile and not quite as ready to deal with the realities of the current world.
Spoilers Below
The story revolves around the two finding an old Volvo station wagon while trying to deal with each other. Nerves are raw, and they've been through a lot. Ben believes that the key to survival is to keep moving, but Mickey wants to settle down.
Ben and Micky are an odd couple. They knew each other pre Apocalypse, but weren't really in the same social circle. The tension continues to grow the longer they are forced to survive together.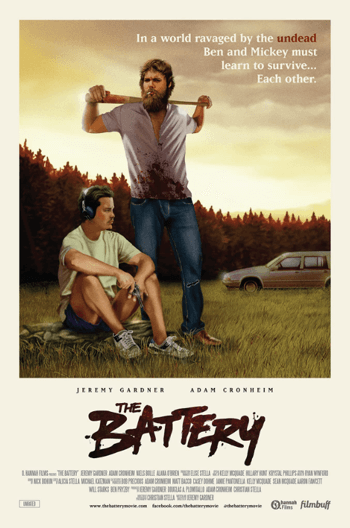 The last act of The Battery has our two survivors trapped after Mickey gets to meet the woman on the other side of the radio. Sadly for him, things don't go quite like he had imagined. I'm not going to ruin the end of the movie, because this is Worth Your Time and you should go watch it.
For such a small budget film, the actors and director did an amazing job. The whole thing was shot over the course of fifteen days for $6,000 in the wilds of Connecticut. Does that make it a passion project? How the hell did they make this film for that amount of money?
The Battery Scoring
The Battery isn't your standard Zombie Movie, but it hits on multiple cylinders and has a little twist at the end, earning The Battery a 74/100. This makes it Worth Your Time. Make sure you watch to the end of the first segment of credits to make sure you get the full ending.