Due to my Achilles injury I haven't been able to walk a lot this year so far, so I bought myself a Stationary Bike for my birthday. I went with the JEEKEE Recumbent Exercise Bike for Adults Seniors because the seat looked comfy and it had good reviews. It is not nearly the most expensive Recumbent Exercise Bike out there, but its also not the cheapest. I went for the best mix of features, durability and price, and felt like the JEEKEE offering it my needs the best.
Sadly, my legs were hurting after just 15 minutes, but I guess you have to start somewhere.
My distance was 2.86 miles.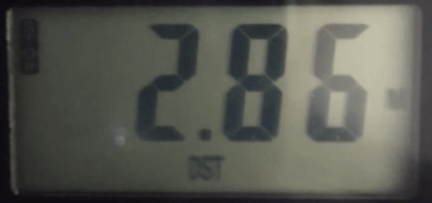 I didn't want to push too hard today, so I quit when my legs started to feel rubbery, but I'm hoping to use it again tomorrow if I feel good when I get up.
| Day | Date | Distance | Exercise Type |
| --- | --- | --- | --- |
| 229 | 8/9/2022 | 4.52 | Stationary Bike |
| 228 | 8/8/2022 | 4.98 | Stationary Bike |
| 226 | 7/31/2022 | 5.16 | Walk |
| 225 | 7/27/2022 | 4.78 | Stationary Bike |
| 224 | 7/26/2022 | 4.68 | Stationary Bike |
| 223 | 7/24/2022 | 3.800 | Walk |
| 222 | 7/17/2022 | 3.920 | Walk/Run |
| 221 | 7/10/2022 | 4.48 | Walk/Run |
| 220 | 7/6/2022 | 4.39 | Stationary Bike |
| 219 | 7/4/2022 | 3.984 | Walk/Run |
| 218 | 7/3/2022 | 3.327 | Walk/Run |
| 217 | 7/2/2022 | 1.866 | Walk/Run |
| 216 | 6/26/2022 | 1.905 | Walk/Run |
| 215 | 6/20/2022 | 3.884 | Walk/Run |
| 214 | 6/16/2022 | 3.94 | Stationary Bike |
| 213 | 6/15/2022 | 6.78 | Stationary Bike |
| 212 | 6/14/2022 | 1.075 | Walk/Run |
| 211 | 6/13/2022 | 7.08 | Stationary Bike |
| 210 | 6/10/2022 | 6.74 | Stationary Bike |
| 209 | 6/7/2022 | 5.58 | Stationary Bike |
| 208 | 6/6/2022 | 5.18 | Stationary Bike |
| 207 | 6/5/2022 | 3.327 | Walk/Run |
| 206 | 6/1/2022 | 4.96 | Stationary Bike |
| 205 | 5/31/2022 | 4.72 | Stationary Bike |
| 204 | 5/31/2022 | 1.067 | Walk/Run |
| 203 | 5/30/2022 | 3.328 | Walk/Run |
| 202 | 5/25/2022 | 4.14 | Stationary Bike |
| 201 | 5/23/2022 | 3.93 | Stationary Bike |
| 200 | 5/22/2022 | 3.43 | Stationary Bike |
| 200 | 5/22/2022 | 1.894 | Walk/Run |
| 199 | 5/18/2022 | 6.38 | Stationary Bike |
| 198 | 5/15/2022 | 2.87 | Stationary Bike |
| 198 | 5/15/2022 | 1.929 | Walk/Run |
| 197 | 4/26/2022 | 6.70 | Stationary Bike |
| 196 | 4/25/2022 | 5.96 | Stationary Bike |
| 195 | 4/24/2022 | 2.86 | Stationary Bike |
| 194 | 4/11/2022 | 1.875 | Walk/Run |
| 193 | 3/20/2022 | 1.790 | Walk/Run |
| 192 | 3/13/2022 | 1.917 | Walk/Run |
| 191 | 3/6/2022 | 2.195 | Walk/Run |
| 190 | 2/19/2022 | 1.000 | Walk/Run |
| 189 | 1/2/2022 | 5.095 | Walk/Run |
| 188 | 1/1/2022 | 4.754 | Walk/Run |
| 187 | 12/26/2021 | 2.225 | Walk/Run |
| 186 | 12/12/2021 | 3.819 | Walk/Run |
| 185 | 12/5/2021 | 1.776 | Walk/Run |
| 184 | 11/28/2021 | 4.278 | Walk/Run |
| 183 | 11/21/2021 | 1.882 | Walk/Run |
| 182 | 10/24/2021 | 4.423 | Walk/Run |
| 181 | 10/17/2021 | 3.400 | Walk/Run |
| 180 | 9/12/2021 | 4.933 | Walk/Run |
| 179 | 9/6/2021 | 4.684 | Walk/Run |
| 178 | 8/29/2021 | 4.524 | Walk/Run |
| 177 | 8/22/2021 | 4.233 | Walk/Run |
| 176 | 8/21/2021 | 1.831 | Walk/Run |
| 175 | 8/17/2021 | 4.076 | Walk/Run |
| 174 | 8/15/2021 | 3.915 | Walk/Run |
| 173 | 8/11/2021 | 3.161 | Walk/Run |
| 172 | 8/8/2021 | 3.225 | Walk/Run |
| 171 | 8/1/2021 | 1.799 | Walk/Run |
| 170 | 6/6/2021 | 3.660 | Walk/Run |
| 169 | 5/23/2021 | 3.660 | Walk/Run |
| 168 | 4/182021 | 1.700 | Walk/Run |
| 167 | 4/17/2021 | 1.700 | Walk/Run |
| 166 | 4/16/2021 | 1.0 | Walk/Run |
| 165 | 5/4/2021 | 1.700 | Walk/Run |
| 164 | 5/3/2021 | 1.700 | Walk/Run |
| 163 | 4/28/2021 | 3.660 | Walk/Run |
| 162 | 4/25/2021 | 3.660 | Walk/Run |
| 161 | 4/20/2021 | 3.660 | Walk/Run |
| 160 | 4/13/2021 | 3.660 | Walk/Run |
| 159 | 4/12/2021 | 2.610 | Walk/Run |
| 158 | 4/11/2021 | 3.060 | Walk/Run |
| 157 | 4/10/2021 | 3.060 | Walk/Run |
| 156 | 4/8/2021 | 3.060 | Walk/Run |
| 155 | 4/6/2021 | 3.060 | Walk/Run |
| 154 | 4/5/2021 | 1.005 | Walk/Run |
| 153 | 3/27/2021 | 3.660 | Walk/Run |
| 152 | 3/24/2021 | 4.070 | Walk/Run |
| 151 | 3/22/2021 | 3.060 | Walk/Run |
| 150 | 3/15/2021 | 4.000 | Walk/Run |
| 149 | 3/13/2021 | 3.920 | Walk/Run |
| 148 | 3/10/2021 | 3.850 | Walk/Run |
| 147 | 3/7/2021 | 3.800 | Walk/Run |
| 146 | 3/5/2021 | 3.750 | Walk/Run |
| 145 | 3/3/2021 | 3.700 | Walk/Run |
| 144 | 3/1/2021 | 3.650 | Walk/Run |
| 143 | 2/27/2021 | 3.600 | Walk/Run |
| 142 | 2/25/2021 | 3.550 | Walk/Run |
| 141 | 2/23/2021 | 3.500 | Walk/Run |
| 140 | 2/21/2021 | 3.440 | Walk/Run |
| 139 | 2/20/2021 | 3.385 | Walk/Run |
| 138 | 2/17/2021 | 3.330 | Walk/Run |
| 137 | 2/16/2021 | 3.275 | Walk/Run |
| 136 | 2/15/2021 | 3.225 | Walk/Run |
| 135 | 2/13/2021 | 3.170 | Walk/Run |
| 134 | 2/12/2021 | 3.130 | Walk/Run |
| 133 | 2/10/2021 | 4.610 | Walk/Run |
| 132 | 2/9/2021 | 4.530 | Walk/Run |
| 131 | 2/7/2021 | 4.480 | Walk/Run |
| 130 | 2/6/2021 | 4.425 | Walk/Run |
| 129 | 2/3/2021 | 4.375 | Walk/Run |
| 128 | 1/28/2021 | 4.320 | Walk/Run |
| 127 | 1/27/2021 | 4.271 | Walk/Run |
| 126 | 1/26/2021 | 4.220 | Walk/Run |
| 125 | 1/24/2021 | 4.165 | Walk/Run |
| 124 | 1/23/2021 | 4.110 | Walk/Run |
| 123 | 1/20/2021 | 4.110 | Walk/Run |
| 122 | 1/17/2021 | 4.060 | Walk/Run |
| 121 | 1/16/2021 | 4.010 | Walk/Run |
| 120 | 1/14/2021 | 3.960 | Walk/Run |
| 119 | 1/10/2021 | 3.910 | Walk/Run |
| 118 | 1/9/2021 | 3.850 | Walk/Run |
| 117 | 1/6/2021 | 3.801 | Walk/Run |
| 116 | 1/5/2021 | 3.750 | Walk/Run |
| 115 | 1/3/2021 | 3.700 | Walk/Run |
| 114 | 1/1/2021 | 3.655 | Walk/Run |
| 113 | 12/31/2020 | 3.600 | Walk/Run |
| 112 | 12/29/2020 | 3.540 | Walk/Run |
| 111 | 12/27/2020 | 3.490 | Walk/Run |
| 110 | 12/25/2020 | 3.440 | Walk/Run |
| 109 | 12/24/2020 | 3.380 | Walk/Run |
| 108 | 12/23/2020 | 3.335 | Walk/Run |
| 107 | 12/22/2020 | 3.285 | Walk/Run |
| 106 | 12/21/2020 | 3.235 | Walk/Run |
| 105 | 12/18/2020 | 3.250 | Walk/Run |
| 104 | 12/17/2020 | 3.181 | Walk/Run |
| 103 | 12/16/2020 | 3.100 | Walk/Run |
| 102 | 12/15/2020 | 3.021 | Walk/Run |
| 101 | 12/14/2020 | 4.45 | Walk/Run |
| 100 | 12/12/2020 | 4.400 | Walk/Run |
| 99 | 12/9/2020 | 4.350 | Walk/Run |
| 98 | 12/8/2020 | 4.300 | Walk/Run |
| 97 | 12/6/2020 | 4.250 | Walk/Run |
| 96 | 12/5/2020 | 4.200 | Walk/Run |
| 95 | 12/3/2020 | 4.150 | Walk/Run |
| 94 | 12/2/2020 | 4.100 | Walk/Run |
| 93 | 12/1/2020 | 4.005 | Walk/Run |
| 92 | 11/29/2020 | 4.000 | Walk/Run |
| 91 | 11/28/2020 | 3.500 | Walk/Run |
| 90 | 11/27/2020 | 3.950 | Walk/Run |
| 89 | 11/25/2020 | 3.900 | Walk/Run |
| 88 | 11/24/2020 | 3.850 | Walk/Run |
| 87 | 11/23/2020 | 3.800 | Walk/Run |
| 86 | 11/21/2020 | 3.750 | Walk/Run |
| 85 | 11/19/2020 | 3.639 | Walk/Run |
| 84 | 11/17/2020 | 3.650 | Walk/Run |
| 83 | 11/16/2020 | 3.600 | Walk/Run |
| 82 | 11/15/2020 | 3.550 | Walk/Run |
| 81 | 11/13/2020 | 3.500 | Walk/Run |
| 80 | 11/12/2020 | 3.451 | Walk/Run |
| 79 | 11/11/2020 | 3.408 | Walk/Run |
| 78 | 11/9/2020 | 3.350 | Walk/Run |
| 77 | 11/8/2020 | 3.300 | Walk/Run |
| 76 | 11/7/2020 | 3.250 | Walk/Run |
| 75 | 11/4/2020 | 3.200 | Walk/Run |
| 74 | 11/2/2020 | 3.145 | Walk/Run |
| 73 | 11/1/2020 | 3.081 | Walk/Run |
| 72 | 10/31/2020 | 3.052 | Walk/Run |
| 71 | 10/28/2020 | 3.050 | Walk/Run |
| 70 | 10/27/2020 | 2.966 | Walk/Run |
| 69 | 10/25/2020 | 2.885 | Walk/Run |
| 68 | 10/24/2020 | 2.849 | Walk/Run |
| 67 | 10/22/2020 | 2.812 | Walk/Run |
| 66 | 10/21/2020 | 2.754 | Walk/Run |
| 65 | 10/20/2020 | 2.699 | Walk/Run |
| 64 | 10/18/2020 | 2.625 | Walk/Run |
| 63 | 10/17/2020 | 2.557 | Walk/Run |
| 62 | 10/13/2020 | 2.427 | Walk/Run |
| 61 | 10/10/2020 | 2.276 | Walk/Run |
| 60 | 10/8/2020 | 2.159 | Walk/Run |
| 59 | 10/7/2020 | 2.126 | Walk/Run |
| 58 | 10/4/2020 | 2.00 | Walk/Run |
| 57 | 7/16/2020 | 2.418 | Walk/Run |
| 56 | 7/13/2020 | 2.347 | Walk/Run |
| 55 | 7/11/2020 | 2.697 | Walk/Run |
| 54 | 7/10/2020 | 2.595 | Walk/Run |
| 53 | 7/8/2020 | 2.515 | Walk/Run |
| 52 | 7/7/2020 | 2.498 | Walk/Run |
| 51 | 7/6/2020 | 2.427 | Walk/Run |
| 50 | 6/30/2020 | 2.431 | Walk/Run |
| 49 | 6/24/2020 | 2.435 | Walk/Run |
| 48 | 6/4/2020 | 3.470 | Walk/Run |
| 47 | 6/2/2020 | 3.403 | Walk/Run |
| 46 | 6/1/2020 | 3.397 | Walk/Run |
| 45 | 5/31/2020 | 3.187 | Walk/Run |
| 44 | 5/28/2020 | 3.510 | Walk/Run |
| 43 | 5/26/2020 | 3.317 | Walk/Run |
| 42 | 5/25/2020 | 3.434 | Walk/Run |
| 41 | 5/24/2020 | 3.220 | Walk/Run |
| 40 | 5/18/2020 | 2.467 | Walk/Run |
| 39 | 5/17/2020 | 2.628 | Walk/Run |
| 38 | 5/16/2020 | 3.077 | Walk/Run |
| 37 | 5/14/2020 | 2.754 | Walk/Run |
| 36 | 5/13/2020 | 3.332 | Walk/Run |
| 35 | 5/12/2020 | 2.955 | Walk/Run |
| 34 | 5/11/2020 | 3.271 | Walk/Run |
| 33 | 5/10/2020 | 3.122 | Walk/Run |
| 32 | 5/7/2020 | 3.174 | Walk/Run |
| 31 | 5/5/2020 | 3.116 | Walk/Run |
| 30 | 5/4/2020 | 3.336 | Walk/Run |
| 29 | 4/30/2020 | 2.269 | Walk/Run |
| 28 | 4/27/2020 | 2.291 | Walk/Run |
| 27 | 4/26/2020 | 3.356 | Walk/Run |
| 26 | 4/24/2020 | 3.304 | Walk/Run |
| 25 | 4/22/2020 | 3.265 | Walk/Run |
| 24 | 4/21/2020 | 3.301 | Walk/Run |
| 23 | 4/20/2020 | 3.173 | Walk/Run |
| 22 | 4/19/2020 | 3.271 | Walk/Run |
| 21 | 4/18/2020 | 3.182 | Walk/Run |
| 20 | 4/16/2020 | 3.208 | Walk/Run |
| 19 | 4/15/2020 | 3.148 | Walk/Run |
| 18 | 4/12/2020 | 3.156 | Walk/Run |
| 17 | 4/11/2020 | 3.129 | Walk/Run |
| 16 | 4/9/2020 | 3.083 | Walk/Run |
| 15 | 4/8/2020 | 3.092 | Walk/Run |
| 14 | 4/6/2020 | 2.642 | Walk/Run |
| 13 | 4/5/2020 | 2.956 | Walk/Run |
| 12 | 4/1/2020 | 3.082 | Walk/Run |
| 11 | 3/30/2020 | 3.039 | Walk/Run |
| 10 | 3/29/2020 | 3.008 | Walk/Run |
| 9 | 3/28/2020 | 2.750 | Walk/Run |
| 8 | 3/24/2020 | 3.116 | Walk/Run |
| 7 | 3/22/2020 | 3.103 | Walk/Run |
| 6 | 3/21/2020 | 3.098 | Walk/Run |
| 5 | 3/20/2020 | 3.009 | Walk/Run |
| 4 | 3/16/2020 | 3.501 | Walk/Run |
| 3 | 3/13/2020 | 3.445 | Walk/Run |
| 2 | 3/11/2020 | 3.390 | Walk/Run |
| 1 | 3/9/2020 | 3.171 | Walk/Run |