I seriously upped my Honey
 stores this year. The reason is very straightforward. Honey
can be stored forever, never goes bad, is calorie dense, and it can even be used to treat wounds.
Because of Honey's
 antimicrobial and anti-inflammatory properties it has been used to treat illness and wounds since its discovery. It can be used to treat diarrhea and stomach ulcers caused by infection with H. pylori bacteria as well as act as a direct wound treatment. It is believed that on top of its antimicrobial and anti-inflammatory properties that help wound healing, the viscosity of the fluid over the wound acts as a physical barrier to contamination after the initial injury. It also ensures that whatever wound dressing you are using doesn't stick to the wound.
In a survival situation Honey
 is basically the only burn treatment you are going to have if you get a large burn, which is an incredibly dangerous because burns leaves you wide open to infections.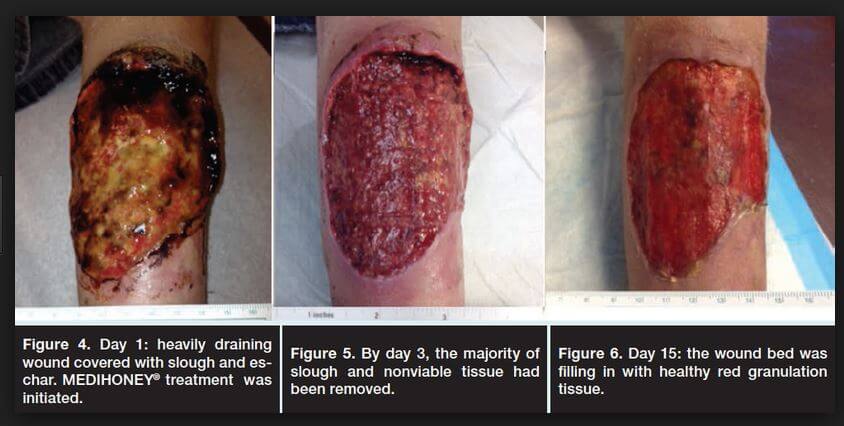 Put all that together and you understand why I put so much Honey on the shelves at my Bolt Hole.
Undead-Earth Survival Gear List 2017
Day
Survival Gear
Category
Estimated Cost
Survival Day 163
Bulk Honey
Bulk Food / Bolt Hole Stuff
$45 X 10 = $450
To Date $27,350
Survival Day 162
Heavy Duty Tool Belt
Basic Supplies / Bolt Hole Stuff / Survival Clothing
$60
To Date $26,800
Survival Day 161
Push Sweeper
Basic Supplies / Bolt Hole Stuff
$30
To Date $26,740
Survival Day 160
Unbreakable Umbrella
Weapons / Self Defense / Hidden Survival Gear
$102
To Date $26,710
Survival Day 159
WD-40 Safe Can Diversion Stash Container
Security / Home Security / Hidden Survival Gear
$18 X 3 = $54
To Date $26,608
Survival Day 158
Solar Powered Floodlight
Technology / Off The Grid
$55 X 6 = $330
To Date $26,554
Survival Day 157
Large Magnetic Nut and Bolt Tray
Tools / Bolt Hole Stuff / Vehicle Gear
$12 X 2 = $24
To Date $26,224
Survival Day 156
260 Gallon Water Storage Tank
Clean Water / Bulk Food / Bolt Hole Stuff
$630
To Date $26,200
Survival Day 155
BDU Shorts
Survival Clothing / Warm Weather Gear
$25 X 4 = $100
To Date $25,570
Survival Day 154
Low Suds Laundry Detergent
Basic Supplies / Bolt Hole Stuff
$160 X 2 = $340
To Date $25,470
Survival Day 153
Mattock
Weapons / Tools / Hidden Survival Gear
$30 X 2 = $60
To Date $25,130
Survival Day 152
Keysafe Lock Box
Security / Home Security
$35 X 2 = $70
To Date $25,070
Survival Day 151
100-Watt Portable Generator Power Inverter
Technology / Off The Grid
$150 X 2 = $300
To Date $25,000
Survival Day 150
Breaching Tool
Tools / Bolt Hole Stuff / Scavenging Gear
$240
To Date $24,700
Survival Day 149
Instant Milk
Bulk Food / Bolt Hole Stuff
$85 X 4 = $340
To Date $24,460
Survival Day 148
Game Processor Kit
Basic Supplies / Hunting
$60 X 2 = $120
To Date $24,120
Survival Day 147
Titanium Camping Mug With Measurement Marks
Basic Supplies / Camping / Cooking
$25 X 3 = $75
To Date $24,000
Survival Day 146
Pepper Spray Self Defense Gun
Weapons / Survival Gear / Self Defense
$350
To Date $23,925
Survival Day 145
Door Armor
Security / Home Security / Bolt Hole Stuff
$70 X 5 = $350
To Date $23,575
Survival Day 144
AM, FM, LW, SW, SSB, and VHF Aircraft Band Radio Receiver
Technology / Off The Grid
$325
To Date $23,225
Survival Day 143
Heavy Duty Tow Strap
Tools / Bolt Hole Stuff / Vehicle Gear
$35 X 2 = $70
To Date $22,900
Survival Day 142
Heavy Duty Camping Rotisserie
Cooking / Bolt Hole Stuff
$80
To Date $22,830
Survival Day 141
Mesh Screen Food Covers
Basic Supplies / Camping
$20 X 5 = $100
To Date $22,750
Survival Day 140
Steri-Strip Skin Closures
First Aid / Basic Supplies / Camping
$10 X 5 = $50
To Date $22,650
Survival Day 139
Steel Mace
Weapons / Survival Gear
$75 X 2 = $150
To Date $22,600
Survival Day 138
Bike Lock Cable
Security / Bolt Hole Stuff
$15 X 10 = $150
To Date $22,450
Survival Day 137
Emergency Pedal Generator
Technology / Off The Grid
$275
To Date $22,300
Survival Day 136
Bow Saw
Tools / Bolt Hole Stuff / Garage Gear
$25
To Date $22,025
Survival Day 135
Scrambled Eggs with Bacon
Bulk Food / Bolt Hole Stuff
$25 X 16 = $400
To Date $22,000
Survival Day 134
35-Gallon Gas Caddy Fuel Tank
Basic Supplies / Off The Grid / Garage Gear
$230
To Date $21,600
Survival Day 133
Heavy Duty Waxed Canvas Work Apron
Basic Supplies / Survival Clothing
$35 X 2 $70
To Date $21,270
Survival Day 132
Glass Breaker Self Defense Pen
Weapons / Every Day Carry
$20 X 5 $100
To Date $21,200
Survival Day 131
Surface Trip Flare
Security / Bolt Hole Stuff
$25 X 10 $250
To Date $21,100
Survival Day 130
Propane Hot Water Heater Shower
Technology / Camping
$140
To Date $20,850
Survival Day 129
Soft Sided Tool Bag
Tools / Bolt Hole Stuff / Garage Gear / Vehicle Gear
$15 X 6 = $90
To Date $20,710
Survival Day 128
Vinegar
Bulk Food / Bolt Hole Stuff
$20 X 5 = $100
To Date $20,620
Survival Day 127
Warm Weather Sleeping Bag
Basic Supplies / Camping
$30 X 4 = $120
To Date $20,520
Survival Day 126
Outdoor Fish and Game Cleaning Table
Basic Supplies / Camping
$50
To Date $20,400
Survival Day 125
Spotting Scope
Technology / Shooting / Hunting
$150
To Date $20,350
Survival Day 124
Weight Sensing Floor Mat With Alarm & Pager
Security / Bolt Hole Stuff
$230 X 2 = $460
To Date $20,200
Survival Day 123
Jump Starter & Compressor
Technology / Vehicle Gear / Garage Gear
$67.50 X 2 = $135
To Date $19,740
Survival Day 122
Polished Steel Multi-Tool
Tools / Bolt Hole Stuff / Garage Gear / Vehicle Gear
$20 X 5 = $100
To Date $19,605
Survival Day 121
Freeze Dried Strawberries
Bulk Food / Bolt Hole Stuff
$15 X 20 = $300
To Date $19,505
Survival Day 120
Tactical Side-Zip Boots
Survival Clothing / Camping / Hunting
$75 X 2 = $150
To Date $19,205
Survival Day 119
Rain Fly
Basic Supplies / Camping / Wet Weather Gear
$60
To Date $19,055
Survival Day 118
Bear Spray
Weapons / Survival Gear
$40 X 3 = $120
To Date $18,985
Survival Day 117
High Frequency Loud Hiking/Camping Whistle
Tools / Bolt Hole Stuff / Camping
$8 X 5 = $40
To Date $18,865
Survival Day 116
goTenna – Off-Grid Text & GPS
Technology / Bolt Hole Stuff / Camping
$150 X 2 = $300
To Date $18,825
Survival Day 115
Standard & Metric Tape Measure
Tools / Bolt Hole Stuff / Garage Gear
$12.50 X 2 = $25
To Date $18,525
Survival Day 114
Rain Barrel
Clean Water / Bulk Food / Bolt Hole Stuff
$125 X 4 = $500
To Date $18,500
Survival Day 113
Work Gloves
Basic Supplies / Camping
$25 X 2 = $50
To Date $18,000
Survival Day 112
Liquid Hand Soap
Basic Supplies / Camping / Health
$30 X 2 = $60
To Date $17,950
Survival Day 111
Self Defense Baton
Weapons / Survival Gear / Vehicle Gear
$20 X 2 = $40
To Date $17,890
Survival Day 110
Keyhole Light
Security / Bolt Hole Stuff
$10 X 4 = $40
To Date $17,850
Survival Day 109
Deep Cycle Rechargeable Battery
Technology / Bolt Hole Stuff / Electricity
$300 X 4 = $1200
To Date $17,810
Survival Day 108
Instant Read Meat Thermometer
Cooking / Camping
$10 X 2 = $20
To Date $16,610
Survival Day 107
Lineman's Pliers
Tools / Bolt Hole Stuff / Garage Gear
$15 X 2 = $30
To Date $16,590
Survival Day 106
LifeStraw Personal Water Filter
Clean Water / Bulk Food / Bolt Hole Stuff / Camping
$20 X 5 = $100
To Date $16,560
Survival Day 105
Shoulder Holster
Weapons / Survival Gear
$30
To Date $16,460
Survival Day 104
Stainless Steel 3-Section Food Tray
Basic Supplies / Camping
$25 X 2 = $50
To Date $16,430
Survival Day 103
Hair Brush Diversion Safe
Security / Bolt Hole Stuff / Travel
$10 X 2 = $20
To Date $16,380
Survival Day 102
Tactical Flashlight
Technology / Bolt Hole Stuff / Tools
$50 X 2 = $100
To Date $16,360
Survival Day 101
Hacksaw
Tools / Bolt Hole Stuff / Vehicle Gear
$30 X 2 = $60
To Date $16,260
Survival Day 100
Noodles & Chicken
Bulk Food / Bolt Hole Stuff / Camping
$40 X 5 = $200
To Date $16,200
Survival Day 99
Long Sleeve Tactical Shirt
Survival Clothing
$40 X 5 = $200
To Date $16,000
Survival Day 98
Large Mosquito Net
Basic Supplies / Bolt Hole Stuff / Health / Camping
$20 X 5 = $100
To Date $15,800
Survival Day 97
Self Defense Cane
Weapons / Survival Gear
$40
To Date $15,700
Survival Day 96
Night Vision Goggles
Technology / Bolt Hole Stuff
$300
To Date $15,660
Survival Day 95
Solar Water Pump Kit
Basic Supplies / Bolt Hole Stuff / Solar / Clean Water
$200
To Date $15,360
Survival Day 94
Sledge Hammer
Tools / Bolt Hole Stuff / Vehicle Gear
$40
To Date $15,160
Survival Day 93
Salt
Bulk Food / Bolt Hole Stuff
$20 X 10 = $200
To Date $15,120
Survival Day 92
BDU Khaki Pants
Survival Clothing / Cold Weather Gear
$30 X 5 = $150
To Date $14,920
Survival Day 91
Portable Bidet
Basic Supplies / Bolt Hole Stuff / Health
$50 X 5 = $50
To Date $14,770
Survival Day 90
Working Clock Gun Concealment Diversion Safe
Weapons / Survival Gear
$60 X 2 = $120
To Date $14,720
Survival Day 89
8 Mil Security Window Film
Security / Bolt Hole Stuff
$40 X 5 = $200
To Date $14,600
Survival Day 88
Green Laser Sight
Technology / Bolt Hole Stuff / Shooting
$66
To Date $14,400
Survival Day 87
Dual LED Rechargeable Headlamp
Tools / Bolt Hole Stuff / Camping / Hunting
$80 X 2 = $160
To Date $14,334
Survival Day 86
Food Grade Buckets
Bulk Food / Bolt Hole Stuff
$75 X 2 = $150
To Date $14,174
Survival Day 85
Blackout Curtains
Basic Supplies / Bolt Hole Stuff / Home Security
$25 X 8 = $200
To Date $13924
Survival Day 84
Hand Powered Washing Machine
Basic Supplies / Bolt Hole Stuff / Camping
$50
To Date $13724
Survival Day 83
Handmade Japanese Shirasaya Samurai Katana
Weapons / Survival Gear
$50 X 2 = $100
To Date $13674
Survival Day 82
Window/Door Alarms
Security / Bolt Hole Stuff
$10 X 5 = $50
To Date $13574
Survival Day 81
HP Envy 13-Inch Laptop
Technology / Bolt Hole Stuff
$800
To Date $13524
Survival Day 80
Air Tool Set
Tools / Bolt Hole Stuff / Garage Gear
$75
To Date $12724
Survival Day 79
4 Day Emergency Food Supply
Bulk Food / Bolt Hole Stuff
$75 X 4 = $300
To Date $12649
Survival Day 78
Rags In A Box
Basic Supplies / Bolt Hole Stuff / Vehicle Gear
$25 X 8 = $200
To Date $12349
Survival Day 77
Diva Cup Model 2
Basic Supplies / Bolt Hole Stuff / Camping
$25
To Date $12149
Survival Day 76
Kershaw Leek Knife
Weapons / Survival Gear
$40
To Date $12124
Survival Day 75
Door Armor
Security / Bolt Hole Stuff
$50 X 4 = $200
To Date $12084
Survival Day 74
Solar Powered Led Lighting System
Technology / Camping / Bolt Hole Stuff
$15 X 6 = $90
To Date $11884
Survival Day 73
Framing Nailer
Tools / Bolt Hole Stuff
$80
To Date $11794
Survival Day 72
Jerky Seasoning
Bulk Food / Bolt Hole Stuff / Hunting
$8 X 20 = $160
To Date $11714
Survival Day 71
Waterproof Insulated Work Glove
Survival Clothing / Cold Weather Gear / Hunting
$25 X 4 = $100
To Date $11554
Survival Day 70
Camouflage Twin Sheet Set
Basic Supplies / Bolt Hole Stuff
$20 X 2 = $40
To Date $11454
Survival Day 69
Kubaton Key Ring
Weapons / Survival Gear
$7 X 2 = $14
To Date $11414
Survival Day 68
Drop Bar Security Door Brackets
Security / Bolt Hole Stuff
$40 X 4 = $160
To Date $11400
Survival Day 67
Electric Bike
Technology / Vehicles
$3600
To Date $11240
Survival Day 66
Quiet Air Compressor
Tools / Garage Gear / Vehicle Gear
$200
To Date $7640
Survival Day 65
Macaroni Pasta Emergency Food Bucket
Bulk Food / Bolt Hole Stuff
$75 X 4 = $300
To Date $7440
Survival Day 64
Waterproof Rubber Sole Rain Boots
Survival Clothing / Wet Weather Gear
$20
To Date $7140
Survival Day 63
Solar Camp Shower
Basic Supplies / Food / Bolt Hole Stuff / Camping
$20
To Date $7120
Survival Day 62
Wood Bokken
Weapons / Survival Gear
$15 X 2 = $30
To Date $7100
Survival Day 61
Outdoor HD IR Security Camera
Security / Technology / Bolt Hole Stuff
$75 X 4 = $300
To Date $7070
Survival Day 60
Hand Crank Lantern
Technology / Camping / Bolt Hole Stuff
$20 X 5 = $100
To Date $6770
Survival Day 59
Hi-Lift Jack
Tools / Vehicle Gear
$80
To Date $6670
Survival Day 58
White Sugar
Bulk Food / Bolt Hole Stuff
$90
To Date $6590
Survival Day 57
Snow Ghillie Suit
Survival Clothing / Hunting
$84
To Date $6500
Survival Day 56
Emergency Water Storage Supply Kit
Basic Supplies / Food / Bolt Hole Stuff / Clean Water
$135 X 4 = $540
To Date $6416
Survival Day 55
Gun Magnet
Weapons / Survival Gear
$25 X 2 = $50
To Date $5876
Survival Day 54
Solar Flood Light
Security / Bolt Hole Stuff
$150 X 4 = $600
To Date $5826
Survival Day 53
Long Range Walkie Talkies
Technology / Camping / Scavenging Stuff
$60
To Date $5226
Survival Day 52
Aluminum Sport Utility Shovel
Tools / Cold Weather Gear / Vehicle Gear
$20 X 2 = $40
To Date $5166
Survival Day 51
Beef Stroganoff With Noodles
Bulk Food / Bolt Hole Stuff
$40 X 10 = $400
To Date $5126
Survival Day 50
Performance Thermal Underwear
Survival Clothing / Cold Weather Gear
$20
To Date $4726
Survival Day 49
Fish And Game Cleaning Table
Basic Supplies / Food / Bolt Hole Stuff
$60
To Date $4706
Survival Day 48
Knife Throwing Board Kit
Weapons / Survival Gear / Games
$40
To Date $4646
Survival Day 47
4-Bar Window Guard
Security / Bolt Hole Stuff
$50 X 6 = $300
To Date $4606
Survival Day 46
Waterproof Hiking GPS
Technology / Camping / Scavenging Stuff
$160
To Date $4306
Survival Day 45
FuBar III – Wrecking Bar
Tools / Bolt Hole Stuff / Vehicle Gear
$70 X 2 = $140
To Date $4146
Survival Day 44
Rolled Oats
Bulk Food / Bolt Hole Stuff
$45 X 4 = $180
To Date $4006
Survival Day 43
Camp Pillow
Camping / Bolt Hole Stuff
$9 X 4 = $36
To Date $3826
Survival Day 42
Stainless Steel Camping Cutlery
Basic Supplies / Food / Bolt Hole Stuff
$12
To Date $3790
Survival Day 41
Folding Slingshot
Weapons / Survival Gear
$16
To Date $3778
Survival Day 40
Personal Alarm
Technology / Security / Travel
$5 X 10 = $50
To Date $3762
Survival Day 39
DoorJammer
Security / Travel
$30 X 2 = $60
To Date $3712
Survival Day 38
BackCountry 2-In-1 Axe
Tools / Bolt Hole Stuff / Camping
$50 X 2 = $200
To Date $3652
Survival Day 37
Camp Crackers
Bulk Food / Bolt Hole Stuff
$20 X 100 = $200
To Date $3552
Survival Day 36
War Hammer
Weapons / Survival Gear
$50 X 2 = $100
To Date $3352
Survival Day 35
Vegetable Oil
Basic Supplies / Bulk Food / Bolt Hole Stuff
$5 X 10 = $50
To Date $3252
Survival Day 34
Double Edged Spear
Weapons / Bolt Hole Stuff
$65 X 4 = $260
To Date $3202
Survival Day 33
Water Purifier Tablets
Clean Water / Camping
$11 X 4 = $44
To Date $2942
Survival Day 32
Door Security Bar
Security / Travel
$20
To Date $2898
Survival Day 31
Bolt Cutters
Tools / Bolt Hole Stuff / Vehicle Gear
$180
To Date $2878
Survival Day 30
Emergency Food Supply – White Rice
Bulk Food / Bolt Hole Stuff
$75 X 4 = $300
To Date $2698
Survival Day 29
Camouflage Rain Suit
Survival Clothing / Hunting / Vehicle Gear / Wet Weather Gear
$50 X 4 = $200
To Date $2398
Survival Day 28
12d Bright Common Bulk Nails
Basic Supplies / Security
$44
To Date $2198
Survival Day 27
Brooklyn Smasher Cold Steel Unbreakable Bat
Weapons / Vehicle Gear
$36
To Date $2154
Survival Day 26
Set-Your-Own Combination Padlock
Security / Bolt Hole Stuff
$13 X 4 = $52
To Date $2118
Survival Day 25
Door Reinforcement Lock
Security / Bolt Hole Stuff
$20 X 6 = $120
To Date $2066
Survival Day 24
Hiking Saw
Tools / Camping
$34
To Date $1946
Survival Day 23
Energy Bar
Bulk Food / Bolt Hole Stuff / Camping / Hunting
$11 X 4 = $44
To Date $1912
Survival Day 22
Bulk Toilette Paper
Basic Supplies / Bolt Hole Stuff
$45 X 4 = $180
To Date $1868
Survival Day 21
P38 Can Openers
Basic Supplies / Bug Out Stuff
$10
To Date $1688
Survival Day 20
Pepper Spray
Weapons / Self Defense
$7 X 2 = $14
To Date $1678
Survival Day 19
Door Stop Alarm
Security / Travel
$7 X 2 = $14
To Date $1664
Survival Day 18
Rugged 8000 mAh Solar Charger
Technology / Camping / Hunting
$30 X 1 = $30
To Date $1650
Survival Day 17
Crowbar
Tools / Vehicle Gear / Scavenging Stuff
$11 X 2 = $22
To Date $1620
Survival Day 16
Case of 12 Genuine MREs
Bulk Food / Bolt Hole Stuff
$95 X 4 = $380
To Date $1598
Survival Day 15
Camo Liner Gloves
Survival Clothing / Hunting
$18 X 2 = $36
To Date $1218
Survival Day 14
Travel Folding Soft Toothbrush
Basic Supplies / Camping / Travel
$12 X 2 = $24
To Date $1182
Survival Day 13
Elk Ridge Fixed Blade Machete
Weapons / Camping
$22 X 2 = $44
To Date $1158
Survival Day 12
Panoramic Wireless LED Bulb Camera
Technology / Security
$85 X 2 = $170
To Date $1114
Survival Day 11
Waterproof LED Rechargeable Spotlight
Technology / Camping / Hunting
$28
To Date $944
Survival Day 10
Ball Pein Hammer
Tools / Vehicle Gear / Hidden Survival Gear
$16 X 2 = $36
To Date $914
Survival Day 9
Frito-Lay Variety Pack
Bulk Food / Bolt Hole Stuff
$12 X 4 = $48
To Date $878
Survival Day 8
Extreme Cold Weather Socks
Cold Weather Gear / Camping / Survival Clothing
$12 X 4 = $48
To Date $830
Survival Day 7
Fire Starter
Basic Supplies / Bug Out Stuff
$8 X 2 = $16
To Date $782
Survival Day 6
Pocket Knife
Weapons
$38
To Date $766
Survival Day 5
Window Wedge
Security / Travel
$4 X 4 = $16
To Date $728
Survival Day 4
Solar Water Heater Panel
Technology / Cold Weather Gear / Health
$137 x 4 = $548
To Date $712
Survival Day 3
45-Piece Screwdriving Set
Tools / Bolt Hole Stuff
$10
To Date $164
Survival Day 2
All Purpose Flour Pail
Bulk Food / Bolt Hole Stuff
$34 X 4 = $136
To Date $154
Survival Day 1
Ultra Light Microfiber Fleece Sleeping Bag Liner
Cold Weather Gear / Camping / Vehicle Gear
$18
To Date $18
365 Days Of Undead-Earth Survival Gear