I bought my Microsoft Surface Laptop 2 for a few very specific reasons.
The first was the battery life. I recently traveled to Pune, India for work, and the first flight was fourteen hours, followed up by a two hour "puddle jumper". My battery lasted for both flights, and I was using it to watch movies and catch up on some slides and spread sheets.
The second reason is the ability to detach the screen when I want a tablet instead of a laptop.
The third reason is the power. For such a small compact package my Microsoft Surface Laptop 2 packs the power, discrete graphics, and memory I need to work hard and play hard.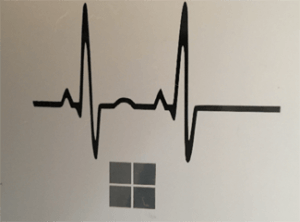 I customized my Surface with an EKG decal because I've done a lot work in the cardiac realm. If you see me in the airport feel free to come over and say hello.
On the gift front, this is the best present I ever got (myself). My youngest son is getting ready to go to college, and his family present (everyone is chipping in) is his own Surface. Make sure that special someone has what they need to be successful in work or school, get them a Surface  to get the job done.
Clean, elegant design — thin and light, starting at just 2.76 pounds, Surface Laptop 2 fits easily in your bag.

Choose from rich tone-on-tone color combinations: Platinum, Burgundy, and Cobalt Blue.

Improved speed and performance to do what you want, with the latest 8th Generation Intel Core processor.

All-day battery life, with up to 14.5 hours of video playback. Vibrant 13.5" PixelSense Display with interactive touchscreen and razor-sharp resolution.
"Survival Day 310"