Basil Haden's is another of my go to whiskeys and it quite honestly is perfect if you want to introduce a new whisky drinker into the fold. It has the combination of being relatively cheap (in the bourbon world) and easy drinking. I've heard people claim that because its only 40% ABV that it is whiskey-lite or that it doesn't pack the punch of other whiskeys. I honestly think those people are crazy. I can't really tell any difference between 40%ABV and other bottles like Eagle Rare which are 45%ABV.
If you haven't tried Basil Haden's, I highly suggest getting a bottle, it is an excellent bourbon. If you don't believe me, look at my night last night. I did not mean to drink that much, and yes I did pay for it the next day, but we were playing board games and having a ball.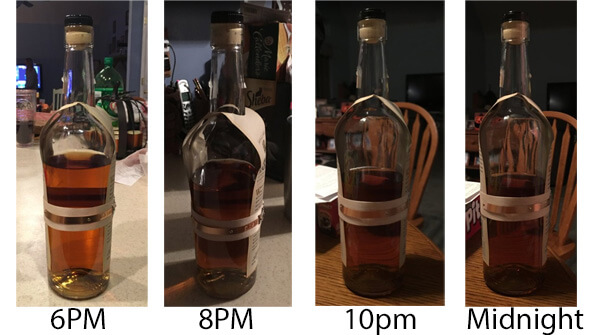 In terms of ranking, this is a solid 75/100, and ties with Eagle Rare  in my book.
Pros
Smooth
A bargain when you can find it for between $30 and $40.
Wonderful cinnamon, pepper and other spices on the tongue.
Cons:
Not always in stock.
It gives me a horrible hangover when I don't realize I drank half the bottle at one go.