Bully Bed Liner is the perfect way to take a beat up vehicle and make it look awesome again. Pound out the dents, fill the holes with body filler, and with a bit of prep, you are ready to make that vehicle look good again. Of course, I guess that is a bit subjective, but I really like the bed liner look on off road vehicles and trucks.
Remember that prep is always key with any Bed Liner application. There is self etching primer and sandpaper, and make sure you read the directions and you will have good results. If you don't pay up front with time on the prep you'll pay later when the Bed Liner is flecking off.
Okay, so what do I like about Bully Bed Liner? There is actually a lot to like about Bully, especially if your a do it yourself-er like me.
It is water based, so I don't need a ton of special ventilation equipment or need to know chemistry to use the product.
It is easy to build up and touch up. If I want to hide a few dings you get after application, you can easily get out a paintbrush and do repairs without having to redo the whole thing. You can also build up the layers in areas that will take a beating more.
It comes in lots of colors so I can make my vehicle blend into the background when I'm up in the mountains.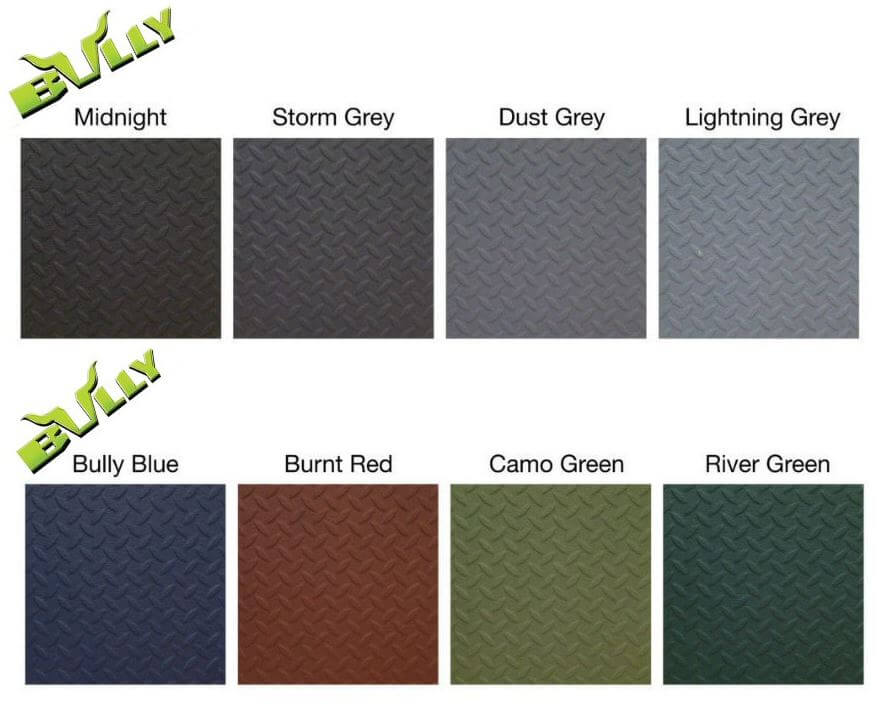 As far as do it yourself projects go, this is something that anyone can do with just a bit of prep work and some patience. Be creative and send me some pics of what you do with with it.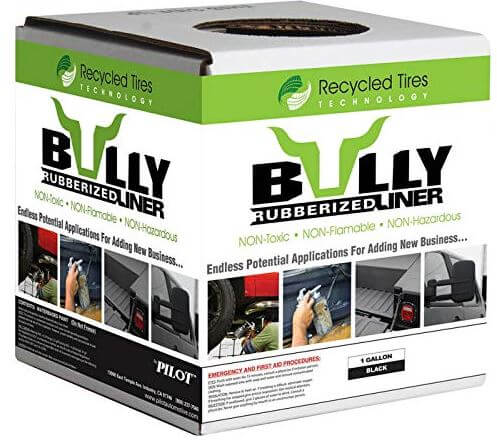 Day
Survival Gear
Category
Estimated Cost
Survival Day 57
Bully Bed Liner
Tools
$105 X 3 = $315
Total = $8,410
Survival Day 56
Augason Farms Emergency Long Grain White Rice
Survival Food
$50 X 4 = $200
Total = $8,095
Survival Day 55
Carhartt Waterproof Insulated Glove
Survival Clothing
$33 X 3 = $100
Total = $7,895
Survival Day 54
10d 3-Inch Common Nails
Basic Supplies
$13 X 5 = $65
Total = $7,795
Survival Day 53
Cold Steel War Hammer
Weapons
$50 X 2 = $100
Total = $7,730
Survival Day 52
Wireless Security Camera
Security
$170 X 3 = $510
Total = $7,630
Survival Day 51
Electric Mountain Bike
Technology
$748
Total = $7,120
Survival Day 50
Overhead Garage Storage Rack
Tools
$180 X 2 = $360
Total = $6,372

Survival Day 49
Emergency Dog Food
Survival Food
$30 X 3 = $90
Total = $5,992
Survival Day 48
Waterproof Boots
Survival Clothing
$55 X 2 = $110
Total = $5,912
Survival Day 47
Travel Toothbrush
Basic Supplies
$6 X 2 = $12
Total = $5,802
Survival Day 46
Spear With Stainless Steel Blade
Weapons
$65 X 2 = $130
Total = $5,790
Survival Day 45
Wedge-It
Security
$12 X 5 = $60
Total = $5,660
Survival Day 44
Garmin eTrex 30x Handheld GPS Navigator
Technology
$200 X 2 = $400
Total = $5,600
Survival Day 43
Ratchet Tie Down Straps
Tools
$15 X 2 = $30
Total = $5,200
Survival Day 42
Pure Wesson Vegetable Oil
Survival Food
$20 X 5 = $100
Total = $5,170
Survival Day 41
Camo Rain Suit
Survival Clothing
$50 X 4 = $200
Total = $5,070
Survival Day 40
Stake And Grille
Basic Supplies
$55
Total = $4,870
Survival Day 39
Cold Steel Brooklyn Smasher
Weapons
$25 X 4 = $100
Total = $4,815
Survival Day 38
Door Reinforcement Lock
Security
$15 X 4 = $60
Total = $4,715
Survival Day 37
Light Bulb Security Camera
Technology
$60 X 2 = $120
Total = $4,655
Survival Day 36
Multi-Tool Screw Driver
Tools
$12 X 5 = $60
Total = $4,535
Survival Day 35
CLIF BAR - Energy Bar
Survival Food
$20 X 5 = $100
Total = $4,475
Survival Day 34
Winter Thermal Underwear
Survival Clothing
$25 X 4 = $100
Total = $4,375
Survival Day 33
Dual Post Grill Fire Spit
Basic Supplies
$72
Total = $4,275
Survival Day 32
Pepper Spray
Weapons
$10 X 5 = $50
Total = $4,203
Survival Day 31
Solar Security Lights
Security
$40 X 4 = $160
Total = $4,153
Survival Day 30
Solar Water Heater/Collector
Technology
$22 X 3 = $66
Total = $3,993
Survival Day 29
Wrecking Bar - 36 Inch
Tools
$22 X 3 = $66
Total = $3,238
Survival Day 28
Stanley Classic Vacuum Bottle
Survival Food
$35 X 2 = $70
Total = $3,172
Survival Day 27
Handyman Tool Belt Set
Survival Clothing
$35 X 2 = $70
Total = $3,102
Survival Day 26
The Woods White Camouflage Bedding Set
Basic Supplies
$85
Total = $3,032
Survival Day 25
VIPERTEK VTS-T03 - Stun Gun Flashlight
Weapons
$13 X 3 = $39
Total = $2,947
Survival Day 24
Door Stop Alarm
Security
$14 X 6 = $84
Total = $2,908
Survival Day 23
SUAOKI Crank Lantern/Flashlight
Technology
$14 X 6 = $84
Total = $2824
Survival Day 22
Tire Chains
Tools
$72 X 2 = $144
Total = $2740
Survival Day 21
Emergency 3600 Calorie Food Bar
Survival Food
$10 X 10 = $10
Total = $2596
Survival Day 20
Watch Hat
Survival Clothing
$12 X 3 = $36
Total = $2496
Survival Day 19
Winter Camo Bib Overall
Survival Clothing
$33 X 3 = $100
Total = $2460
Survival Day 18
Bear Spray
Weapons
$33 X 3 = $100
Total = $2360
Survival Day 17
Window Lock
Security
$12 X 5 = $60
Total = $2260
Survival Day 16
Rechargeable 520 Lumen Lithium Ion Waterproof LED Spotlight
Technology
$25 X 2 = $50
Total = $2200
Survival Day 15
Vehicle Snow Shovel
Tools
$25 X 2 = $50
Total = $2150
Survival Day 14
Salt Bucket
Survival Food
$50 X 4 = $200
Total = $2100
Survival Day 13
Cold Weather Performance Socks
Survival Clothing
$25 X 4 = $100
Total = $1900
Survival Day 12
Bulk Toilette Paper
Basic Supplies
$50 X 6 = $300
Total = $1800
Survival Day 11
Entrenching Shovel
Weapons
$40 X 3 = $120
Total = $1500
Survival Day 10
Personal 130 dB Emergency Protection Alarm
Security
$15 X 10 = $150
Total = $1380
Survival Day 9
Solar Charger 25000mAh With 4 Solar Panels
Technology
$50 X 2 = $100
Total = $1230
Survival Day 8
Mechanics Tool Set
Tools
$115 X 2 = $130
Total = $1130
Survival Day 7
Trooper Ear Flap Bomber Hat
Survival Clothing
$25 X 2 = $50
Total = $1000
Survival Day 6
30-Day Emergency Food Pail
Survival Food
$100 X 4 = $400
Total = $950
Survival Day 5
Travel/Camping Utensils
Basic Supplies
$12 X 5 = $60
Total = $550
Survival Day 4
Elk Ridge Fixed Blade Machete
Weapons
$25 X 2 = $50
Total = $490
Survival Day 3
Drop Bar Door Brackets
Security
$40 X 6 = $240
Total = $440
Survival Day 2
Kaito KA500 Crank Emergency Radio
Technology
$50 X 2 = $100
Total = $200
Survival Day 1
Spyderco Tenacious Plain Edge Folding Knife
Basic Supplies
$50 X 2 = $100
Total = $100