I have really bad OCD when it comes to some things. I need structure and I need the ability to challenge myself. That might be how long I can hold my breath or how far I can swim underwater, but now I'm channeling that into the treadmill to help me lose weight.
So begins the 60 Minute Treadmill Challenge. How far can an old fat guy go and how can he improve that as he hopefully loses weight?
Want to find out? So do I.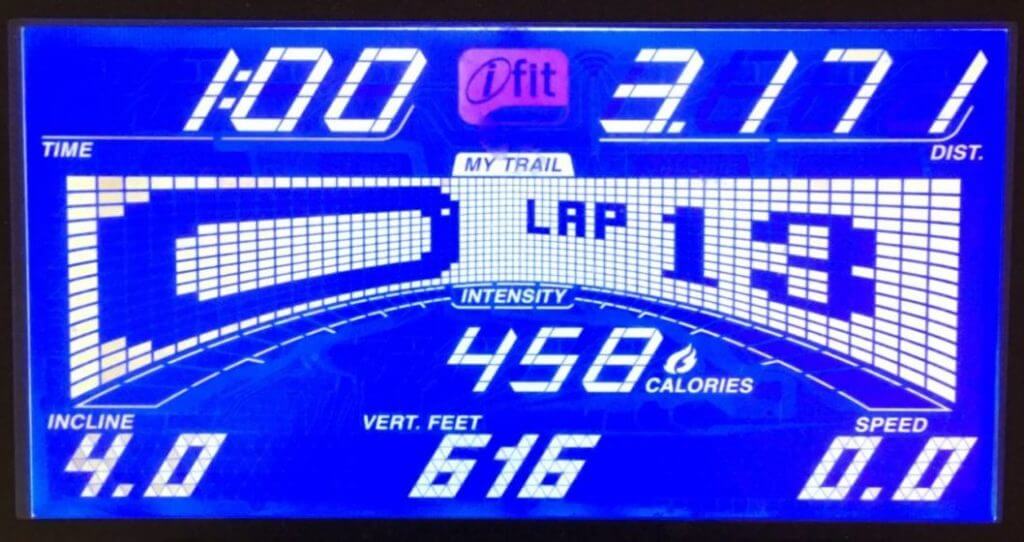 | Day | Date | 60 Minute Distance |
| --- | --- | --- |
| 50 | 6/30/2020 | 2.431 |
| 49 | 6/24/2020 | 2.435 |
| 48 | 6/4/2020 | 3.470 |
| 47 | 6/2/2020 | 3.403 |
| 46 | 6/1/2020 | 3.397 |
| 45 | 5/31/2020 | 3.187 |
| 44 | 5/28/2020 | 3.510 |
| 43 | 5/26/2020 | 3.317 |
| 42 | 5/25/2020 | 3.434 |
| 41 | 5/24/2020 | 3.220 |
| 40 | 5/18/2020 | 2.467 |
| 39 | 5/17/2020 | 2.628 |
| 38 | 5/16/2020 | 3.077 |
| 37 | 5/14/2020 | 2.754 |
| 36 | 5/13/2020 | 3.332 |
| 35 | 5/12/2020 | 2.955 |
| 34 | 5/11/2020 | 3.271 |
| 33 | 5/10/2020 | 3.122 |
| 32 | 5/7/2020 | 3.174 |
| 31 | 5/5/2020 | 3.116 |
| 30 | 5/4/2020 | 3.336 |
| 29 | 4/30/2020 | 2.269 |
| 28 | 4/27/2020 | 2.291 |
| 27 | 4/26/2020 | 3.356 |
| 26 | 4/24/2020 | 3.304 |
| 25 | 4/22/2020 | 3.265 |
| 24 | 4/21/2020 | 3.301 |
| 23 | 4/20/2020 | 3.173 |
| 22 | 4/19/2020 | 3.271 |
| 21 | 4/18/2020 | 3.182 |
| 20 | 4/16/2020 | 3.208 |
| 19 | 4/15/2020 | 3.148 |
| 18 | 4/12/2020 | 3.156 |
| 17 | 4/11/2020 | 3.129 |
| 16 | 4/9/2020 | 3.083 |
| 15 | 4/8/2020 | 3.092 |
| 14 | 4/6/2020 | 2.642 |
| 13 | 4/5/2020 | 2.956 |
| 12 | 4/1/2020 | 3.082 |
| 11 | 3/30/2020 | 3.039 |
| 10 | 3/29/2020 | 3.008 |
| 9 | 3/28/2020 | 2.750 |
| 8 | 3/24/2020 | 3.116 |
| 7 | 3/22/2020 | 3.103 |
| 6 | 3/21/2020 | 3.098 |
| 5 | 3/20/2020 | 3.009 |
| 4 | 3/16/2020 | 3.501 |
| 3 | 3/13/2020 | 3.445 |
| 2 | 3/11/2020 | 3.390 |
| 1 | 3/9/2020 | 3.171 |