It was officially day 2 today and I was able to slowly increase my distance from Day 1. Unlike my last session I was able to gently ramp up my speed and didn't have to bring it down and reset, which seems like progress to me since I also increased my distance.
My toes hurt from the treadmill belt and my lower back aches some – but I also feel good at the same time. I am just hoping I make weight this week because I'm trying really hard to increase my activity and reduce my calories. I guess we will see Friday.
I'm also hoping the increased activity will improve my cholesterol. I just got the follow up call from my primary care doctor and he just prescribed Lipitor for my slightly elevated cholesterol.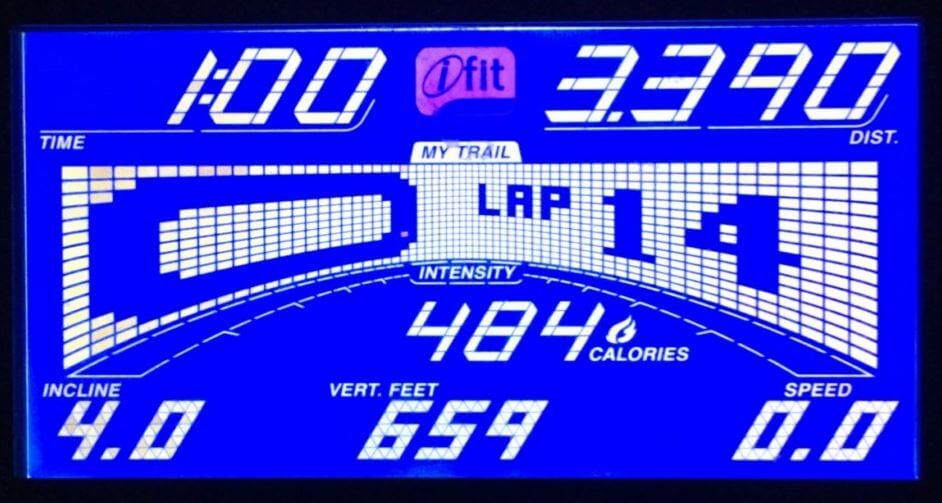 | Day | Date | 60 Minute Distance |
| --- | --- | --- |
| 50 | 6/30/2020 | 2.431 |
| 49 | 6/24/2020 | 2.435 |
| 48 | 6/4/2020 | 3.470 |
| 47 | 6/2/2020 | 3.403 |
| 46 | 6/1/2020 | 3.397 |
| 45 | 5/31/2020 | 3.187 |
| 44 | 5/28/2020 | 3.510 |
| 43 | 5/26/2020 | 3.317 |
| 42 | 5/25/2020 | 3.434 |
| 41 | 5/24/2020 | 3.220 |
| 40 | 5/18/2020 | 2.467 |
| 39 | 5/17/2020 | 2.628 |
| 38 | 5/16/2020 | 3.077 |
| 37 | 5/14/2020 | 2.754 |
| 36 | 5/13/2020 | 3.332 |
| 35 | 5/12/2020 | 2.955 |
| 34 | 5/11/2020 | 3.271 |
| 33 | 5/10/2020 | 3.122 |
| 32 | 5/7/2020 | 3.174 |
| 31 | 5/5/2020 | 3.116 |
| 30 | 5/4/2020 | 3.336 |
| 29 | 4/30/2020 | 2.269 |
| 28 | 4/27/2020 | 2.291 |
| 27 | 4/26/2020 | 3.356 |
| 26 | 4/24/2020 | 3.304 |
| 25 | 4/22/2020 | 3.265 |
| 24 | 4/21/2020 | 3.301 |
| 23 | 4/20/2020 | 3.173 |
| 22 | 4/19/2020 | 3.271 |
| 21 | 4/18/2020 | 3.182 |
| 20 | 4/16/2020 | 3.208 |
| 19 | 4/15/2020 | 3.148 |
| 18 | 4/12/2020 | 3.156 |
| 17 | 4/11/2020 | 3.129 |
| 16 | 4/9/2020 | 3.083 |
| 15 | 4/8/2020 | 3.092 |
| 14 | 4/6/2020 | 2.642 |
| 13 | 4/5/2020 | 2.956 |
| 12 | 4/1/2020 | 3.082 |
| 11 | 3/30/2020 | 3.039 |
| 10 | 3/29/2020 | 3.008 |
| 9 | 3/28/2020 | 2.750 |
| 8 | 3/24/2020 | 3.116 |
| 7 | 3/22/2020 | 3.103 |
| 6 | 3/21/2020 | 3.098 |
| 5 | 3/20/2020 | 3.009 |
| 4 | 3/16/2020 | 3.501 |
| 3 | 3/13/2020 | 3.445 |
| 2 | 3/11/2020 | 3.390 |
| 1 | 3/9/2020 | 3.171 |