Let's start with a baseline. As of now (4/12/2020) Redbreast 12 Year Old is my top pick in whiskey. I drank two bottles in three weeks with a little bit of help but I have fallen in love with Redbreast.
If you like dry, and you like sherry, this Redbreast Lustau may be right up your alley. For me, the sherry was a bit overpowering, and turned what I truly loved, the deep richness of Redbreast 12 Year Old into an echo of what it could be.
If this was cheaper than Redbreast 12 Year Old, I don't think I would be as down on this Lustau as I was, but it is actually more expensive, which for me is just crazy. Redbreast 12 Year Old is so rich and delicious, but this Lustau takes away from that, which for me means paying more for it feels like a crime.
Again, maybe you love dry, and you love sherry, which means you might just find Redbreast Lustau right up your alley. For me it was good, but no where near as good as regular Redbreast 12 Year Old, which earned this Lustau a score of 70/100.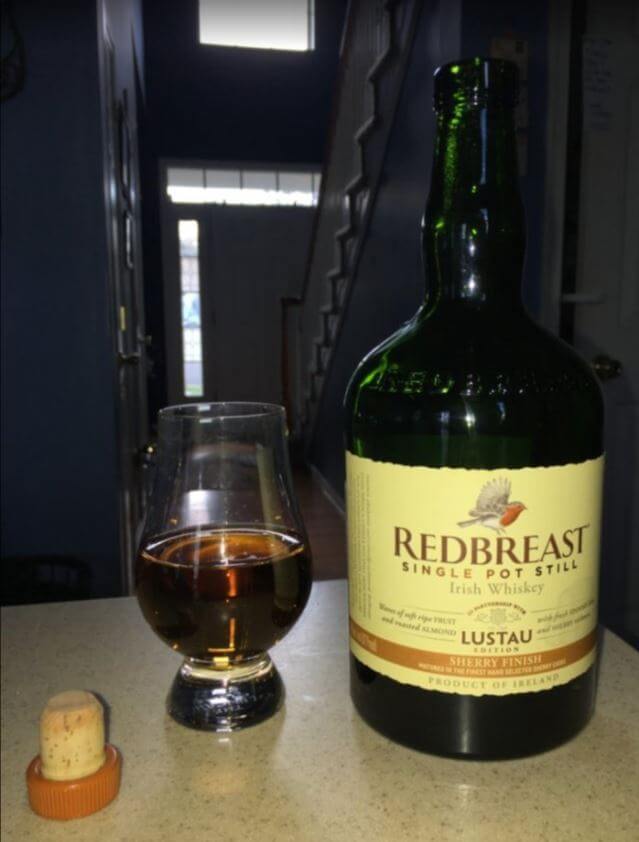 Pros
The nose hints at Redbreast's underlying richness, even though its slightly overpowered by the sherry.
Reminds me of Redbreast.
Obviously, it has Redbreast's deepness as it first washes over your tongue.
Cons:
The sherry casks overpower the richness of the Redbreast.
The sherry turns that deep richness that opens on your tongue into a more edgy burn as you swallow.
The lovely nose that Redbreast has is completely washed away in sherry.