So how does a rest day workout work? It is really any day I get on the treadmill and don't make it to the 60 minute timer. I usually get on with the intention of going 60 minutes, but there are times I just can't make it happen.
Because…excuses, which you don't need to hear.
Today was one of those days with lots of excuses.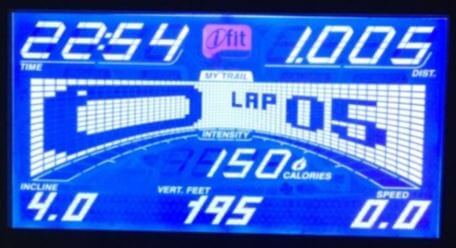 | Day | Date | Distance | Time |
| --- | --- | --- | --- |
| 16 | 7/5/2020 | 1.006 | 25:59 |
| 15 | 7/4/2020 | 1.176 | 30.00 |
| 14 | 6/30/2020 | 1.196 | 30.00 |
| 13 | 6/28/2020 | 1.01 | 26:05 |
| 12 | 6/23/2020 | 1.506 | 36:10 |
| 11 | 6/22/2020 | 1.250 | 30.01 |
| 10 | 6/16/2020 | 1.200 | 28:50 |
| 9 | 6/15/2020 | 0.600 | 14:26 |
| 8 | 6/11/2020 | 0.814 | 19:35 |
| 7 | 5/6/2020 | 1.001 | 18:54 |
| 6 | 4/23/2020 | 1.005 | 22:54 |
| 5 | 4/13/2020 | 1.004 | 23:35 |
| 4 | 4/12/2020 | 0.698 | 18:26 |
| 3 | 4/2/2020 | 1.500 | 31:07 |
| 1 | 2/25/2020 | 1.392 | 26:08 |
| 2 | 3/15/2020 | 1.000 | 18:21 |