If you hadn't noticed, I'm on an Irish Whiskey kick. So I ordered three bottles I've never had before, and the first one I choose was this Kilbeggan. I'd describe this as the budget Irish Whiskey.
I know that some of you might consider this to be subtle, but I thoroughly enjoyed this bottle of Kilbeggan Traditional Irish Whiskey, so much that I just ordered a bottle of Kilbeggan Single Grain Irish Whiskey to see what $10 does.
The nose is sweet and reminds me of echos of Redbreast. Its like a fourth or fifth cousin, close enough to remind you of the resemblance, but clearly not a first order sibling.
The mouth feel is thin, sweet, and maybe except for that very first sip which has a bit of the burn from the oak tannins from the time the whiskey spent in the barrel. After that its all sweet and vanilla mixed with spice malt.
This Kilbeggan Traditional Irish Whiskey punches way above its price. For gatherings, tastings with friends who don't know if they love whiskey, or any time where value is important, this is just a great choice. It is sippable, sweet and subtle, and earned an 84/100 for being such a great Irish Whiskey.
I plan on keeping a bottle of Kilbeggan on the shelf from now on. At this price point I don't have to feel guilty about enjoying an extra dram now and then – or feel like I have to ration it because of how much it cost.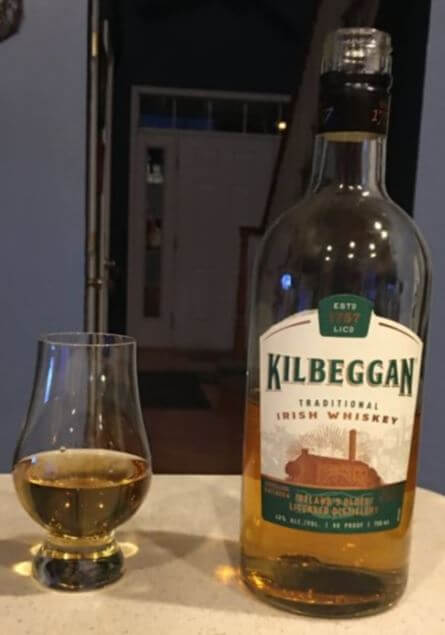 Pros
The price to quality can't be beat here.
Kilbeggan is not Redbreast, but since I can buy 3.5 bottles of Kilbeggan for the price, that gives it a lot of value points.
The nose is sweet and gentle.
Sweet, vanilla, and spice all mixed together in malty goodness.
Subtle, perfect for those times you don't want super strong flavors.
Cons:
The flavors are mild and fade on the tongue.
The oak from the barrel on that first sip is just a bit stringent? Is that the right word? Maybe its a bit burny? Is that a word? (Yes, I'm writing this 3 drams in.)