This Tyrconnel Single Malt is distilled at the Kilbeggan distillery. This single malt is named after a horse, named of course Tyrconnel, who came from behind to win the National Produce Stakes horse race, or that is at least the lore that surrounds the whiskey. While this was intended as a single release, it was so popular they couldn't stop producing it. (I wasn't there in 1876, so I'm pretty much going by what the distillery is saying here.)
Tyrconnel is a mild gold color and the nose is sweet, light, and filled with vanilla and spice. The nose is very pleasing.
The mouth feel is light, and trails off just a tiny big from the nose. If the taste stood up to the nose this would be a contender against Redbreast. The taste is bursting with vanilla sweetness and buttery cookies, calls for your mouth to take the next sip even as the first is being swallowed, which is where this single malt gets dinged a few points. Tyrconnel has a mild, but noticeable aftertaste that turns that lovely spice into something just a bit stringent. Not unpleasant, but not endearing either.
Still, this is a quality sipper, and scores a very respectable 87/100. I plan on replacing the bottle I finished this week while travelling. One of the advantages of being on holiday is you can drink every day if you want.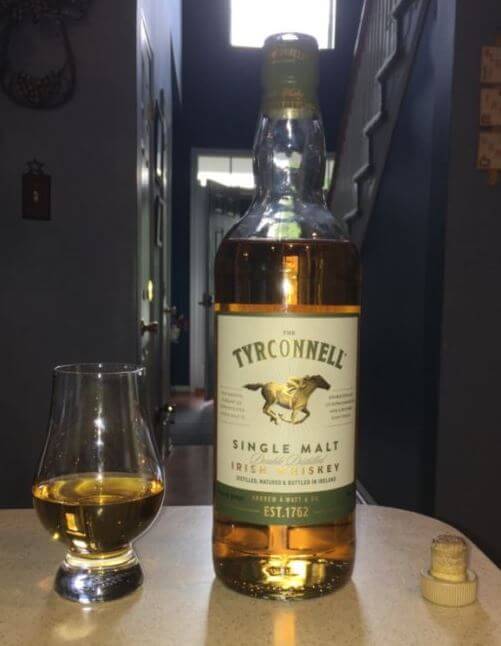 Pros
All sweet butter cookies and vanilla.
Satisfies a craving for Redbreast as $25 to $30 cheaper per bottle.
Once you open the bottle each dram call to you to drink another.
Cons:
Mild, but noticeable aftertaste.
Once you open the bottle each dram call to you to drink another.