I purchased this Garcima 22-Inch Carbon Steel Pan because my grill broke, but I don't really want to replace my old grill at the moment to save some money.
For the price, this is a wonderful tool to let me cook outdoors. For me that means using a free standing propane burner or a firepit, which gives me the flexibility to use it while car camping or to take it to my bolt hole as an easy way to cook outside.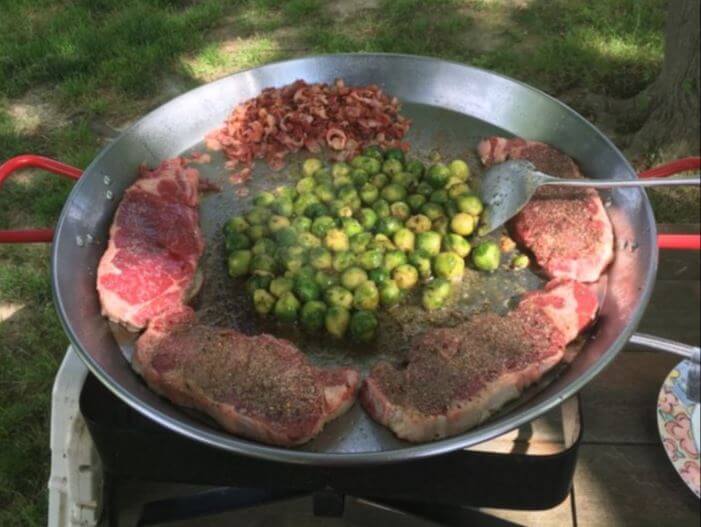 Yes, I know this supposed to be a Paella pan, but the reality is that its a high quality steel cooking surface, and I can cook whatever I want on it – like steaks and Brussels sprouts with bacon. The steaks got a nice char after spending some time in the middle of the Pan and then stayed warm as I finished mixing up my side.
Clean up is also easy. I scrape the pan down and then use a bit of heat and olive oil to protect the metal.
When it comes to cooking outside – a must when it comes to post apocalypse survival – this Garcima 22-Inch Carbon Steel Pan is a must have item.
Undead-Earth Survival Gear List 2020
Day
Survival Gear
Category
Estimated Cost
Survival Day 167
Garcima 22-Inch Carbon Steel Pan
Survival Food
$60 X 2 = $120
Total = $25,420
Survival Day 166
Safety Raingear
Survival Clothing
$50 X 2 = $100
Total = $25,300
Survival Day 165
AmazonBasics Internal Frame Hiking Backpack
Basic Supplies
$75 X 2 = $150
Total = $25,200
Survival Day 164
Shoulder Holster
Weapons
$33 X 3 = $100
Total = $25,050
Survival Day 163
Bike Lock Cable
Security
$20 X 5 = $100
Total = $24,950
Survival Day 162
Gas LP Propane White Top Freezer Refrigerator
Technology
$1700
Total = $24,850
Survival Day 161
Emergency Hiking/Camping Whistles
Tools
$10 X 5 = $50
Total = $23,150
Survival Day 160
Augason Farms Freeze Dried Sliced Strawberries
Survival Food
$25 X 8 = $200
Total = $23,100
Survival Day 159
Snake Gator Leggings
Survival Clothing
$50 X 2 = $100
Total = $22,900
Survival Day 158
Push Sweepers
Basic Supplies
$33 X 3 = $100
Total = $22,800
Survival Day 157
Unbreakable Umbrella
Weapons
$150 X 3 = $450
Total = $22,700
Survival Day 156
Keysafe Lock Boxes
Security
$33 X 3 = $100
Total = $22,250
Survival Day 155
Solar Powered Floodlights
Technology
$100 X 3 = $300
Total = $22,150
Survival Day 154
Sledge Hammer
Tools
$50 X 2 = $100
Total = $21,850
Survival Day 153
Augason Farms Regular Rolled Oats
Survival Food
$20 X 5 = $100
Total = $21,750
Survival Day 152
Boonie Sun Hat With UPF 50 Protection
Survival Clothing
$10 X 5 = $50
Total = $21,650
Survival Day 151
Low Suds Detergent
Basic Supplies
$33 X 3 = $100
Total = $21,600
Survival Day 150
Retrospec Steel Macebell
Weapons
$25 X 2 = $50
Total = $21,500
Survival Day 149
Combination Gun Locks
Security
$50 X 2 = $100
Total = $21,450
Survival Day 148
NOAA Weather Emergency Radio
Technology
$50 X 2 = $100
Total = $21,350
Survival Day 147
Standard & Metric Tape Measure
Tools
$16 X 3 = $50
Total = $21,250
Survival Day 146
Garcima 18-Inch Carbon Steel Paella Pan
Survival Food
$50 X 2 = $100
Total = $21,200
Survival Day 145
Cooling Towel
Survival Clothing
$10 X 5 = $50
Total = $21,100
Survival Day 144
Large Mosquito Net with Carry Bag
Basic Supplies
$33 X 3 = $100
Total = $21,050
Survival Day 143
Glass Breaker Self Defense Pen
Weapons
$15 X 3 = $50
Total = $20,950
Survival Day 142
Pressure Mat Alarm
Security
$25 X 4 = $100
Total = $20,900
Survival Day 141
Deep Cycle Rechargeable Batteries
Technology
$333 X 3 = $1,000
Total = $20,800
Survival Day 140
Lineman's Pliers
Tools
$16 X 3 = $50
Total = $19,800
Survival Day 139
Food Grade Buckets
Survival Food
$33 X 3 = $100
Total = $19,800
Survival Day 138
BDU Shorts
Survival Clothing
$25 X 7 = $175
Total = $19,700
Survival Day 137
Portable Bidet
Basic Supplies
$30 X 10 = $300
Total = $19,525
Survival Day 136
Pepper Spray Self Defense Gun
Weapons
$350
Total = $19,225
Survival Day 135
Keyhole Light
Security
$10 X 5 = $50
Total = $18,875
Survival Day 134
Emergency Pedal Generator
Technology
$200
Total = $18,825
Survival Day 133
44-Piece Professional Air Tool Accessory Kit
Tools
$175
Total = $18,625
Survival Day 132
Emergency Water Storage Supply Kits
Survival Food
$150 X 2 =$300
Total = $18,450
Survival Day 131
Hat with Anti-Mosquito Head Net
Survival Clothing
$25 X 2 =$50
Total = $18,150
Survival Day 130
Titanium Camping Mug
Basic Supplies
$33 X 3 =$100
Total = $18,100
Survival Day 129
Kershaw Leek Knife
Weapons
$50 X 2 =$100
Total = $18,000
Survival Day 128
Surface Trip Flares
Security
$33 X 3 =$100
Total = $17,900
Survival Day 127
Propane Insect Fogger
Technology
$600
Total = $17,800
Survival Day 126
Carhartt Legacy Tool Roll
Tools
$25 X 2 = $50
Total = $17,200
Survival Day 125
Pilot Crackers
Survival Food
$25 X 4 = $100
Total = $17,150
Survival Day 124
Steri-Strip Skin Closures
Basic Supplies
$10 X 5 = $50
Total = $17,050
Survival Day 123
Neoprene Shooting Gloves
Survival Clothing
$20 X 2 = $40
Total = $17,000
Survival Day 122
Brass Handle Walking Stick
Weapons
$50 X 2 = $100
Total = $16,960
Survival Day 121
Breezz Tire Inflator
Basic Supplies
$30 X 2 = $60
Total = $16,860
Survival Day 120
100-Watt Portable Generator Power Inverter
Technology
$125 X 2 = $250
Total = $16,800
Survival Day 119
BackCountry 2-In-1 Axe
Tools
$100 X 2 = $200
Total = $16,550
Survival Day 118
2 QT Collapsible Water Canteen
Survival Food
$20 X 5 = $100
Total = $16,350
Survival Day 117
Tactical Side-Zip Boots
Survival Clothing
$100 X 2 = $200
Total = $16,250
Survival Day 116
Hammock Tarp
Basic Supplies
$33 X 3 = $100
Total = $16,050
Survival Day 115
Kubaton Key Ring
Weapons
$10 X 5 = $50
Total = $15,950
Survival Day 114
Window/Door Alarms
Security
$10 X 10 = $100
Total = $15,900
Survival Day 113
Spotting Scope with Tripod
Technology
$150
Total = $15,800
Survival Day 112
Dewalt Cordless Framing Nailer
Tools
$325
Total = $15,650
Survival Day 111
Collapsible Wash Bin
Basic Supplies
$12 X 2 = $25
Total = $15,325
Survival Day 110
Rainbow Cat Face Mask
Survival Clothing
$12 X 4 = $25
Total = $15,300
Survival Day 109
Camping Shower
Basic Supplies
$125 X 2 = $250
Total = $15,250
Survival Day 108
Bamboo Practice Swords
Weapons
$25 X 2 = $50
Total = $15,000
Survival Day 107
LED Motion Sensor Solar Lights
Security
$50 X 2 = $100
Total = $14950
Survival Day 106
Dual LED Rechargeable Headlamp
Technology
$75 X 2 = $150
Total = $14850
Survival Day 105
Ball Pein Hammer
Tools
$12 X 4 = $50
Total = $14700
Survival Day 104
LifeStraw
Survival Food
$20 X 5 = $100
Total = $14650
Survival Day 103
Tactical Pants With Cargo Pockets
Survival Clothing
$50 X 4 = $200
Total = $14550
Survival Day 102
Diva Cup Model 2
Basic Supplies
$33 X 3 = $100
Total = $14350
Survival Day 101
Throwing Knife Set
Weapons
$10 X 5 = $50
Total = $14250
Survival Day 100
Defender Security Fixed Window Guards
Security
$50 X 2 = $100
Total = $14200
Survival Day 99
goTenna Mesh - Two Off-Grid SMS & GPS Devices
Technology
$175 X 2 = $350
Total = $14100
Survival Day 98
Heavy Duty Bolt Cutters
Tools
$75 X 2 = $150
Total = $13750
Survival Day 97
People's Choice Beef Jerky
Survival Food
$33 X 3 = $100
Total = $13600
Survival Day 96
Camo Hunting Waders
Survival Clothing
$100
Total = $13500
Survival Day 95
P38 Can Opener
Basic Supplies
$10 X 2 = $20
Total = $13400
Survival Day 94
Magnetic Gun Mount
Weapons
$25 X 4 = $100
Total = $13380
Survival Day 93
HAVEN Heavy Duty Lock, Floor Mounted Lock
Security
$150 X 2 = $300
Total = $13280
Survival Day 92
Jump-N-Carry 12-Volt Jump Starter
Technology
$150
Total = $12980
Survival Day 91
Folding 15 Inch Saws
Tools
$40 X 2 = $80
Total = $12830
Survival Day 90
Holiday Styling String Light Poles
Technology
$115 X 2 = $130
Total = $12750
Survival Day 89
Condor Combat Shirt
Survival Clothing
$60 X 2 = $120
Total = $12620
Survival Day 88
Waxed Canvas Heavy Duty Work Apron With Pockets
Basic Supplies
$25 X 2 = $50
Total = $12500
Survival Day 87
Hunting Slingshot
Weapons
$25 X 2 = $50
Total = $12450
Survival Day 86
Master Lock Set Your Own Combination Padlocks
Security
$10 X 5 = $50
Total = $12400
Survival Day 85
Tactical Flashlight With Strobe
Technology
$50 X 2 = $100
Total = $12350
Survival Day 84
Hi-Lift Jack
Tools
$75 X 2 = $150
Total = $12250
Survival Day 83
Pringles Snack Stacks
Survival Food
$10 X 10 = $10
Total = $12100
Survival Day 82
Under Armour Men's ColdGear Camo Liner Gloves
Survival Clothing
$35 X 2 = $70
Total = $12000
Survival Day 81
Outdoor Fish and Game Cleaning Table
Basic Supplies
$125 X 2 = $250
Total = $11930
Survival Day 80
Cold Steel War Hammer
Weapons
$50 X 2 = $100
Total = $11680
Survival Day 79
SecuraDoor Security Door Bar
Security
$90 X 2 = $180
Total = $11580
Survival Day 78
TACTICON Laser Sight
Technology
$20 X 3 = $60
Total = $11400
Survival Day 77
California Air Tools Quiet Air Compressor
Tools
$125 X 2 = $250
Total = $11340
Survival Day 76
5 Gallon Samson Stackers
Survival Food
$175 X 2 = $350
Total = $11090
Survival Day 75
Foldable UPF 50+ Baseball Cap
Survival Clothing
$15 X 2 = $30
Total = $10740
Survival Day 74
humangear GoBites Uno Travel Spork
Basic Supplies
$5 X 2 = $10
Total = $10710
Survival Day 73
Cold Steel Boar Spear
Weapons
$95 X 2 = $190
Total = $10700
Survival Day 72
Wireless Security Camera
Technology
$150 X 2 = $300
Total = $10510
Survival Day 71
HKYH Solar Panel Lighting Kit
Technology
$155 X 2 = $310
Total = $10210
Survival Day 70
FatMax Xtreme 55-120 FuBar III
Tools
$100 X 2 = $200
Total = $9900
Survival Day 69
Macaroni & Cheese Dinner
Survival Food
$5 X 20 = $100
Total = $9700
Survival Day 68
Carhartt Waterproof Insulated Gloves
Survival Clothing
$25 X 2 = $50
Total = $9600
Survival Day 67
Swiss+Tech Micro-Clippers
Basic Supplies
$12 X 2 = $25
Total = $9550
Survival Day 66
Pepper Spray
Weapons
$10 X 5 = $50
Total = $9525
Survival Day 65
Wedge-It
Security
$20 X 5 = $100
Total = $9475
Survival Day 64
36 Channel FRS Two-Way Radios
Technology
$50 X 2 = $100
Total = $9375
Survival Day 63
Heavy Duty Extension Cord Reel with 4 Integrated Outlets
Tools
$75
Total = $9275
Survival Day 62
Red Feather Cremery Canned Butter
Survival Food
$20 X 4 = $80
Total = $9200
Survival Day 61
Waterproof Boots
Survival Clothing
$60 X 2 = $120
Total = $9120
Survival Day 60
10d 3-Inch Common Nails
Basic Supplies
$20 X 5 = $100
Total = $9000
Survival Day 59
Cold Steel Brooklyn Smasher
Weapons
$33 X 3 = $100
Total = $8900
Survival Day 58
Door Reinforcement Lock
Security
$20 X 5 = $100
Total = $8800
Survival Day 57
Electric Mountain Bike
Technology
$600
Total = $8700
Survival Day 56
Raptor Bed Liner
Tools
$120
Total = $8100
Survival Day 55
Augason Farms Emergency Long Grain White Rice
Survival Food
$50 X 4 = $200
Total = $7980
Survival Day 54
Camo Rain Suit
Survival Clothing
$50 X 2 = $100
Total = $7780
Survival Day 53
Stake And Grille
Basic Supplies
$50 X 2 = $100
Total = $7680
Survival Day 52
VIPERTEK VTS-T03 - Stun Gun Flashlight
Weapons
$20 X 5 = $100
Total = $7580
Survival Day 51
Solar Security Lights
Security
$20 X 5 = $100
Total = $7480
Survival Day 50
Garmin eTrex 30x Handheld GPS Navigator
Technology
$150 X 2 = $300
Total = $7380
Survival Day 49
Overhead Garage Storage Rack
Tools
$200
Total = $7080
Survival Day 48
Future Essentials Canned Dry Dog Food
Survival Food
$20 X 5 = $100
Total = $6880
Survival Day 47
Thermajohn Thermal Underwear
Survival Clothing
$25 X 4 = $100
Total = $6780
Survival Day 46
Shop Towels
Basic Supplies
$25 X 4 = $100
Total = $6680
Survival Day 45
Bear Spray
Weapons
$33 X 3 = $100
Total = $6580
Survival Day 44
Blackout Curtains
Security
$25 X 4 = $100
Total = $6480
Survival Day 43
Light Bulb Security Cameras
Technology
$40 X 1 = $80
Total = $6380
Survival Day 42
Ratchet Tie Down Straps
Tools
$20 X 5 = $100
Total = $6300
Survival Day 41
Pure Wesson Vegetable Oil
Survival Food
$20 X 10 = $200
Total = $6200
Survival Day 40
Handyman Tool Belt Set
Survival Clothing
$50 X 2 = $100
Total = $6000
Survival Day 39
Travel Toothbrush
Basic Supplies
$8 X 5 = $40
Total = $5900
Survival Day 38
Yeacool Portable Shovel Multitool
Weapons
$40 X 2 = $80
Total = $5860
Survival Day 37
Smart Plugs
Blackout Curtains
$25 X 4 = $100
Total = $5780
Survival Day 36
Solar Water Heater/Collector
Technology
$1000 X 2 = $2000
Total = $5680
Survival Day 35
Multi-Tool Screw Drivers
Tools
$15 X 2 = $30
Total = $3680
Survival Day 34
CLIF BAR - Energy Bars
Survival Food
$20 X 5 = $100
Total = $3650
Survival Day 33
Over Glasses Ski/Snowboard Goggles
Survival Clothing
$25 X 2 = $50
Total = $3550
Survival Day 32
Dual Post Grill Fire Spit
Basic Supplies
$70 X 2 = $140
Total = $3500
Survival Day 31
Elk Ridge Fixed Blade Machete
Weapons
$33 X 3 = $100
Total = $3360
Survival Day 30
Door Stop Alarms
Security
$15 X 2 = $30
Total = $3260
Survival Day 29
SUAOKI Crank Lantern/Flashlights
Technology
$15 X 2 = $30
Total = $3230
Survival Day 28
36 Inch Wrecking Bar
Tools
$15 X 2 = $30
Total = $3200
Survival Day 27
Stanley Classic Vacuum Bottle
Survival Food
$20 X 2 = $40
Total = $3170
Survival Day 26
Watch Hats
Survival Clothing
$15 X 2 = $30
Total = $3130
Survival Day 25
The Woods White Camouflage Bedding Set
Basic Supplies
$60
Total = $3100
Survival Day 24
Hickory Stick
Weapons
$20 X 2 = $40
Total = $3040
Survival Day 23
Spring Loaded Latch Pins
Security
$10 X 10 = $100
Total = $3000
Survival Day 22
Rechargeable 520 Lumen Lithium Ion Waterproof LED Spotlight
Technology
$40 X 5 = $200
Total = $2900
Survival Day 21
Tire Chains
Tools
$100
Total = $2700
Survival Day 20
Emergency 3600 Calorie Food Bars
Survival Food
$10 X 8 = $80
Total = $2600
Survival Day 19
Winter Camo Bib Overall
Survival Clothing
$60 X 2 = $120
Total = $2520
Survival Day 18
Bulk Toilette Paper
Basic Supplies
$50 X 4 = $200
Total = $2400
Survival Day 17
CRKT Provoke Kinematic Knife
Weapons
$200
Total = $2200
Survival Day 16
Personal 130 dB Emergency Protection Alarms
Security
$20 X 5 = $100
Total = $2000
Survival Day 15
Solar Charger 25000mAh With 4 Solar Panels
Technology
$50 X 2 = $100
Total = $1900
Survival Day 14
Vehicle Snow Shovel
Tools
$25 X 4 = $100
Total = $1800
Survival Day 13
Nature's First Sea Salt Bucket
Survival Food
$50 X 4 = $200
Total = $1700
Survival Day 12
Travel/Camping Utensils
Basic Supplies
$15 X 2 = $30
Total = $1500
Survival Day 11
Carhartt Men's Cold Weather Socks
Survival Clothing
$20 X 5 = $100
Total = $1470
Survival Day 10
OUTDOOR EDGE ParaClaw Paracord Survival Bracelet
Weapons
$20 X 2 = $40
Total = $1370
Survival Day 9
Drop Bar Door Brackets
Security
$40 X 10 = $400
Total = $1330
Survival Day 8
Kaito KA500 Crank Emergency Radio
Technology
$50 X 2 = $100
Total = $930
Survival Day 7
Mechanics Tool Set
Tools
$70 X 2 = $140
Total = $830
Survival Day 6
30-Day Emergency Food Pails
Survival Food
$90 X 4 = $360
Total = $790
Survival Day 5
Trooper Ear Flap Bomber Hat
Survival Clothing
$15 X 2 = $30
Total = $430
Survival Day 4
Bumper Dumper
Basic Supplies
$120 X 1 = $120
Total = $400
Survival Day 3
Smith & Wesson SWHRT9B 9in High Carbon S.S. Fixed Blade Knife
Weapons
$20 X 4 = $80
Total = $280
Survival Day 2
RUGCEL WINCH 4.8T Heavy Duty Recovery Winch Snatch Blocks
Tools
$25 X 4 = $100
Total = $200
Survival Day 1
Spyderco Tenacious Plain Edge Folding Knife
Basic Supplies
$50 X 2 = $100
Total = $100