Sometimes surviving a fight comes down to something as simple as who hits hardest. When it comes to hitting hard, I like this Self Defense Stinger Duron Drill. It fits easily onto my key ring or into a jacket pocket so if punches start to fly I can defend myself, and since it's less than lethal its an option if you just need to make a point and don't want to kill anyone.
Keep one in your glove box, on in your pocket, and another on your key ring. Be prepared no matter what happens.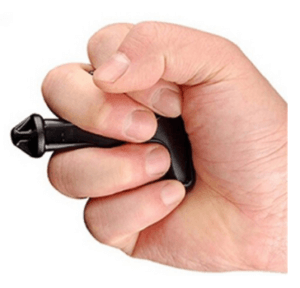 (And, as always, make sure it is legal where you live to carry this.)

Made of nylon steel, hard as metal alloy.
Lightweight, compact and portable.
Girls or travelers self defense tools.
Designed to conform naturally to hand and fingers.
Easy to Force, Self defense.
Day
Survival Gear
Category
Estimated Cost
Survival Day 192
Self Defense Stinger Duron Drill
Weapons
$10 X 5 = $50
Total = $29,450
Survival Day 191
Quick Access Keyless Long Gun Safe
Security
$400
Total = $29,400
Survival Day 190
Off Grid Wind Turbine
Technology
$1300
Total = $29,000
Survival Day 189
Hacksaw
Tools
$25 X 2 = $50
Total = $27,700
Survival Day 188
Stainless Steel Food Trays
Survival Food
$10 X 5 = $50
Total = $27,650
Survival Day 187
Ironclad Heavy Utility Work Gloves
Survival Clothing
$25 X 2 = $50
Total = $27,600
Survival Day 186
Warm Weather Sleeping Bag
Basic Supplies
$25 X 2 = $50
Total = $27,550
Survival Day 185
Tactical Flashlight With Strobe
Weapons
$35 X 2 = $70
Total = $27,500
Survival Day 184
Pull String Perimeter Alarms
Security
$20 X 5 = $100
Total = $27,430
Survival Day 183
Twin Photo Beam Detectors
Technology
$100 X 2 = $200
Total = $27,330
Survival Day 182
Heavy Duty Tow Strap
Tools
$40 X 2 = $80
Total = $27,130
Survival Day 181
Augason Farms Elbow Macaroni
Survival Food
$20 X 5 = $100
Total = $27,050
Survival Day 180
Bug Pants
Survival Clothing
$20 X 2 = $40
Total = $26,950
Survival Day 179
Solar Water Pump Kit
Basic Supplies
$180
Total = $26,910
Survival Day 178
Ankle Holster
Weapons
$15 X 2 = $30
Total = $26,730
Survival Day 177
Yardguard Fence
Security
$60 X 2 = $120
Total = $26,700
Survival Day 176
Solar Tent Light
Technology
$15 X 2 = $30
Total = $26,580
Survival Day 175
Mattock
Tools
$50 X 2 = $100
Total = $26,550
Survival Day 174
White Granulated Sugar 5 lbs No. 10 Can
Survival Food
$15 X 10 = $150
Total = $26,450
Survival Day 173
UPF 50+ LONG SLEEVE SHIRT
Survival Clothing
$25 X 4 = $100
Total = $26,300
Survival Day 172
YETI Cooler
Basic Supplies
$350
Total = $26,200
Survival Day 171
Peace Keeper Working Clock Gun Concealment Safe
Weapons
$50 X 2 = $100
Total = $25,850
Survival Day 170
Hidden Door Hinge System
Security
$200
Total = $25,750
Survival Day 169
Collapsible Candle Lantern
Technology
$20 X 5 = $100
Total = $25,550
Survival Day 168
Large Magnetic Nut and Bolt Tray
Tools
$15 X 2 = $30
Total = $25,450
Survival Day 167
Garcima 22-Inch Carbon Steel Pan
Survival Food
$60 X 2 = $120
Total = $25,420
Survival Day 166
Safety Raingear
Survival Clothing
$50 X 2 = $100
Total = $25,300
Survival Day 165
AmazonBasics Internal Frame Hiking Backpack
Basic Supplies
$75 X 2 = $150
Total = $25,200
Survival Day 164
Shoulder Holster
Weapons
$33 X 3 = $100
Total = $25,050
Survival Day 163
Bike Lock Cable
Security
$20 X 5 = $100
Total = $24,950
Survival Day 162
Gas LP Propane White Top Freezer Refrigerator
Technology
$1700
Total = $24,850
Survival Day 161
Emergency Hiking/Camping Whistles
Tools
$10 X 5 = $50
Total = $23,150
Survival Day 160
Augason Farms Freeze Dried Sliced Strawberries
Survival Food
$25 X 8 = $200
Total = $23,100
Survival Day 159
Snake Gator Leggings
Survival Clothing
$50 X 2 = $100
Total = $22,900
Survival Day 158
Push Sweepers
Basic Supplies
$33 X 3 = $100
Total = $22,800
Survival Day 157
Unbreakable Umbrella
Weapons
$150 X 3 = $450
Total = $22,700
Survival Day 156
Keysafe Lock Boxes
Security
$33 X 3 = $100
Total = $22,250
Survival Day 155
Solar Powered Floodlights
Technology
$100 X 3 = $300
Total = $22,150
Survival Day 154
Sledge Hammer
Tools
$50 X 2 = $100
Total = $21,850
Survival Day 153
Augason Farms Regular Rolled Oats
Survival Food
$20 X 5 = $100
Total = $21,750
Survival Day 152
Boonie Sun Hat With UPF 50 Protection
Survival Clothing
$10 X 5 = $50
Total = $21,650
Survival Day 151
Low Suds Detergent
Basic Supplies
$33 X 3 = $100
Total = $21,600
Survival Day 150
Retrospec Steel Macebell
Weapons
$25 X 2 = $50
Total = $21,500
Survival Day 149
Combination Gun Locks
Security
$50 X 2 = $100
Total = $21,450
Survival Day 148
NOAA Weather Emergency Radio
Technology
$50 X 2 = $100
Total = $21,350
Survival Day 147
Standard & Metric Tape Measure
Tools
$16 X 3 = $50
Total = $21,250
Survival Day 146
Garcima 18-Inch Carbon Steel Paella Pan
Survival Food
$50 X 2 = $100
Total = $21,200
Survival Day 145
Cooling Towel
Survival Clothing
$10 X 5 = $50
Total = $21,100
Survival Day 144
Large Mosquito Net with Carry Bag
Basic Supplies
$33 X 3 = $100
Total = $21,050
Survival Day 143
Glass Breaker Self Defense Pen
Weapons
$15 X 3 = $50
Total = $20,950
Survival Day 142
Pressure Mat Alarm
Security
$25 X 4 = $100
Total = $20,900
Survival Day 141
Deep Cycle Rechargeable Batteries
Technology
$333 X 3 = $1,000
Total = $20,800
Survival Day 140
Lineman's Pliers
Tools
$16 X 3 = $50
Total = $19,800
Survival Day 139
Food Grade Buckets
Survival Food
$33 X 3 = $100
Total = $19,800
Survival Day 138
BDU Shorts
Survival Clothing
$25 X 7 = $175
Total = $19,700
Survival Day 137
Portable Bidet
Basic Supplies
$30 X 10 = $300
Total = $19,525
Survival Day 136
Pepper Spray Self Defense Gun
Weapons
$350
Total = $19,225
Survival Day 135
Keyhole Light
Security
$10 X 5 = $50
Total = $18,875
Survival Day 134
Emergency Pedal Generator
Technology
$200
Total = $18,825
Survival Day 133
44-Piece Professional Air Tool Accessory Kit
Tools
$175
Total = $18,625
Survival Day 132
Emergency Water Storage Supply Kits
Survival Food
$150 X 2 =$300
Total = $18,450
Survival Day 131
Hat with Anti-Mosquito Head Net
Survival Clothing
$25 X 2 =$50
Total = $18,150
Survival Day 130
Titanium Camping Mug
Basic Supplies
$33 X 3 =$100
Total = $18,100
Survival Day 129
Kershaw Leek Knife
Weapons
$50 X 2 =$100
Total = $18,000
Survival Day 128
Surface Trip Flares
Security
$33 X 3 =$100
Total = $17,900
Survival Day 127
Propane Insect Fogger
Technology
$600
Total = $17,800
Survival Day 126
Carhartt Legacy Tool Roll
Tools
$25 X 2 = $50
Total = $17,200
Survival Day 125
Pilot Crackers
Survival Food
$25 X 4 = $100
Total = $17,150
Survival Day 124
Steri-Strip Skin Closures
Basic Supplies
$10 X 5 = $50
Total = $17,050
Survival Day 123
Neoprene Shooting Gloves
Survival Clothing
$20 X 2 = $40
Total = $17,000
Survival Day 122
Brass Handle Walking Stick
Weapons
$50 X 2 = $100
Total = $16,960
Survival Day 121
Breezz Tire Inflator
Basic Supplies
$30 X 2 = $60
Total = $16,860
Survival Day 120
100-Watt Portable Generator Power Inverter
Technology
$125 X 2 = $250
Total = $16,800
Survival Day 119
BackCountry 2-In-1 Axe
Tools
$100 X 2 = $200
Total = $16,550
Survival Day 118
2 QT Collapsible Water Canteen
Survival Food
$20 X 5 = $100
Total = $16,350
Survival Day 117
Tactical Side-Zip Boots
Survival Clothing
$100 X 2 = $200
Total = $16,250
Survival Day 116
Hammock Tarp
Basic Supplies
$33 X 3 = $100
Total = $16,050
Survival Day 115
Kubaton Key Ring
Weapons
$10 X 5 = $50
Total = $15,950
Survival Day 114
Window/Door Alarms
Security
$10 X 10 = $100
Total = $15,900
Survival Day 113
Spotting Scope with Tripod
Technology
$150
Total = $15,800
Survival Day 112
Dewalt Cordless Framing Nailer
Tools
$325
Total = $15,650
Survival Day 111
Collapsible Wash Bin
Basic Supplies
$12 X 2 = $25
Total = $15,325
Survival Day 110
Rainbow Cat Face Mask
Survival Clothing
$12 X 4 = $25
Total = $15,300
Survival Day 109
Camping Shower
Basic Supplies
$125 X 2 = $250
Total = $15,250
Survival Day 108
Bamboo Practice Swords
Weapons
$25 X 2 = $50
Total = $15,000
Survival Day 107
LED Motion Sensor Solar Lights
Security
$50 X 2 = $100
Total = $14950
Survival Day 106
Dual LED Rechargeable Headlamp
Technology
$75 X 2 = $150
Total = $14850
Survival Day 105
Ball Pein Hammer
Tools
$12 X 4 = $50
Total = $14700
Survival Day 104
LifeStraw
Survival Food
$20 X 5 = $100
Total = $14650
Survival Day 103
Tactical Pants With Cargo Pockets
Survival Clothing
$50 X 4 = $200
Total = $14550
Survival Day 102
Diva Cup Model 2
Basic Supplies
$33 X 3 = $100
Total = $14350
Survival Day 101
Throwing Knife Set
Weapons
$10 X 5 = $50
Total = $14250
Survival Day 100
Defender Security Fixed Window Guards
Security
$50 X 2 = $100
Total = $14200
Survival Day 99
goTenna Mesh - Two Off-Grid SMS & GPS Devices
Technology
$175 X 2 = $350
Total = $14100
Survival Day 98
Heavy Duty Bolt Cutters
Tools
$75 X 2 = $150
Total = $13750
Survival Day 97
People's Choice Beef Jerky
Survival Food
$33 X 3 = $100
Total = $13600
Survival Day 96
Camo Hunting Waders
Survival Clothing
$100
Total = $13500
Survival Day 95
P38 Can Opener
Basic Supplies
$10 X 2 = $20
Total = $13400
Survival Day 94
Magnetic Gun Mount
Weapons
$25 X 4 = $100
Total = $13380
Survival Day 93
HAVEN Heavy Duty Lock, Floor Mounted Lock
Security
$150 X 2 = $300
Total = $13280
Survival Day 92
Jump-N-Carry 12-Volt Jump Starter
Technology
$150
Total = $12980
Survival Day 91
Folding 15 Inch Saws
Tools
$40 X 2 = $80
Total = $12830
Survival Day 90
Holiday Styling String Light Poles
Technology
$115 X 2 = $130
Total = $12750
Survival Day 89
Condor Combat Shirt
Survival Clothing
$60 X 2 = $120
Total = $12620
Survival Day 88
Waxed Canvas Heavy Duty Work Apron With Pockets
Basic Supplies
$25 X 2 = $50
Total = $12500
Survival Day 87
Hunting Slingshot
Weapons
$25 X 2 = $50
Total = $12450
Survival Day 86
Master Lock Set Your Own Combination Padlocks
Security
$10 X 5 = $50
Total = $12400
Survival Day 85
Tactical Flashlight With Strobe
Technology
$50 X 2 = $100
Total = $12350
Survival Day 84
Hi-Lift Jack
Tools
$75 X 2 = $150
Total = $12250
Survival Day 83
Pringles Snack Stacks
Survival Food
$10 X 10 = $10
Total = $12100
Survival Day 82
Under Armour Men's ColdGear Camo Liner Gloves
Survival Clothing
$35 X 2 = $70
Total = $12000
Survival Day 81
Outdoor Fish and Game Cleaning Table
Basic Supplies
$125 X 2 = $250
Total = $11930
Survival Day 80
Cold Steel War Hammer
Weapons
$50 X 2 = $100
Total = $11680
Survival Day 79
SecuraDoor Security Door Bar
Security
$90 X 2 = $180
Total = $11580
Survival Day 78
TACTICON Laser Sight
Technology
$20 X 3 = $60
Total = $11400
Survival Day 77
California Air Tools Quiet Air Compressor
Tools
$125 X 2 = $250
Total = $11340
Survival Day 76
5 Gallon Samson Stackers
Survival Food
$175 X 2 = $350
Total = $11090
Survival Day 75
Foldable UPF 50+ Baseball Cap
Survival Clothing
$15 X 2 = $30
Total = $10740
Survival Day 74
humangear GoBites Uno Travel Spork
Basic Supplies
$5 X 2 = $10
Total = $10710
Survival Day 73
Cold Steel Boar Spear
Weapons
$95 X 2 = $190
Total = $10700
Survival Day 72
Wireless Security Camera
Technology
$150 X 2 = $300
Total = $10510
Survival Day 71
HKYH Solar Panel Lighting Kit
Technology
$155 X 2 = $310
Total = $10210
Survival Day 70
FatMax Xtreme 55-120 FuBar III
Tools
$100 X 2 = $200
Total = $9900
Survival Day 69
Macaroni & Cheese Dinner
Survival Food
$5 X 20 = $100
Total = $9700
Survival Day 68
Carhartt Waterproof Insulated Gloves
Survival Clothing
$25 X 2 = $50
Total = $9600
Survival Day 67
Swiss+Tech Micro-Clippers
Basic Supplies
$12 X 2 = $25
Total = $9550
Survival Day 66
Pepper Spray
Weapons
$10 X 5 = $50
Total = $9525
Survival Day 65
Wedge-It
Security
$20 X 5 = $100
Total = $9475
Survival Day 64
36 Channel FRS Two-Way Radios
Technology
$50 X 2 = $100
Total = $9375
Survival Day 63
Heavy Duty Extension Cord Reel with 4 Integrated Outlets
Tools
$75
Total = $9275
Survival Day 62
Red Feather Cremery Canned Butter
Survival Food
$20 X 4 = $80
Total = $9200
Survival Day 61
Waterproof Boots
Survival Clothing
$60 X 2 = $120
Total = $9120
Survival Day 60
10d 3-Inch Common Nails
Basic Supplies
$20 X 5 = $100
Total = $9000
Survival Day 59
Cold Steel Brooklyn Smasher
Weapons
$33 X 3 = $100
Total = $8900
Survival Day 58
Door Reinforcement Lock
Security
$20 X 5 = $100
Total = $8800
Survival Day 57
Electric Mountain Bike
Technology
$600
Total = $8700
Survival Day 56
Raptor Bed Liner
Tools
$120
Total = $8100
Survival Day 55
Augason Farms Emergency Long Grain White Rice
Survival Food
$50 X 4 = $200
Total = $7980
Survival Day 54
Camo Rain Suit
Survival Clothing
$50 X 2 = $100
Total = $7780
Survival Day 53
Stake And Grille
Basic Supplies
$50 X 2 = $100
Total = $7680
Survival Day 52
VIPERTEK VTS-T03 - Stun Gun Flashlight
Weapons
$20 X 5 = $100
Total = $7580
Survival Day 51
Solar Security Lights
Security
$20 X 5 = $100
Total = $7480
Survival Day 50
Garmin eTrex 30x Handheld GPS Navigator
Technology
$150 X 2 = $300
Total = $7380
Survival Day 49
Overhead Garage Storage Rack
Tools
$200
Total = $7080
Survival Day 48
Future Essentials Canned Dry Dog Food
Survival Food
$20 X 5 = $100
Total = $6880
Survival Day 47
Thermajohn Thermal Underwear
Survival Clothing
$25 X 4 = $100
Total = $6780
Survival Day 46
Shop Towels
Basic Supplies
$25 X 4 = $100
Total = $6680
Survival Day 45
Bear Spray
Weapons
$33 X 3 = $100
Total = $6580
Survival Day 44
Blackout Curtains
Security
$25 X 4 = $100
Total = $6480
Survival Day 43
Light Bulb Security Cameras
Technology
$40 X 1 = $80
Total = $6380
Survival Day 42
Ratchet Tie Down Straps
Tools
$20 X 5 = $100
Total = $6300
Survival Day 41
Pure Wesson Vegetable Oil
Survival Food
$20 X 10 = $200
Total = $6200
Survival Day 40
Handyman Tool Belt Set
Survival Clothing
$50 X 2 = $100
Total = $6000
Survival Day 39
Travel Toothbrush
Basic Supplies
$8 X 5 = $40
Total = $5900
Survival Day 38
Yeacool Portable Shovel Multitool
Weapons
$40 X 2 = $80
Total = $5860
Survival Day 37
Smart Plugs
Blackout Curtains
$25 X 4 = $100
Total = $5780
Survival Day 36
Solar Water Heater/Collector
Technology
$1000 X 2 = $2000
Total = $5680
Survival Day 35
Multi-Tool Screw Drivers
Tools
$15 X 2 = $30
Total = $3680
Survival Day 34
CLIF BAR - Energy Bars
Survival Food
$20 X 5 = $100
Total = $3650
Survival Day 33
Over Glasses Ski/Snowboard Goggles
Survival Clothing
$25 X 2 = $50
Total = $3550
Survival Day 32
Dual Post Grill Fire Spit
Basic Supplies
$70 X 2 = $140
Total = $3500
Survival Day 31
Elk Ridge Fixed Blade Machete
Weapons
$33 X 3 = $100
Total = $3360
Survival Day 30
Door Stop Alarms
Security
$15 X 2 = $30
Total = $3260
Survival Day 29
SUAOKI Crank Lantern/Flashlights
Technology
$15 X 2 = $30
Total = $3230
Survival Day 28
36 Inch Wrecking Bar
Tools
$15 X 2 = $30
Total = $3200
Survival Day 27
Stanley Classic Vacuum Bottle
Survival Food
$20 X 2 = $40
Total = $3170
Survival Day 26
Watch Hats
Survival Clothing
$15 X 2 = $30
Total = $3130
Survival Day 25
The Woods White Camouflage Bedding Set
Basic Supplies
$60
Total = $3100
Survival Day 24
Hickory Stick
Weapons
$20 X 2 = $40
Total = $3040
Survival Day 23
Spring Loaded Latch Pins
Security
$10 X 10 = $100
Total = $3000
Survival Day 22
Rechargeable 520 Lumen Lithium Ion Waterproof LED Spotlight
Technology
$40 X 5 = $200
Total = $2900
Survival Day 21
Tire Chains
Tools
$100
Total = $2700
Survival Day 20
Emergency 3600 Calorie Food Bars
Survival Food
$10 X 8 = $80
Total = $2600
Survival Day 19
Winter Camo Bib Overall
Survival Clothing
$60 X 2 = $120
Total = $2520
Survival Day 18
Bulk Toilette Paper
Basic Supplies
$50 X 4 = $200
Total = $2400
Survival Day 17
CRKT Provoke Kinematic Knife
Weapons
$200
Total = $2200
Survival Day 16
Personal 130 dB Emergency Protection Alarms
Security
$20 X 5 = $100
Total = $2000
Survival Day 15
Solar Charger 25000mAh With 4 Solar Panels
Technology
$50 X 2 = $100
Total = $1900
Survival Day 14
Vehicle Snow Shovel
Tools
$25 X 4 = $100
Total = $1800
Survival Day 13
Nature's First Sea Salt Bucket
Survival Food
$50 X 4 = $200
Total = $1700
Survival Day 12
Travel/Camping Utensils
Basic Supplies
$15 X 2 = $30
Total = $1500
Survival Day 11
Carhartt Men's Cold Weather Socks
Survival Clothing
$20 X 5 = $100
Total = $1470
Survival Day 10
OUTDOOR EDGE ParaClaw Paracord Survival Bracelet
Weapons
$20 X 2 = $40
Total = $1370
Survival Day 9
Drop Bar Door Brackets
Security
$40 X 10 = $400
Total = $1330
Survival Day 8
Kaito KA500 Crank Emergency Radio
Technology
$50 X 2 = $100
Total = $930
Survival Day 7
Mechanics Tool Set
Tools
$70 X 2 = $140
Total = $830
Survival Day 6
30-Day Emergency Food Pails
Survival Food
$90 X 4 = $360
Total = $790
Survival Day 5
Trooper Ear Flap Bomber Hat
Survival Clothing
$15 X 2 = $30
Total = $430
Survival Day 4
Bumper Dumper
Basic Supplies
$120 X 1 = $120
Total = $400
Survival Day 3
Smith & Wesson SWHRT9B 9in High Carbon S.S. Fixed Blade Knife
Weapons
$20 X 4 = $80
Total = $280
Survival Day 2
RUGCEL WINCH 4.8T Heavy Duty Recovery Winch Snatch Blocks
Tools
$25 X 4 = $100
Total = $200
Survival Day 1
Spyderco Tenacious Plain Edge Folding Knife
Basic Supplies
$50 X 2 = $100
Total = $100