I honestly didn't find Bushmills without an age statement to be a very sippable dram. It scored a 62/100, putting it in the Mixed Drinks Only category, so I was curious what 10 years on a barrel would do to it.
The good news is that the extra time aging smoothed out the rough edges. Some of those edges left a displeasing aftertaste. What surprised me about this Bushmills 10 Year is that while it is much smoother, that strange tannin driven aftertaste is still there. Whatever char they use in the barrel must be the driver. At least the 10 Year smooths it out and lets you appreciate the sweet butter cookies that hides just beneath that layer of woodiness.
I found that a little bit of water really opens up this Bushmills 10 Year and lets you appreciate the sweet fruitiness and butter cookies that gets overpowered by the tannins when you sip it right out of the bottle.
Overall, this is a huge improvement over the Original, non aged Bushmills and it scored a 72/100, making it Sip Worthy. It was good, but unfortunately for Bushmills, not good enough to make it into my Whiskey Safe. I won't turn down a dram if its what your offering me, but its not a bottle that I feel the need to keep on hand.
It did however improve its score over the Original by 10 points, scoring a 72/100.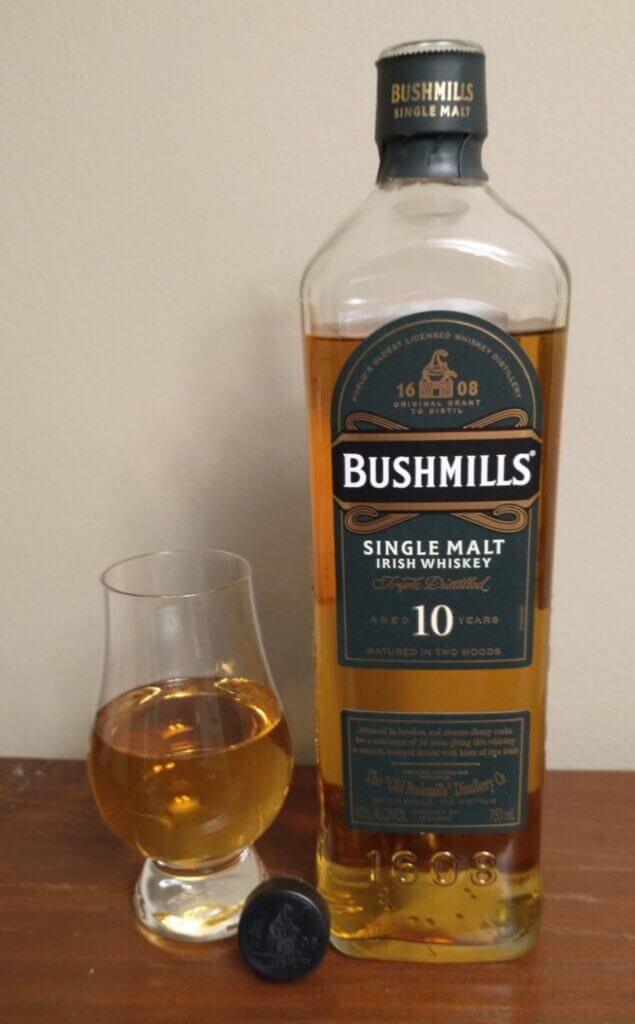 Pros
Easy to find.
Soft sweet nose with hints of butter cookies.
Smoother edges when compared to the original, not aged Bushmills.
Cons:
Lots of tannins from the time in the barrel. For some drinkers that means an aftertaste that may not be super appealing.
At around the $50 dollar a bottle mark there are better options. For me, that me that means Tyrconnel or Knappognue Castle 12 Year.