The Video Dead is what I'd call a classic Zombie Movie. Anything over 30 years old qualifies in my book.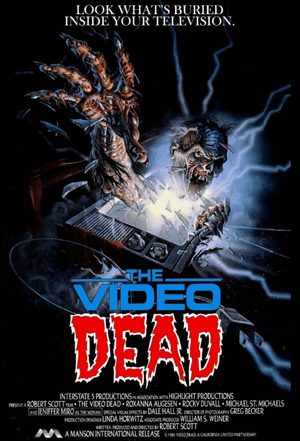 What should you expect from a 30 year old Zombie movie? Don't expect state of the art CGI or a lot of special effects. The late 80s were a time when special effects cost big dollars, and Zombie movies relied mostly on practical effects.
Having said that, they did spend some bucks on what I'd call the Weird Science lightening effect. Who knows, maybe someone on the team actually worked on Weird Science, it did come out two years before The Video Dead was released.
The Video Dead tells a story about a television that allows Zombies to escape from it, as well as having the ability to haunt anyone who is watching it. The movie opens with delivery guys bringing the television to a house, and then shortly returning to find the owner of the house murdered in gruesome fashion. We then jump forward in time to a brother and sister who move in, not knowing they just made "The Murder House" their new home.
It's not long before the television makes itself present felt, taunting Jeff, the younger brother with lustful messages.
Jeff writes off the strange events, blaming the weed he was smoking for his crazy thoughts.
When a neighborhood young lady comes by with the dog she's watching, Jeff temporarily finds a new target for his attentions, but in the process, the dog gets loose, leading to one of the funniest lines in the movie:
It is not long before the last owner of the television shows up. His guilt driving him to try and help. He knew what the television could do, and tries to help the best he can.
The story was relatively straight forward and stayed true to itself. There is a nice little twist at the end. It's not ground breaking, but I thought it was a suitable ending and I don't want to give the end away as I do think The Video Dead should be put on your list as a Rainy Day Movie. The Video Dead scored a 65/100, putting it at the top of that Rainy Day Movie category.