After many weeks of waiting all the paperwork is finally done. (Thank you state of NJ for making the whole process so easy! – I'd gladly pay $100 more for an instant check at the time of purchase.)
I disassembled and cleaned my new M&P 22 after my FFl dealer called me and said everything was done and then reassembled the weapon to familiarize myself with it before going to the range.
I brought eight inch and four inch diameter targets and started with the larger while firing Federal 22LR ammo. I went through a single 325 brick before it starting to rain and I called it a day.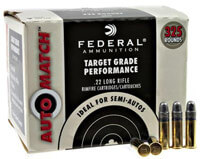 The M&P 22 fired flawlessly and chewed through the Federal ammo without an issue. I did actually fire one clip with American Eagle and stopped after I had one failure to fire and one failure to eject. I guess I know why those were $3 bucks for a box of 40 rounds.
As always, we shoot safe, using chamber safety flags and a range flag before going downrange to place or examine targets.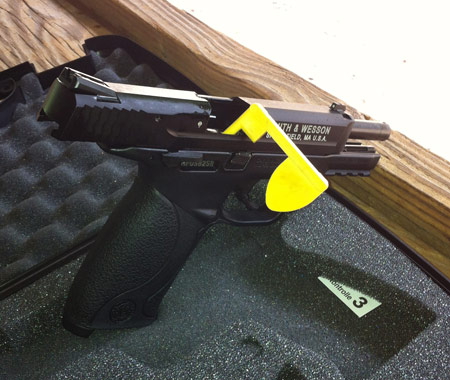 It's amazing how fast 325 rounds of ammo goes!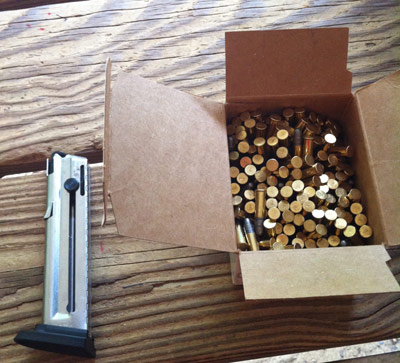 You can see on my first target that I tend to pull up and to the right like many shooters as I pull the trigger with my right index finger. (Every time I go shoot my first target looks like this and I have to mentally force myself to correct for the motion.)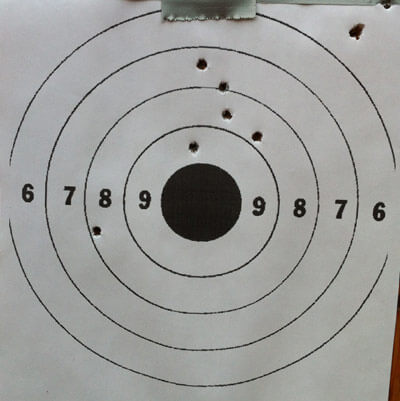 Then I had to adjust because I was shooting high.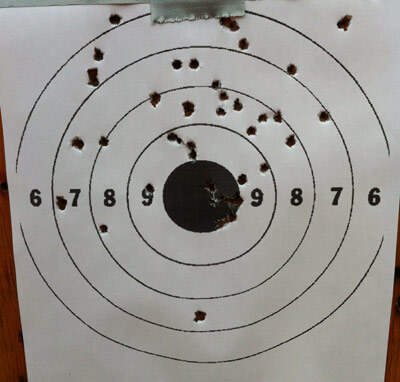 But after a few clips I was putting the rounds into a four inch circle at 15 yards consistently. We'll see how that improves as I get more range time with the M&P 22.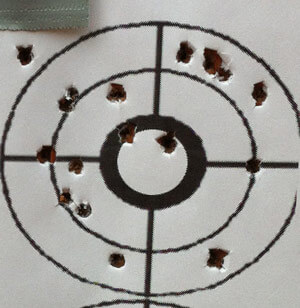 Like a lot of people the high prices and availability of 9mm and other larger caliber ammunition has driven me to the 22LR and there are a lot of choices out there in terms of what gun to purchase. Personally the M&P 22 gets five stars. It was fun and easy to shoot and is quick to take down and clean.