Episode  10, Assault on Precinct UTF
Summary:
Bryan Callen starts off the episode with a great monologue. They really need to give him a solid five minutes in each episode.
This episode kicked ass. Was definetly an action packed episode.
Things I loved about this episode…
Carla puts a bullet through the bitten cop's head. She's awesome. Even when she's not in Daisy Dukes.
Captain Dashel – "He died honar a horribly."
I can't wait to see Kirsten kick some ass Ninja style.  I just know its coming.
Awesome fight scene in the precint. And Billie got to take his shirt off.
Carla is awesome.
Captain Dashel plays hardball with Rico. (but he doesn't realize yet that his neice is the one who emptied the arms locker – or at least that is my bet.)
Police charge is awesome. Stubeck killing a zombie with a drawer rocks.
Kirsten, you go girl. Kick some zombie ass and redeem yourself.
Chain decapitation!!!
Captain Dashel – "Hey no badge, I got this." To the sound guy.
Captain Dashel – "The chinese use the same symbol for oppurtunity as they do for danger, which could explain how they drive."  I can't stop laughing.
Kirsten is a VIRGIN.  Ten times hotter.
Billie – "I'm tired of everyone around her fingering Kirstin….you know what I mean." In regards to them all thinking she's a turncoat.
Kirsten puts a stake through Rico. You go girl. Redeem your ass.
Carla know how to motivate John John. She promises him they'll get a hotel room and he goes berserk.  He's definetly in the zone.
Captain Dashel – "That is what I call a  whole lot of black power." In regards to John John kicking some ass.  And then "It looks like my d*ck on a Sunday morning." I can't stop laughing again. OMG, Brian Callen rocks.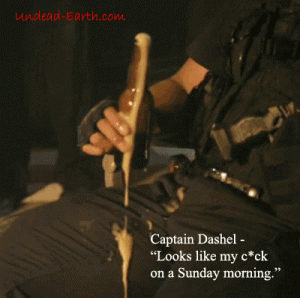 I think John John is going to get to have some fun with Carla. Lucky dog.
Did John John just die?
Things that I didn't like about this episode…
Like you're going to near a zombie body, ever.
Who shot Kirsten? WTF.  Oh, it was dark.
People, never seperate. Stay together, with your backs to a wall so you can fight.