Alouette opens with Isabelle, played by Clémence Poésy, as she experiences the infection as it hits Paris. Apparently she wasn't always involved with the nunnery. She hears random screams as she is leaving a coke fueled party, and sees the beginning of the end as she walks to the subway. The gravity of the situation doesn't hit her until the subway car rolls bye and she sees the violence up close.
Isabelle almost buys it in those first crazy minutes but is lucky enough to get saved before the chaos on the streets can take her life.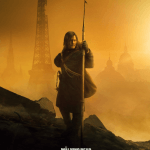 After she is rescued, Isabelle goes to her apartment to get a few things. While leaving her apartment we see her tell a little girl to go back to her apartment and lock the door. Isabelle tells the little girl that her mother will be back soon. Isabelle knows how badly Paris is right? It felt like she was blowing the kid off because it was easier to leave the kid behind, than take her.
Alouette Scoring
Alouette scores 75/100. Once again the Zombies aren't the main focus of the episode. The other major issue was how Laurent is born. It feels like a not so subtle or elegant rip off of The Last of Us. The production values are top notch – I just hope the story is going to end up being the same quality level.
Spoilers Below:
The episode tells the back story of how Laurent was born. Isabelle's sister was pregnant when the outbreak started. The two of them found shelter at the nunnery, where Isabelle was sworn to protect her sisters child.
The rest of the episode of Daryl playing commando to go raid a local hoarder's palace. Team Daryl needs a horse for their cart. The feral kid colony needs supplies.
The Good
I love how the mule can sense the walkers ahead and refuses to go down the road.
Father Daryl. Do I need to say more?
How Isabelle leaves her male friend behind when it comes down to her sister or the dude.
The Bad
The feral kid camp. Its been done in so many other series. It feels worn out.