I was hoping to make it a full 60 minutes today but at the 20 minute mark my right foot started to really burn and I didn't want to push it so I slowed down and called it quit at the 30 minute mark as I didn't want to push my like.
I woke up in a little pain this morning, but it disappeared by my second cup of coffee, so I was hoping I'd just slept funny.
I think I'm going to take tomorrow off and rest up a bit, and see if I can make a full 60 on Thursday.
For those of you who are new, I consider any workout that doesn't make it to the 60 minute mark to be a rest day workout. I know, it doesn't make a lot of sense. Welcome to Undead-Earth.com.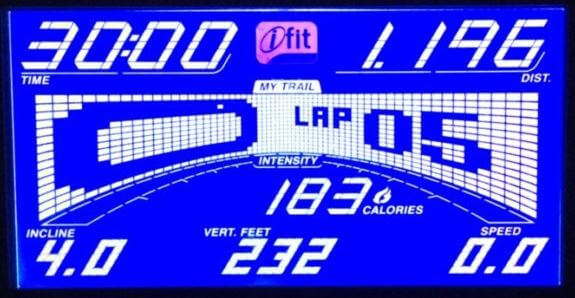 | Day | Date | Distance | Time |
| --- | --- | --- | --- |
| 20 | 10/14/2020 | 1.204 | 30:16 |
| 19 | 10/6/2020 | 1.024 | 30:00 |
| 18 | 10/2/2020 | 0.999 | 30:00 |
| 17 | 7/15/2020 | 1.521 | 37:31 |
| 16 | 7/5/2020 | 1.006 | 25:59 |
| 15 | 7/4/2020 | 1.176 | 30.00 |
| 14 | 6/30/2020 | 1.196 | 30.00 |
| 13 | 6/28/2020 | 1.01 | 26:05 |
| 12 | 6/23/2020 | 1.506 | 36:10 |
| 11 | 6/22/2020 | 1.250 | 30.01 |
| 10 | 6/16/2020 | 1.200 | 28:50 |
| 9 | 6/15/2020 | 0.600 | 14:26 |
| 8 | 6/11/2020 | 0.814 | 19:35 |
| 7 | 5/6/2020 | 1.001 | 18:54 |
| 6 | 4/23/2020 | 1.005 | 22:54 |
| 5 | 4/13/2020 | 1.004 | 23:35 |
| 4 | 4/12/2020 | 0.698 | 18:26 |
| 3 | 4/2/2020 | 1.500 | 31:07 |
| 1 | 2/25/2020 | 1.392 | 26:08 |
| 2 | 3/15/2020 | 1.000 | 18:21 |