The Valley Of The Dead was originally a Spanish Language film titled "Malnazidos" but its theatrical release was pushed because of the pandemic. At some point Netflix bought the rights and the film was dubbed in English.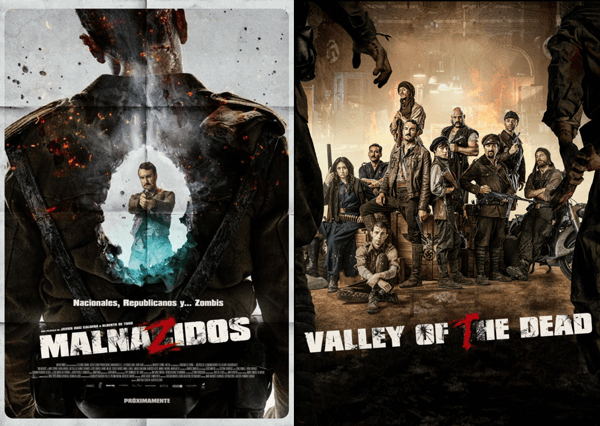 The material is probably not as familiar to Americans, as it takes place during the Spanish Civil War. The movie synopsis doesn't actually cover this, so if you are like me, you probably assumed the time frame was one of the World Wars until it was a bit further in.
Months after bloody combats leave behind thousands of dead in the trenches. Jan Lozano, Captain of the Fifth Brigade has fallen prisoner by an opponent's platoon along with a young driver while carrying out a mission that has been entrusted to him. The possibility of dying executed will soon be overtaken when a new unknown enemy arises. Both rival sides must unite and set their mutual hate aside in order to survive.

-Telecinco Cinema
The Valley Of The Dead kicks off as a standard war movie. Our unwilling "hero" Jan, played by Miki Esparbé, is given a mission which has little chance of success. Before he gets too far he and his driver are captured trying to find a downed pilot. This finally introduces us to our first Zombie. Why do I say finally? Because that first zombie doesn't actually appear until twenty minutes in.
It isn't long before Jan and his captors join forces to fight a common enemy. One of my favorite scenes is when they took down a lone Zombie only to realize they pulled every Undead within earshot down on their heads.
I would describe The Valley Of The Dead as a fun, but formulaic movie. There isn't any new ground being covered here. Don't get me wrong. The Valley Of The Dead is enjoyable to watch. The visuals and special effects are first rate. The cast was well chosen and each of them plays their part well. It all comes together nicely.
So why is The Valley Of The Dead scoring a respectable 70/100? It makes The Valley Of The Dead Worth Your Time, but just barely. There were a good number of Zombies, but I would have loved to see a horde versus a machine gun. There was plenty of action, I just wanted something a little more. The other main reason is that the story. There just wasn't anything new there. It was enjoyable, but it needed something to make it pop just a little more to get that score up a little more.
Let me know what you think in the comments.