When it comes to protecting yourself and your family from sunburn, the first line of defense is always this Long Sleeve UPF 50+ Sun Protection Shirt Hoodie. Suntan lotion is great, but once my kids are running in different directions or off on their own (they are older) it is hard to make sure that reapplying suntan lotion actually happens. Getting a sunburn can ruin the day, a trip, and even a whole vacation. Yes, I'm speaking from experience.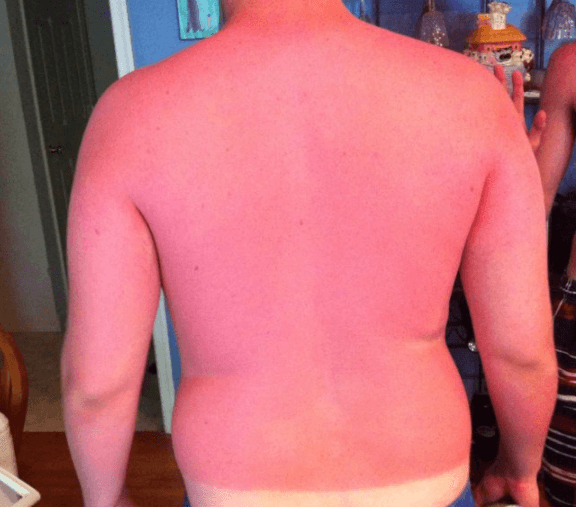 That was a long time ago and ever since I have taken a UPF 50+ Sun Protection Shirt for each of my kids and made them wear it when they get out of the water or before they run off on their own. I'm sure these Shirts have saved myself and my family from dozens of burns over the years, and saved them from long term sun damage. Hopefully that pays off later in life with reduced skin cancer risks.
When it comes to surviving the blazing sun, you can't do better than this Long Sleeve UPF 50+ Sun Protection Shirt Hoodie. Unlike suntan lotion it doesn't wear off and it can be packed up easily so you have it when you need it.
UPF 50+ UV.
Ultraviolet protection shirt shields your skin from harmful sun rays.
Breathable and lightweight fabric.
Comfortable for all day wear, even in the heat.
Moisture wicking & dry quickly.
Stylish sun protection shirt.
Hoodie helps protect your neck from sun burn.
Thumb hole keeps the sleeve from riding up.
Perfect for fishing, boating, jogging, running, and hiking.
Warm Weather Survival Gear
Day
Item
Category
Estimated Cost
Survival Day 199
Long Sleeve UPF 50+ Sun Protection Shirt Hoodie
Warm Weather Survival Gear
$33 X 3 = $100
Total = $40,400
Survival Day 198
4 Pack Monster Camping Towel
Warm Weather Survival Gear
$33 X 3 = $100
Total = $40,300
Survival Day 197
Columbia Watertight Jacket
Warm Weather Survival Gear
$50 X 4 = $200
Total = $40,200
Survival Day 196
BDU/ACU Cargo Pants
Warm Weather Survival Gear
$50 X 4 = $200
Total = $40,000
Survival Day 195
TULYKA Mojave Hydration Backpack
Warm Weather Survival Gear
$50 X 2 = $100
Total = $39,800
Survival Day 194
Snake Gaiters
Warm Weather Survival Gear
$50 X 2 = $100
Total = $39,700
Survival Day 193
Summer Work Gloves
Warm Weather Survival Gear
$16 X 6 = $100
Total = $39,600
Survival Day 192
Hand Crank Generator
Warm Weather Survival Gear
$50 X 2 = $100
Total = $39,500
Survival Day 191
Camping Hammock
Warm Weather Survival Gear
$33 X 3 = $100
Total = $39,400
Survival Day 190
Warm Weather Sleeping Bag
Warm Weather Survival Gear
$33 X 3 = $100
Total = $39,300
Survival Day 189
Mosquito Head Net
Warm Weather Survival Gear
$16 X 6 = $100
Total = $39,200
Survival Day 188
Hiking Shorts
Warm Weather Survival Gear
$33 X 3 = $100
Total = $39,100
Survival Day 187
9 Person Instant Cabin Tent
Warm Weather Survival Gear
$333 X 3 = $1,000
Total = $39,000
Survival Day 186
Gas/Electric Chest Freezer
Warm Weather Survival Gear
$1,700 X 1 = $1,700
Total = $38,000
Survival Day 185
Cooling UPF 50 Bucket Hat
Warm Weather Survival Gear
$25 X 4 = $100
Total = $36,300
Survival Day 184
Sun Canopy Shade Sail
Warm Weather Survival Gear
$50 X 2 = $100
Total = $36,200
Survival Day 183
Collapsible 2 QT Water Canteen
Warm Weather Survival Gear
$25 X 4 = $100
Total = $36,100
Survival Day 182
YETI Tundra Haul Portable Wheeled Cooler
Warm Weather Survival Gear
$400 X 2 = $800
Total = $36,000
Survival Day 181
Evaporative Cooling Towel
Warm Weather Survival Gear
$10 X 10 = $100
Total = $35,200
Survival Day 180
Honda Super Quiet Portable Inverter Generator
Garage Survival Gear
$1,150 X 2 = $2,300
Total = $35,100
Survival Day 179
Full Respirаtor Face Mask
Garage Survival Gear
$33 X 6 = $200
Total = $32,800
Survival Day 178
Solar Pendant Lights
Garage Survival Gear
$50 X 2 = $100
Total = $32,600
Survival Day 177
Framing Hammer
Garage Survival Gear
$33 X 3 = $100
Total = $32,500
Survival Day 176
Wrecking Bar
Garage Survival Gear
$100 X 2 = $200
Total = $32,400
Survival Day 175
Leather Work Gloves
Garage Survival Gear
$33 X 3 = $100
Total = $32,200
Survival Day 174
Fishing Rod Storage
Garage Survival Gear
$25 X 2 = $50
Total = $32,150
Survival Day 173
DC Air Compressor Tire Inflator
Garage Survival Gear
$33 X 3 = $100
Total = $32,100
Survival Day 172
Mechanics Tool Set
Garage Survival Gear
$100 X 2 = $200
Total = $32,000
Survival Day 171
Heavy Duty Tire Repair Kit
Garage Survival Gear
$33 X 3 = $100
Total = $31,800
Survival Day 170
Grass Sickle
Garage Survival Gear
$16 X 6 = $100
Total = $31,700
Survival Day 169
Outdoor Extension Cord
Garage Survival Gear
$33 X 3 = $100
Total = $31,700
Survival Day 168
Fireman Axe
Garage Survival Gear
$100 X 2 = $200
Total = $31,600
Survival Day 167
Garage Door Screens
Garage Survival Gear
$50 X 2 = $100
Total = $31,400
Survival Day 166
Garage Utility Hooks
Garage Survival Gear
$25 X 4 = $100
Total = $31,300
Survival Day 165
IRIS USA 169 Quart Storage Box
Garage Survival Gear
$250 X 2 = $500
Total = $31,200
Survival Day 164
Power Tools Storage
Garage Survival Gear
$150 X 2 = $300
Total = $30,700
Survival Day 163
Framing Nailer
Garage Survival Gear
$100 X 1 = $100
Total = $30,400
Survival Day 162
Air Compressor
Garage Survival Gear
$275 X 2 = $550
Total = $30,300
Survival Day 161
Telescopic Extension Ladder
Garage Survival Gear
$225 X 2 = $450
Total = $29,750
Survival Day 160
Heavy-Duty Wrap-It Storage Straps
Garage Survival Gear
$16 X 6 = $100
Total = $29,300
Survival Day 149
Summit Viper SD Climbing Tree Stand
Camping Survival Gear
$500 X 2 = $1000
Total = $29,200
Survival Day 148
Cargo Carrier and Game Cart
Camping Survival Gear
$200 X 1 = $200
Total = $28,200
Survival Day 147
Sven-Saw Folding Saw
Camping Survival Gear
$50 X 2 = $100
Total = $28,000
Survival Day 146
Firewood Splitter
Camping Survival Gear
$100 X 2 = $200
Total = $27,900
Survival Day 145
Russian-Bear Hot Tent
Camping Survival Gear
$4000 X 1 = $4000
Total = $27,700
Survival Day 144
Geekey Multi-Tool
Camping Survival Gear
$25 X 4 = $100
Total = $23,700
Survival Day 143
Platypus GravityWorks High-Capacity Water Filter System
Camping Survival Gear
$150 X 1 = $150
Total = $23,600
Survival Day 142
Ball Cap Visor Clip On Lights
Camping Survival Gear
$16 X 3 = $50
Total = $23,450
Survival Day 141
Razor Wire
Camping Survival Gear
$75 X 4 = $300
Total = $23,400
Survival Day 140
Lightweight Camping Rain Fly
Camping Survival Gear
$50 X 2 = $100
Total = $23,100
Survival Day 139
Orion Safety Flares
Camping Survival Gear
$100 X 6 = $600
Total = $23,000
Survival Day 138
Military Grade Chemical Light Sticks
Camping Survival Gear
$25 X 4 = $100
Total = $22,400
Survival Day 137
Oceas Sherpa Waterproof Camping Blanket
Camping Survival Gear
$75 X 4 = $300
Total = $22,300
Survival Day 136
Bar-D Biodegradable Body Wipes
Camping Survival Gear
$16 X 6 = $100
Total = $22,000
Survival Day 135
Double Camping Bunk Bed Cots
Camping Survival Gear
$400 x 2 = $800
Total = $21,900
Survival Day 134
YETI Tundra Haul Portable Wheeled Cooler
Camping Survival Gear
$400
Total = $21,100
Survival Day 133
Waterproof Dry Bags
Camping Survival Gear
$33 X 3 = $100
Total = $20,700
Survival Day 132
CLIQ Camping Chair
Camping Survival Gear
$100 X 2 = $200
Total = $20,600
Survival Day 131
GSI Outdoors, Santoku Knife Set
Camping Survival Gear
$50 X 2 = $100
Total = $20,400
Survival Day 130
TETON Sports Scout 3400 Internal Frame Backpack
Camping Survival Gear
$75 X 4 = $300
Total = $20,300
Survival Day 129
Jackery Solar Generator And Solar Panel Bundle
Camping Survival Gear
$400
Total = $20,000
Survival Day 128
Campfire 14 Cup Coffee Pot
Camping Survival Gear
$50 X 2 = $100
Total = $19,600
Survival Day 127
Fire Starters
Camping Survival Gear
$16 X 3 = $50
Total = $19,500
Survival Day 126
2 Gallon CanCooker
Camping Survival Gear
$100 X 2 = $200
Total = $19,450
Survival Day 125
Chopping Axe
Camping Survival Gear
$50 X 2 = $100
Total = $19,250
Survival Day 124
Portable Toilet Seat
Camping Survival Gear
$50 X 2 = $100
Total = $19,150
Survival Day 123
Outdoor Solar Motion Sensor Lights
Camping Survival Gear
$50 X 2 = $100
Total = $19,050
Survival Day 122
Titanium Long Handle Spork and Spoon
Camping Survival Gear
$16 X 3 = $50
Total = $18,950
Survival Day 121
Gum Creek Vehicle Handgun Mount
Vehicle Survival Gear
$50 X 2 = $100
Total = $18,900
Survival Day 120
200 Watt 12 Volt Solar Panel Kit
Vehicle Survival Gear
$250
Total = $18,800
Survival Day 119
Luggable Loo 5 Gallon Toilet
Vehicle Survival Gear
$33 X 3 = $100
Total = $18,550
Survival Day 118
Flushable Wet Wipes
Vehicle Survival Gear
$16 X 3 = $50
Total = $18,450
Survival Day 117
Blackout Window Film
Vehicle Survival Gear
$33 X 3 = $100
Total = $18,400
Survival Day 116
Wall Mounted Gun Holders
Vehicle Survival Gear
$25 X 4 = $100
Total = $18,300
Survival Day 115
Tire Traction Pads
Vehicle Survival Gear
$100 X 2 = $200
Total = $18,200
Survival Day 114
6 Gallon Water Containers
Vehicle Survival Gear
$25 X 4 = $100
Total = $18,000
Survival Day 113
Monitor Camera System
Vehicle Survival Gear
$350 X 2 = $700
Total = $17,900
Survival Day 112
Weatherproof Magnetic Case
Vehicle Survival Gear
$25 X 2 = $50
Total = $17,200
Survival Day 111
Folding Hand Truck
Vehicle Survival Gear
$75 X 2 = $150
Total = $17,150
Survival Day 110
Trunk Organizer
Vehicle Survival Gear
$25 X 4 = $100
Total = $17,000
Survival Day 109
200W Car Power Inverter
Vehicle Survival Gear
$25 X 4 = $100
Total = $16,900
Survival Day 108
Backseat Organizers
Vehicle Survival Gear
$20 X 5 = $100
Total = $16,800
Survival Day 107
Ratchet Tie Down Straps
Vehicle Survival Gear
$33 X 3 = $100
Total = $16,700
Survival Day 106
NATO Steel Fuel Cans
Vehicle Survival Gear
$100 X 4 = $400
Total = $16,600
Survival Day 105
Snatch Block
Vehicle Survival Gear
$50 X 2 = $100
Total = $16,200
Survival Day 104
Firearm Gun Safer
Vehicle Survival Gear
$75 X 2 = $150
Total = $16,100
Survival Day 103
Spot/Flood Combo High Power Light Bar
Vehicle Survival Gear
$100 X 2 = $200
Total = $15,950
Survival Day 102
Rooftop Cargo Basket
Vehicle Survival Gear
$200
Total = $15,750
Survival Day 101
Door-Mount Spotlights
Vehicle Survival Gear
$150
Total = $15,550
Survival Day 100
Heavy Duty Hitch Mount Cargo Carrier
Vehicle Survival Gear
$250
Total = $15,400
Survival Day 99
Electric Winch
Vehicle Survival Gear
$350
Total = $15,150
Survival Day 98
SOG Folding Shovel
Vehicle Survival Gear
$25 X 4 = $100
Total = $14,800
Survival Day 97
Back Seat Gun Rack
Vehicle Survival Gear
$25 X 4 = $100
Total = $14,700
Survival Day 96
TRACGRABBER Tire Traction Device
Vehicle Survival Gear
$50 X 2 = $100
Total = $14,600
Survival Day 95
Tow Strap
Vehicle Survival Gear
$50 X 2 = $100
Total = $14,500
Survival Day 94
Portable Power Bank Charger Jump Starter
Vehicle Survival Gear
$200 X 2 = $400
Total = $14,400
Survival Day 93
Tire Repair Kit
Vehicle Survival Gear
$20 X 5 = $100
Total = $14,000
Survival Day 92
Hi-Lift Jack
Vehicle Survival Gear
$100 X 2 = $200
Total = $13,900
Survival Day 91
2-in-1 First Aid Kit
Vehicle Survival Gear
$50 X 2 = $100
Total = $13,700
Survival Day 90
Mossy Oak Bottomland Crossbow
Zombie Survival Weapons
$400 X 2 = $800
Total = $13,600
Survival Day 89
Recurve Bow
Zombie Survival Weapons
$100 X 3 = $300
Total = $12,800
Survival Day 88
8-Pound Sledge Hammer
Zombie Survival Weapons
$50 X 3 = $150
Total = $12,500
Survival Day 87
Survival Axe Tactical Hiking Staff
Zombie Survival Weapons
$100 X 2 = $200
Total = $12,350
Survival Day 86
CRKT Williams Defense Key
Zombie Survival Weapons
$10 X 5 = $50
Total = $12,150
Survival Day 85
Heavy-Duty Pipe Wrench
Zombie Survival Weapons
$33 X 3 = $100
Total = $12,100
Survival Day 84
Titanium Aerocrafted Contrail Pocket Pen
Zombie Survival Weapons
$100 X 2 = $100
Total = $12,000
Survival Day 83
Titanium Ice Pick
Zombie Survival Weapons
$50 X 2 = $100
Total = $11,800
Survival Day 82
Leather Coins Purse
Zombie Survival Weapons
$25 X 2 = $50
Total = $11,700
Survival Day 81
Non Lethal Kinetic Projectile Launcher
Zombie Survival Weapons
$500 X 2 = $1000
Total = $11,650
Survival Day 80
Nisaku Stainless Steel Grass Sickle
Zombie Survival Weapons
$25 X 4 = $100
Total = $10,650
Survival Day 79
Hickory Stick Tire Thumper
Zombie Survival Weapons
$25 X 4 = $100
Total = $10,550
Survival Day 78
Damascus Folded Steel Katana
Zombie Survival Weapons
$200 X 2 = $400
Total = $10,450
Survival Day 77
FATMAX FuBar Pry Bar
Zombie Survival Weapons
$80 X 3 = $250
Total = $10,050
Survival Day 76
Framing Hammer
Zombie Survival Weapons
$25 X 4 = $100
Total = $9,800
Survival Day 75
M48 Cyclone Spear
Zombie Survival Weapons
$100 X 2 = $200
Total = $9,700
Survival Day 74
Apocalypse Survival Hammer
Zombie Survival Weapons
$100 X 2 = $200
Total = $9,500
Survival Day 73
Two Handed Tactical Machete
Zombie Survival Weapons
$50 X 4 = $200
Total = $9,300
Survival Day 72
Sai
Zombie Survival Weapons
$24 X 4 = $100
Total = $9,100
Survival Day 71
Garage Fit Steel Mace
Zombie Survival Weapons
$50 X 3 = $150
Total = $9,000
Survival Day 70
Pepper Gel Spray
Zombie Survival Weapons
$16 X 3 = $50
Total = $8,850
Survival Day 69
Stainless Steel Hunting Spear
Zombie Survival Weapons
$75 X 4 = $300
Total = $8,800
Survival Day 68
Folding Shovel Multitool
Zombie Survival Weapons
$50 X 4 = $200
Total = $8,500
Survival Day 67
SOG Throwing Tomahawks
Zombie Survival Weapons
$50 X 3 = $150
Total = $8,300
Survival Day 66
Self Defense Siren
Zombie Survival Weapons
$33 X 3 = $100
Total = $8,150
Survival Day 65
Condor Golok Machete
Zombie Survival Weapons
$100 X 2 = $200
Total = $8,050
Survival Day 64
Cold Steel Defense Baseball Bat Brooklyn Crusher
Zombie Survival Weapons
$25 X 4 = $100
Total = $7,850
Survival Day 63
Smith & Wesson Fixed Blade Knives
Zombie Survival Weapons
$16 X 3 = $50
Total = $7,750
Survival Day 62
Self-defense Stinger Tool
Zombie Survival Weapons
$33 X 3 = $100
Total = $7,700
Survival Day 61
CRKT Freyr Axe
Zombie Survival Weapons
$150 X 2 = $300
Total = $7,600
Survival Day 60
Wall Clock with Hidden Personal Storage Space
Hidden Survival Gear
$16 X 3 = $50
Total = $7,300
Survival Day 59
Secret Stash Planter
Hidden Survival Gear
$33 X 3 = $100
Total = $7,250
Survival Day 58
Money Clip w/ Built-in Fixed Blade Knife
Hidden Survival Gear
$25 X 2 = $50
Total = $7,150
Survival Day 57
Gun Safe with Biometric Lock
Hidden Survival Gear
$150 X 2 = $300
Total = $7,100
Survival Day 56
Rite in the Rain Weatherproof Pen
Hidden Survival Gear
$25 X 2 = $50
Total = $6,800
Survival Day 55
A&W Rootbeer Can Diversion Safe
Hidden Survival Gear
$16 X 3 = $50
Total = $6,750
Survival Day 54
Handmade Shirasaya/Samurai Sword
Hidden Survival Gear
$125 X 2 = $250
Total = $6,700
Survival Day 53
Diversion Safe Water Bottle
Hidden Survival Gear
$25 X 4 = $100
Total = $6,450
Survival Day 52
Stainless Steel Chain
Hidden Survival Gear
$33 X 3 = $100
Total = $6,350
Survival Day 51
Geekey Multi-Tool
Hidden Survival Gear
$25 X 4 = $100
Total = $6,250
Survival Day 50
Hanger Diversion Safes
Hidden Survival Gear
$16 X 3 = $50
Total = $6,150
Survival Day 49
Concealment End Table
Hidden Survival Gear
$100 X 2 = $200
Total = $6,100
Survival Day 48
Survival Gear Travel Belt
Hidden Survival Gear
$25 X 4 = $100
Total = $5,900
Survival Day 47
Hidden Gun Storage Picture Frame Safe
Hidden Survival Gear
$125 X 2 = $250
Total = $5,800
Survival Day 46
AntreeMAG 4-Pack Gun Magnet Mounts
Hidden Survival Gear
$33 X 3 = $100
Total = $5,550
Survival Day 45
Book Safe
Hidden Survival Gear
$16 X 3 = $50
Total = $5,450
Survival Day 44
100-Lumen Pen Light
Hidden Survival Gear
$25 X 4 = $100
Total = $5,400
Survival Day 43
J25 Jacket and Vest with 25 Pockets
Hidden Survival Gear
$225 X 2 = $450
Total = $5,300
Survival Day 42
Weatherproof Notebook
Hidden Survival Gear
$5 X 10 = $50
Total = $4,850
Survival Day 41
Geekey Multi-Tool
Hidden Survival Gear
$25 X 2 = $50
Total = $4,800
Survival Day 40
Hide-a-Spare-Key Fake Rock
Hidden Survival Gear
$10 X 5 = $50
Total = $4,750
Survival Day 39
Hidden Compartment Shelves
Hidden Survival Gear
$100 X 2 = $200
Total = $4,700
Survival Day 38
Ice Pick
Hidden Survival Gear
$10 X 5 = $50
Total = $4,500
Survival Day 37
Safe Self Defense Umbrella
Hidden Survival Gear
$125 X 2 = $250
Total = $4,450
Survival Day 36
Hickory Stick Tire Thumper
Hidden Survival Gear
$20 X 5 = $100
Total = $4,200
Survival Day 35
Animal Handling Gloves
Hidden Survival Gear
$25 X 2 = $50
Total = $4,100
Survival Day 34
Brass Handle Unisex Derby Cane
Basic Supplies
$50 X 2 = $100
Total = $4,050
Survival Day 33
Personal Alarm Keychain
Basic Supplies
$25 X 2 = $50
Total = $3,950
Survival Day 32
Cold Steel Camp Shovel
Basic Supplies
$25 X 2 = $50
Total = $3,900
Survival Day 31
Titanium Camping Long Fork/Spoon
Basic Supplies
$16 X 3 = $50
Total = $3,850
Survival Day 30
UCO 9-Hour White Candles
Basic Supplies
$33 X 3 = $100
Total = $3,800
Survival Day 29
Darn Tough Light Hiker Socks
Basic Supplies
$25 X 4 = $100
Total = $3,700
Survival Day 28
Garmin Montana Touchscreen Hiking GPS
Basic Supplies
$600 X 2 = $1200
Total = $3,600
Survival Day 27
Motorola Solutions T482 Walkie Talkies
Basic Supplies
$65 X 3 = $200
Total = $2,400
Survival Day 26
Tork Multifold Hand Towels
Basic Supplies
$25 X 4 = $100
Total = $2,200
Survival Day 25
Winter Sheepskin Leather Gloves
Basic Supplies
$25 X 2 = $50
Total = $2,100
Survival Day 24
Valtcan Titanium Canteen
Basic Supplies
$75 X 2 = $150
Total = $2,050
Survival Day 23
Campfire Grill Tripod
Basic Supplies
$12 X 3 = $50
Total = $1,900
Survival Day 22
Kershaw Secret Agent
Basic Supplies
$50 X 2 = $100
Total = $1,850
Survival Day 21
Ferro Rod Fire Starter
Basic Supplies
$16 X 3 = $50
Total = $1,750
Survival Day 20
ADDTOP Solar Charger Power Bank
Basic Supplies
$50 X 2 = $100
Total = $1,700
Survival Day 19
Valtcan 900ml Titanium Pot Backpacking Mug
Basic Supplies
$50 X 2 = $100
Total = $1,600
Survival Day 18
Waterproof and Windproof Rain Pants
Basic Supplies
$33 X 3 = $100
Total = $1,500
Survival Day 17
PrimalCamp Hand Crank And Solar Powered Flashlight
Basic Supplies
$25 X 4 = $100
Total = $1,400
Survival Day 16
Heavy Duty Button Master
Basic Supplies
$50 X 2 = $100
Total = $1,300
Survival Day 15
Venture Pal Lightweight Hiking Backpack
Basic Supplies
$25 X 4 = $100
Total = $1,200
Survival Day 14
Turtle's Neck Warmer
Basic Supplies
$16 X 3 = $50
Total = $1,100
Survival Day 13
All-Weather Notebook
Basic Supplies
$10 X 5 = $50
Total = $1,050
Survival Day 12
M2 BASICS 150 Piece First Aid Kit
Basic Supplies
$10 X 5 = $50
Total = $1,000
Survival Day 11
Portable Female Urinal
Basic Supplies
$25 X 2 = $50
Total = $950
Survival Day 10
Kershaw Clash Pocket Knife
Basic Supplies
$50 X 3 = $150
Total = $900
Survival Day 9
LifeStraw Personal Water Filter
Basic Supplies
$16 X 3 = $50
Total = $750
Survival Day 8
JEVSTU Torch Lighter
Basic Supplies
$16 X 3 = $50
Total = $700
Survival Day 7
Mini Sewing Kit
Basic Supplies
$16 X 3 = $50
Total = $650
Survival Day 6
Portable Bidet
Basic Supplies
$16 X 3 = $50
Total = $600
Survival Day 5
Winter Hat with Brim
Basic Supplies
$25 X 2 = $50
Total = $550
Survival Day 4
Natural Wood Walking Stick
Basic Supplies
$50 X 2 = $100
Total = $500
Survival Day 3
Ski Jacket
Basic Supplies
$66 X 3 = $200
Total = $400
Survival Day 2
Rain Poncho Jacket
Basic Supplies
$33 X 3 = $100
Total = $200
Survival Day 1
N95 Mask
Basic Supplies
$33 X 3 = $100