My wife and I went out last night to see the band "Menu" in town.
First, they have a great sound. It was a mix of covers and some original stuff, and it worked well.  Sort of a bluesy fusion of older sounds with a new spin on it. We will definitely go to see them again.
You can see they were setting up when we got there. The bar is small, and a bit rough around the edges, but everyone inside was cool and very personable. And once they started to play, it didn't really matter where they were. I've heard a few "starter" bands and have quite frankly had to drink my ears deaf before.  These guys were good. They play well together, and they work the crowd, getting them into it.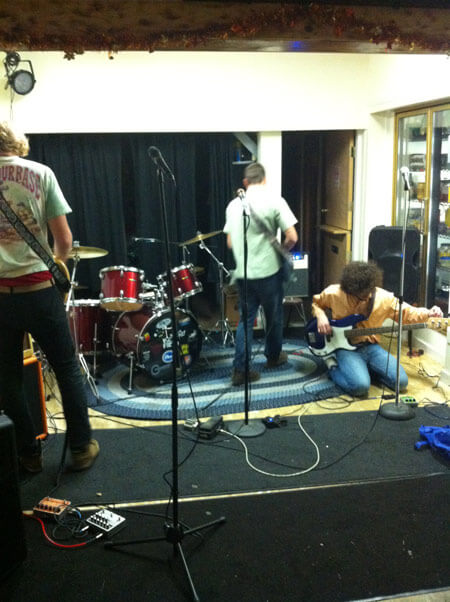 The bass kicked ass. Yes, the fellow with the fro was playing the bass…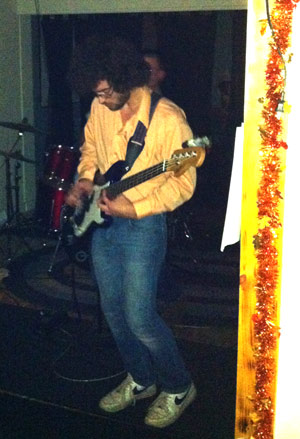 And at some point someone through a pair of panties at him. I think that is always a good sign for a band isn't it?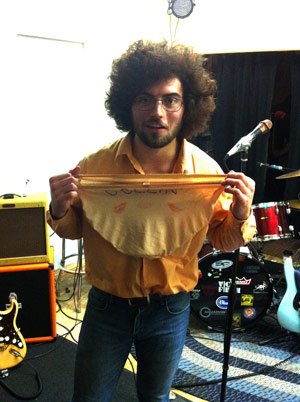 Now for a bit of constructive feedback. The name's gotta go. I walked up to the door of the bar and saw "Menu" on a sign and was looking for what food was served.  Don't name your band after a common object where you are going to be playing unless its really impossible to mistake the two. Sorry guys, get a new name.  It won't hurt the sound, I promise.
The only other constructive feedback would be to balance the vocals a bit. The solos all rocked as each band member did his thing and rocked out, but even when the vocals were "center stage" it was hard to hear them over the music.
Highly recomend, I'm sure we'll be hearing more from these guys in the future.