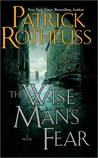 The Wise Man's Fear by Patrick Rothfuss
My rating: 3 of 5 stars
First of all, I love "The Kingkiller Chronicle" series. Patrick Rothfuss is an amazing writer.
Kvothe is a compelling character and Patrick makes him come to life on the page. He is one of those authors whom you can't wait to read the next page, and find yourself going further on the treadmill just to keep reading.
The story of Kvothe's life is enthralling and the main thrust of roughly a thousand pages of writing seems to be whether his ability to perform sympathy is truly lost, or whether it is a side effect of his total immersion in the character of the inn keeper.  Of course there are other story lines woven into the tale, but everything keeps coming back to whether Kvothe is still the man he used to be. Bast seems to think it is role playing, and is desperately trying to draw him out, but I'm not sure. I think he lost his abilities somewhere, which is one of the things driving him to depression.
So why a three out of five for a book I couldn't put down?
The first two books are really the beginning of a story arc. They are both great works but are really just the beginning of a much longer tale with just hints of a middle, and no end. Each book should have some sort of beginning, middle, and end. The way it is structured now, it is an awesome story, but nothing comes to any form of conclusion. And there were a couple of inconsistencies that annoyed me.
**Spoiler Alert**
When Kvothe finds out that Denna is being beaten, his reaction is much too muted. He rationalizes it by saying that he was whipped at the Arcanum, and how is that any different than what Denna's secretive sponser is doing? I just found that to be complete BS. There is a difference between being judged and punished and being beaten. He is desperately in love with this girl, and he finds out she is being beaten and bruised and he lets it slide? No way.
**End Spoiler Alert**
In the end, it is well worth the read, but I am hoping that book 3 provides at least a little bit more of a traditional story arc with at least some parts of the tale having something closer to a middle and an end.
Book 2:
Book 1: