We had a foursome today for sporting clays.
Vaugh, Sean, Logan, and myself.
We tried the hard/expert course again, which is quite humbling. Fun, but humbling. Vaughn and I tied on the hard course with a 13 apiece. And then Vaughn took first and I took second place on the intermediate course, loosing by 1 clay for a tie, and 2 for a win. And Logan beat out Sean for 3rd place.
Sean breaking some clays:

My Sporting Clays History:
| | |
| --- | --- |
| February 2, 2014 | 52/100 |
| January 25, 2014 | 58/100 |
| December 28, 2013 | 38/50 |
| December 27, 2013 | 31/50 |
| December 21, 2013 | 37/50 |
| December 15, 2013 | 34/50 |
| December 1, 2013 | 32/100 |
Today's Scorecards:
Hard/Expert Course…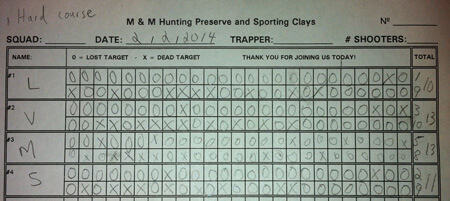 Intermediate Course…