Fear the Walking Dead, Season 3
Summary:
Teotwawki started right on time at 9PM Est with a creepy commercial. We find out that the compound the family ended up in last episode was built with the proceeds from selling "How to survive the end of the world tapes."
The American Experiment has failed. The only way to protect your family is to be prepared. Buy my four part series "Teotwawki" which will tell you how to survive the apocalypse.
When we come back to the here and now the compound is having a funeral for the young lady who was killed by walkers after the helicopter crash. Some of the people are mad that Madison and her kids are there. Others want to know when they are going to find out who shot down the helicopter and what they are going to do about it.
In the infirmary Nick is feeding Luciana. As soon as they let her out of the cuffs she wants to find weapons and run. Nick isn't so sure yet.
At the family meeting Nick wants to leave, to go out and form their own survival group which creates some friction between the family. Madison wants to stay, Nick wants to leave, and Alicia seems to just want to kill Troy. The reason for Madison wanting to stay is clear – she just lost Travis and doesn't want to lose anyone else.
After Troy broke into Madison's bunkhouse she goes and asks Jake and his father, Jeremiah for help. She doesn't want to fight Troy. Jake goes and tells Troy to stay away from the Clark's but Troy doesn't sound like he's being honest.
Alicia goes to the "Bible Study" only to find that the teens like to smoke pot and drink. It was not what Alicia was expecting at all. She also gets to meet Jeff, a zombie head in a bird cage. At first she looks horrified, then she starts to giggle. The teens use Jeff as a foil to ask Alicia questions about her life. Then the conversation turns to Troy and Alicia tells them they shouldn't rely on the Troys of the world – sometimes you need to handle your own shit. Jeff then asks what bad stuff Alicia has done and she admits to having killed someone – and that it was easy.
While Madison is in Jeremiah office she sees how Jeremiah was likely abusive to his alcohol addicted ex. Jeremiah and Madison bond a little of their shared experience with alcoholism.
When dark falls Troy pulls up and asks Nick to go with him to hunt a boar that has been getting into the garden. Jeremiah ends up outside with Madison and he tells her Nick went on the hunt with Troy and she doesn't seem super concerned. Come on, Troy is a psycho. Out in the woods Nick tackles Troy and takes him to the ground. Then there is some weird conversation, a shot into the ground, and Nick and Troy are friends? What the heck?
The next day Jeremiah still hasn't heard from his team he sent out the day before. He asks for volunteers to go check with his son Jake. Madison and a few others raise their hands to go with Jake and check on the others.
Victor
Victor has found an old friend, Dante, who knew Thomas and him in the old days. Dante takes Victor out to what appears to be a dam where they throw someone over before grabbing Victor. Dante asks him if he really thought they were friends before screaming that the other man needs him.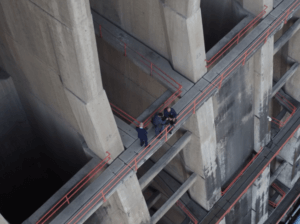 Dante tells his men throw Victor over before halting them. Victor is going to work off whatever debt Dante perceives he owes him. It sounds like Victor is about to pay for his sins.
The last thing we see at the end of the episode is Victor in prison – only to find out that Daniel may still be alive? Is Victor having heat dreams or is Daniel really there? I guess we have to wait until next week to find out.
Things I loved about this episode…
They keep Luciana cuffed to her bed in the med station so if she turns she can't get loose. Finally people being reasonable.
Jeff.
Things that I didn't like about this episode…
Troy is in Madison's room when she goes back to her hut and she is way to relaxed.
Really Nick, you get into a truck to go hunting in the dark with Troy? What the hell is wrong with you?
Main Characters:
Nick Clark – Starts the season off by finding his girlfriend turned into a walker in a church. Has a addition problem.
Alicia Clark – Nick's sister. Has already lost her boyfriend to the virus.
Madison Clark – Mother to Nick and Alicia. She worked at the high school where she met Travis Manawa, her boyfriend.
Travis Manawa – School teacher and Madison's love interest.
Chris Manawa – Travis's son.
Daniel Salazar – The Barber who shelters Team Travis in Episode 2.
Ofelia Salazar  – The Barber's cute daughter.
Strand – The Instigator who Nick met in the detention center in S1, Episode 5.
Thomas – Strand's significant other.
Celia – Thomas & Louis's mother.
Jack the Radio Dude – Alicia's radio boyfriend.
Connor – Jack's boss and the leader of the boat pirates.
Louis – Strand's friend. The one who was going to get Strand into Mexico.
Alex – Female from flight 462 plane shorts.
Luciana – Female who ends up helping Nick in S2, Episode 8.
Alejandro – the leader & Pharmacist who runs the colony.
Elena – manager at the Hotel who the other guests blame for locking them in.
Antonio – Elena's sister who is with the Bandits.
Jeremiah – Troy and Jake's dad. The leader of the camp.
Troy – Crazy brother who was killing people to see how long it took them to turn.
Jake – Good brother who saved Travis, Nick, Alicia, and Nick's girlfriend.
…

…