Without electricity building stuff is going to be hard. Nails work great, but it is easy to run out of building supplies when all the stores are closed forever. When that happens you have to go old school. That means drilling holes and using wood pegs to hold things together, That means you need this Hand Auger Drill!
Pre Disaster
Pre disaster this Hand Auger Drill is an awesome camping and hunting tool. When it comes to making semi disposable lodgings out in the wild this Auger gives me tons of options. Drill some holes, make some pegs from limbs or saplings, and I can build a sturdy shelter to withstand whatever nature throws at me. It is also a great way to build hunting blinds without scaring off everything in earshot. Hammers, nails, and power tools are loud!
Post Disaster
Post disaster I will be using this Auger to do everything from building new living space, lookout towers, and of course defenses.
This Hand Auger Drill is perfect for drilling holes in logs so you can put spears on them and make defensive structures. It may not kill scavengers or the undead – but it will slow them down and give you more time to react. In the middle ages these were called Cheval de frise and were used to stop cavalry charges.
Use a large gauge auger with a hex bit and drill holes all the way through the logs. Sharpen lengths of wooden spears and drive them through the logs. If you cut the saplings correctly the spears will lodge halfway through. Several ranks of these they will hold off a horde long enough for you to escape. Or mow them down, depending on how many you have coming at you and what your ammunition status is.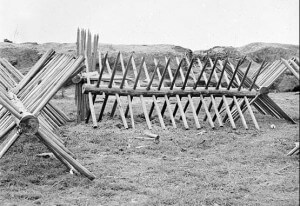 Your ability to survive comes down to how well you prepare now!
Hand Auger Drill Scoring
This Hand Auger Drill can have a Moderate Impact on your survival and scores 277/1000.
Don't let the number fool you. Being on the list of top thousand survival gear items is a big deal. Just being on the list makes this critical gear.
Weighs just 2lbs.
Uses hex bits.
Never needs gas or electric!
Survival Tools

0 to 199 Lower Impact

Lower Impact items may not have a direct impact on physical survival but play a part in psychological or quality of life when it comes to survival.

200 to 499 Moderate Impact

Moderate Impact items can save your life, but may be more situational.

500 to 899 High Impact

High Impact items will not only save your life, but will have a large impact on everyday life. Without these items your odds of survival fall.

900 to 1000 Extreme Impact

Extreme Impact items are life and death. Without them you are dead. That death may be slow or fast, but you will die without them.
See the one thousand items of Survival Gear you need to survive the Apocalypse!