Days Gone Bye kicked off not just The Walking Dead series, but spins off to become two more shows as well as an after episode talk show. Its hard to believe The Walking Dead is over a decade old at this point. I remember waiting to watch it with my older boys, all of us sitting on the couch, and we'd excitedly discuss what was going on during commercials.
Days Gone Bye reminded me why we love this series so much. It is just a masterclass in how to set mood and build characters.
Days Gone Bye starts in the now. Rick has stopped at a gas station surrounded by what was a refugee camp, hoping to find some gas. What he finds instead is the iconic "little girl zombie".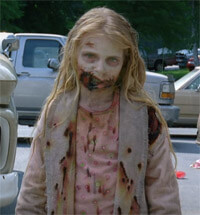 We then cut to the series theme song before we take a step back in time. Rick Grimes and Shane are eating lunch as Shane is complaining about his girlfriend who leaves every light on in his house. Rick is telling Shane about his own problems with his wife Lori when the call comes in. There is a high speed pursuit, and one officer has already been shot and wounded. Rick and Shane put out the spike strip and wait.
After the bag guys hit the spike strip and wreck the bad guys come out with guns in hand. Rick gets tagged in the vest by assailant one as the rest of the force kills him and assailant two. Rick and Shane are celebrating the bullet hitting Rick's vest when a 3rd Assailant climbs out and shoots Rick in the left shoulder.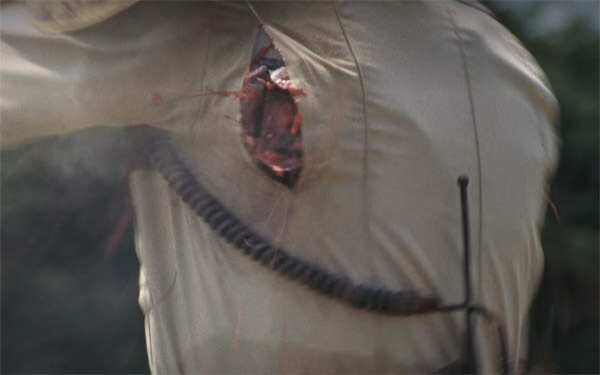 We then see some haze as Shane drops by to talk to Rick who is barely conscious in the hospital.
When Rick wakes up he's a little delirious. He thinks Shane is still in his room, but the flowers in the vase are dried up and dead. Rick tries to get out of bed and ends up on the floor, calling for a nurse who never comes. When he finally makes it to out of his room he finds a hospital bed pushed up against his door and a dim hallway with no nurses or patients in sight.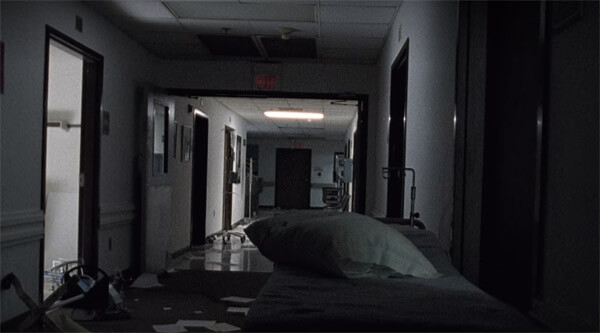 Rick finds his way to a nurses station and finds some matches, but its not long before he sees what type of world he's woken into. Down the hallway there is what's left of a woman lying on the floor.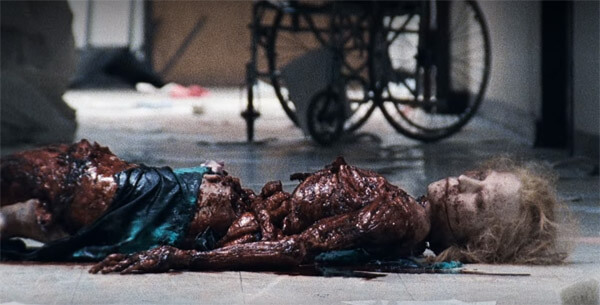 Rick just woke up from some form of barely conscious state. he has no idea what's going on, and its not getting better. He wanders down the hall the other way to find a doorway chained shut with a warning spray painted across the doors. I'm actually surprised this type of error made it into the show. What the hell does "Don't Dead Open Inside" mean anyway?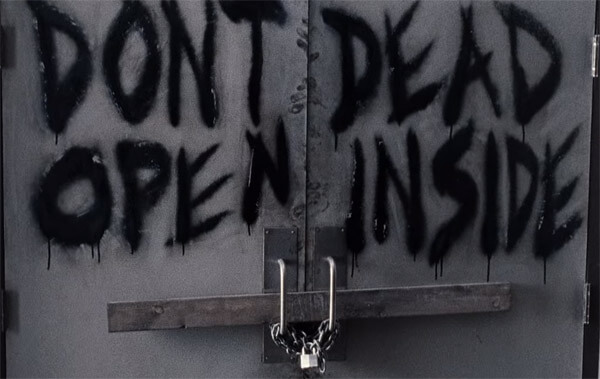 Do fingers count as Rick's first Zombie? He sees fingers coming through the door, but he doesn't really know what's going on yet so I'm going to say no, he still hasn't seen his first Zombie.
Rick freaks out and flees through the fire escape, which is very dark and creepy before finding himself on the hospital loading dock. Bodies are lined up, and most of them have blood marks near their heads, showing they turned and were put down before being lined up outside. We get a good idea of just how bad things were as the camera pulls back, showing the volume of dead that were piling up.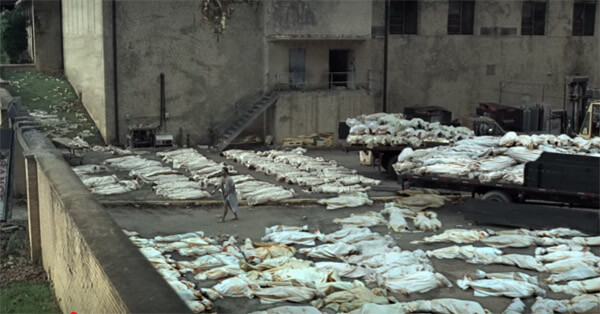 Rick wanders away from the loading dock and finds what looks to be a military deployment on the nearby hill. Whatever happened at the hospital must have been quick. The helicopters appear to have weapons mounted but there are no nearby bodies, which makes me think the crews were taken down away from the helos.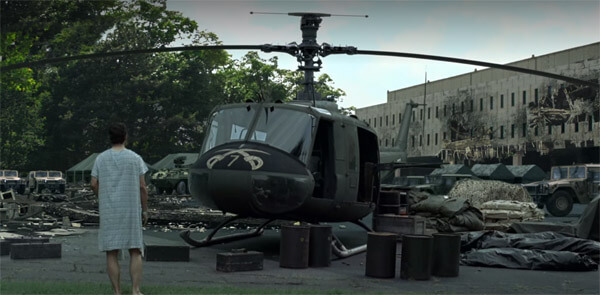 Rick wanders away from the hospital until he finds a bicycle, as well as his first Zombie.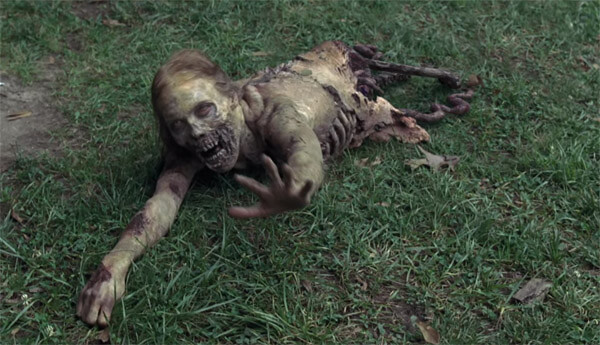 Lucky for Rick the first zombie he encountered was half the woman she was before turning. Rick jumps on the bike and races to his home to find it empty. Lori and Carl aren't there and Rick has a moment of doubt. Is he in his hospital bed hallucinating?
Rick goes out to the front of his house, his vision blurred as he sees a man walking towards him in the distance just before he gets clocked. As Rick is lying there half out of it he sees Morgan put a revolver against the walkers head and pull the trigger.
Morgan points his gun at Rick and demands to know what caused his wound as Rick passes out. When he wakes up Morgan has changed his bandage and tied him to the bed.
Once Morgan is convinced Rick wasn't bitten, he cuts him loose. Rick, Morgan and Morgan's son Duane end up in the living room and Rick is confused. He watched Morgan kill a man, and this is the first time we hear the term "walker". Morgan tells Rick he didn't kill a man, he killed a walker.
Morgan tries to explain the rules of the new world to Rick once he realizes Rick has no clue what's going on, but Rick doesn't look like he's 100% convinced yet.
After a car alarm brings the survivors to the window we see Morgan's turned walker wandering around in front of the house, which set's Duane off. Rick is at the door, looking out the peep hole when Morgan's wife comes to the door, attracted to something about the house.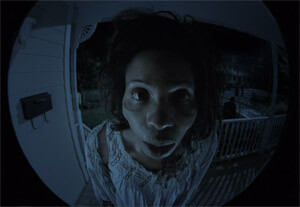 The next day Rick gets to kill his first walker. Morgan has given him a face shield and a baseball bat, but Rick's still weak from being shot, and just barely gets the job done. Afterwards Rick takes Morgan to his house and explains that he thinks Lori and Carl are alive because clothes and pictures are missing.
Duane volunteers that they probably went to Atlanta. Before everything collapsed, people were told to head for Atlanta. There was supposed to be security there as well as the CDC. Rick has found a new destination, but first, he needs some gear.
This brings Rick to the station, where there is still enough propane in the tanks to allow the three survivors to enjoy a hot shower, a rarity in the post apocalypse days. After collecting weapons Rick gives Morgan a rifle and ammo before heading out.
As Rick goes back to find his first walker and put her out of her misery Morgan goes to his window to practice with his new rifle. Rick kills the female walker as Morgan kills a few of the walkers in front of his house, but isn't able to pull the trigger when he finds his turned wife in his scope sights.
Rick is on his way to Atlanta, hailing anyone who can hear him on his CB radio. A group of survivors, including Lori and Shane can hear him, but Rick never get's their transmission. Lori didn't hear Rick's voice, but she wants to warn whoever sent the transmission. The group of survivors know that Atlanta isn't safe.
On his way into the city Rick is running out of fuel, but he finds a farm and a horse, which leads to another iconic shot from the series as Rick rides his steed into the city.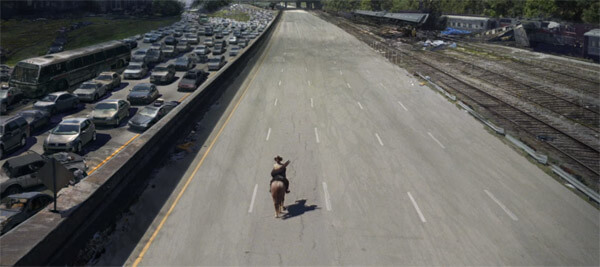 The city looks deserted at first, but its not long before Rick encounters his first walkers. The horse is skittish and does not like the undead. Rick is making his way down the street when he hears a helicopter and sees its reflection in a skyscraper, which leads him to go charging around the corner to try and get a glimpse of the whirly bird. Instead he finds himself face to face with a massive herd of walkers.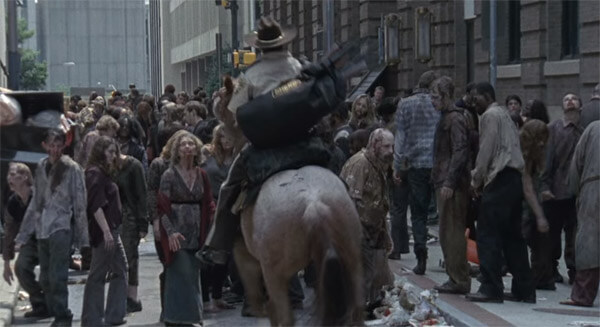 Things go downhill from here for Rick. Rick tries to flee but finds himself surrounded. His horse spooks and throws him as the zombies swarm. Rick uses the momentary distraction of his horse being eaten to climb under a tank only to find the walkers coming in at him from every direction before almost killing himself before realizing there is a hatch just above him.
Rick quickly kills a crew member turned walker before the tank is swarmed. Rick is surrounded on all sides, and in big trouble when someone reaches out on the radio.
Glenn – "Hey, you. Dumbass. Yeah, you in the tank."
They were probably the sweetest words Rick's ever heard.
Days Gone Bye scored a 100/100 and is Worth Your Time. The atmosphere and mood set by this work of art was just perfect. This is what every other zombie show strives to be.