Episode  11, Partners
Summary:
I am still in shock. I think John John bit it at the end of the last episode, but I'm not quite sure yet. OMG, I think he bought it. That sucks. I can't believe they killed him off, just as he was about to get in Carla's pants, and possibly her girlfriends. It's just wrong.  Oh SWEET JESUS he is alive.  Just in the hospital.
Meanwhile Stubeck is trying to figure out who the mole is for Dashel.
Things I loved about this episode…
Billie is talking about almost banging Kirsten on Dashel's desk during John John's funeral. And then Kirsten says the same thing to Carla.
Oh, thank God, John John is not dead.
The old woman and her husband "Stan".  It's just a smell, and dogs bark louder than him.
Captain Dashel reading erotic fiction to John John.
Billie – "I was this close, this close to banging Kirsten in Dashel's office….I don't want to blame John John and those dead cops, no I take that back, I do." He's such a prick, but a funny prick.
Carla and John John sitting in a tree.
I don't think that Rico is dead. But I'm wrong.
Captain Dashel – "Happing sucking." In response to Rico's dad telling him they cut the body of their fallen apart and suck the marrow out of his bones.
Kirsten punches Stubeck.
Nice moves Stubeck. And you c*ck blocked Billie.
Oh shit, vampire nurses!!! The worst kind. Vamp Nurses. (And I see Dashel's neice in there)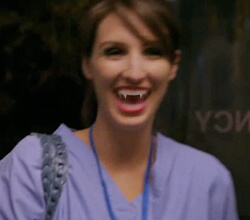 Things that I didn't like about this episode…
Just shoot "Stan" Carla. Don't lose your balls.
You just know Kirsten and Carla leaving "Stan" alone is going to come back and bite them on their asses.
Don't fall for it Kirsten…Billie just wants to pork you.