Episode  8, Undead Hookers
Summary:
The episode starts with Stubeck pulling over what he thinks his a DUI. It turns out it was a vampire attack, not a mobile BJ.  Captain Dashel then get's to rock his monologue. Go Bryan Callan.
The episode started off strong with Captain Dashel leading the charge, but then tailed off a bit. The humor was a 4. Carla's Ass was a 5. I hope they dress her like a hooker again.
Things I loved about this episode…
Carla gets to be a vamp hooker. Yah!!!
Captain Dashel – "Watch her like an ostrich." You have to watch it, I can't do it justice.
Stubek – "He's a nice crackhead."
OMG, Carla is hot. Nice Daisey Dukes. What an ass.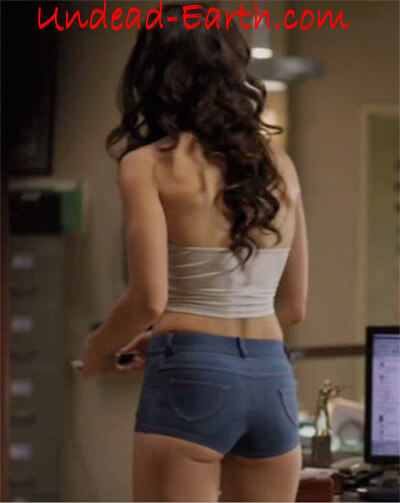 What the hell is Captain Dashel going to do with a hemp rope and hot water?
Ha ha, John John is in love with hot lesbian Carla
John John, what the hell are you doing. Carla could be in the process of getting sucked dry. Nice move John John.
Carla – "How did you know where to shoot." John John – "I didn't."  Nice moves using the sound eqipment to get your shot. And then getting caught looking at her knockers.
Very interesting, why would a vamp put a bomb in a backpack?
Things that I didn't like about this episode…
Wouldn't the men going to see Carla "the Vampire" realize she's warm blooded?