I love my YETI Rambler 14 oz Mug. I've used it on three continents and on multiple hiking, camping, and hunting trip. It is durable, and quite honestly it is an emotional support Mug at this point. If I don't drink my morning coffee out of it, the rest of my day feels off.
I have had my Mug for years. I won't drink coffee from any other Mug at this point. It keeps my coffee nice and hot, and holds enough that I don't have to go back to the coffee pot every five minutes – because I drink a lot of coffee in the morning. I purchased this Mug way back in 2018:

I've put this Mug through some rough treatment. After a few world tours, too many hiking and hunting trips to count, and being used to bash through ice to get to water, it does show some wear and tear – but I think it just gives it more character. And to be clear, while some of the paint has been dinged off the Mug is still as functional as the first day I bought it.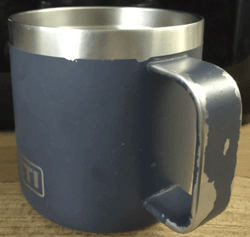 Pick the color, and grab a Mug for everyone in your family. It is perfect for coffee, tea, and hot chocolate for the kids, and because it has a nice lid, it helps minimize spills and messes.
YETI Rambler 14 oz Mug Scoring
This YETI Rambler 14 oz Mug can have a Low Impact on your survival and scores a 191/1000.
Don't let the number fool you. Being on the list of top thousand survival gear items is a big deal. Just being on the list makes this critical gear.
Double-wall vacuum-insulated body.
Protects hands from hot or cold contents.
Comes standard with the YETI MagSlider Lid.
BPA-free and dishwasher safe.
14 oz and 3 3/4 in high and 5 inches wide.
Food/Cooking Survival Gear

0 to 199 Lower Impact

Lower Impact items may not have a direct impact on physical survival but play a part in psychological or quality of life when it comes to survival.

200 to 499 Moderate Impact

Moderate Impact items can save your life, but may be more situational.

500 to 899 High Impact

High Impact items will not only save your life, but will have a large impact on everyday life. Without these items your odds of survival fall.

900 to 1000 Extreme Impact

Extreme Impact items are life and death. Without them you are dead. That death may be slow or fast, but you will die without them.
See the one thousand items of Survival Gear you need to survive the Apocalypse!