I'm finally able to get around and feel good enough to get back out to the range, and this was more than a regular range day, because it was also my first outing with my new (to me) Smith & Wesson M586.
I didn't hesitate. I had the option to get the M686 in stainless or the M586 which is blued, but the blued M586 just calls to me.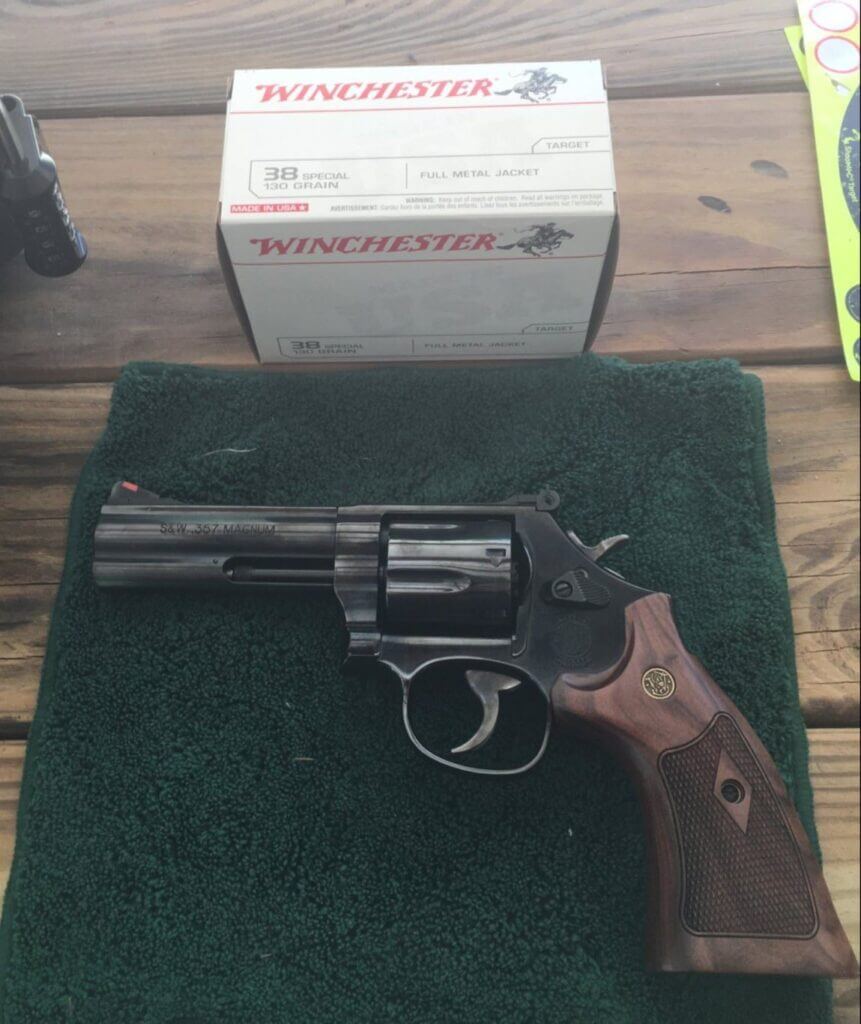 I just love the blued steel and the classic wooden grips.
I fell in love with Smith & Wesson revolvers years ago when my father in law took me to the range with his M686. That was over two decades ago now, and even though he's since passed, i still remember spending time with him at the range.
How does this M586 shoot? This Smith & Wesson is just smooth as butter. It feels like it was made for my hand, and the action is honestly the smoothest I've ever felt.
At 30 feet, I was honestly very happy with my first twelve shots.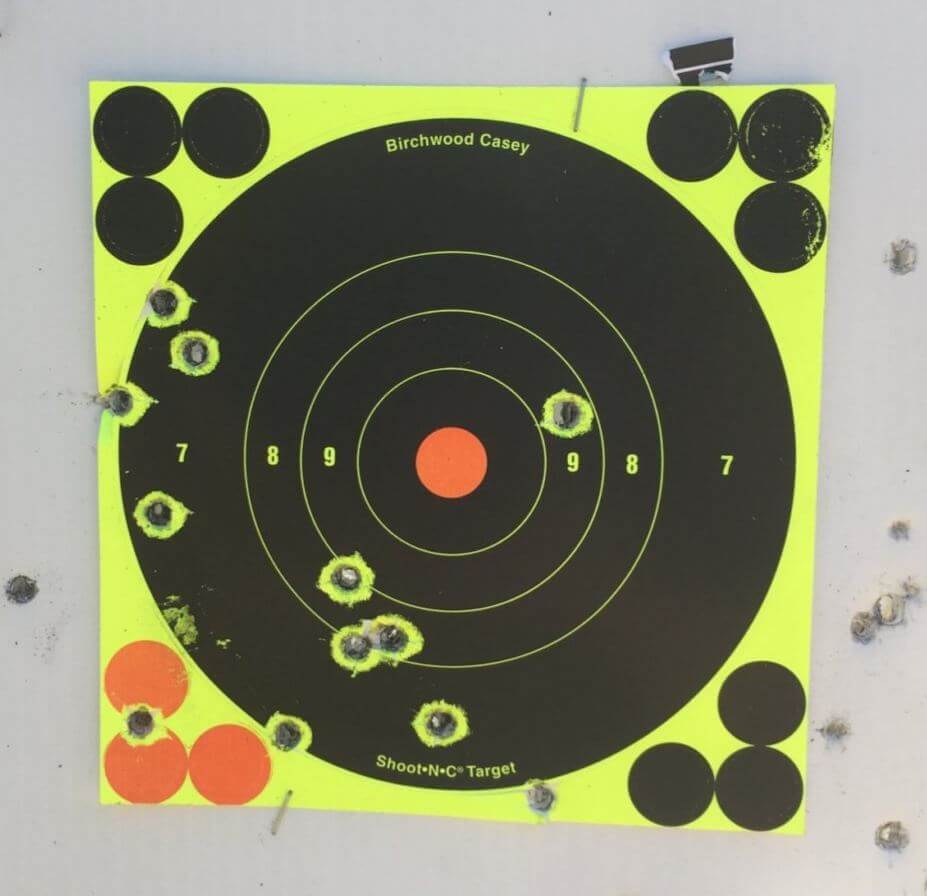 It's a six inch target, so I felt like it was a good beginning. Add in the fact that I'm just now up and on my feet and able to get around reliably, and I was doubly happy. Back issues suck, so being able to get out to the range was super special today.
How does my new Model 586 compare to my Model 64?
(If you like my range flags you can make your own by buying Range Flags and Message Tags.)
There were really two main things I appreciated when switching between these two pistols.
The first was the action. The M586 benefits from 10 years of advancements over the M64. The Model 64 came out in 1970, while the Model 586 was released in 1980. The trigger on the Model 586 is incredibly smooth. It doesn't matter if I was firing in single, or double action, the trigger on this Model 586 was just perfect.
The second was felt recoil. The Model 586 is obviously chambered in .357 Magnum and was designed to handle rounds that would destroy the Model 64's frame. That basically equates to a revolver that is just a little beefier, and when firing .38's, the Model 586 barely feels any kick at all.
Overall, I'm incredibly happy with my new Model 586 and can't wait to get out to the range again.
I only had one box of 100 rounds, of .38 left, so once that was sent down range I shot an equal amount of .22 and .40.
When it comes to the .22, it is basically a nail driver.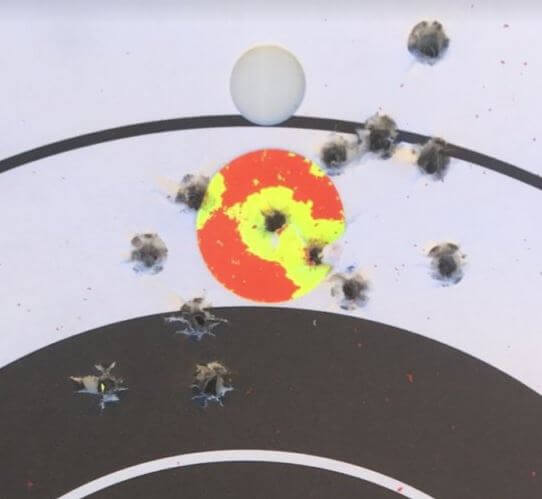 I was in a 30 foot stall for all my shooting today, so I can't really complain about anything. My first Smith & Wesson M&P 22 round were all within an inch and a half. What more can you want?
Smith & Wesson Model 586 Shooting Log
| Date | Rounds Fired | Comment |
| --- | --- | --- |
| 11/21/2020 | 100 | This M586 is a nail driver. If I need to put a shot in s small target I'm grabbing this gun. |
| 10/31/2020 | 200 | My son and I both love this wheel gun. We traded it back and forth all day. |
| 10/24/2020 | 300 | This is just an amazing wheel gun. It is worth every penny I paid for it. |
| 09/06/2020 | 100 | My first outing with my new S&W M586. |
Smith & Wesson Model 64 Shooting Log
| Date | Rounds Fired | Comment |
| --- | --- | --- |
| 09/06/2020 | 100 | I got to compare my new M586 to my M64 for the first time today. |
| 7/12/2020 | 100 | Relaxing day at the range with my youngest son. |
| 7/6/2020 | 100 | Had the range all to myself!!! |
| 6/27/2020 | 100 | Every time we go shooting the wheel gun is always the one we run out of ammo for. |
| 6/13/2020 | 100 | First outing of 2020. |
| 10/07/2016 | 150 | This really is one of my favorites. Pulling back the hammer forces me to pause - which usually helps my aim. |
| 09/04/2015 | 50 | Just a quick outing to start off our weekend. |
| 05/09/2015 | 150 | The .38 is clearly a fun gun to shoot. Everyone was waiting to shoot it and I only brought three boxes of ammo for it - and they went quick. |
| 04/26/2015 | 100 | Everyone loves the semi autos but for some reason they always keep reaching for the wheel gun too. There is just something about pulling back the hammer and firing with a good wheel gun. |
| 04/25/2015 | 100 | My son wanted to shoot the revolver so I took him out to the club. He had a ball. |
| 03/28/2015 | 200 | My brother went through all my 38 ammo! But it was worth it, he was hitting the target much better with the revolver. I don't think he likes the sites on my CZ or Glock. |
| 02/08/2015 | 100 | My first rounds with my new to me S&W Model 64. |
Smith & Wesson M&P 22 Shooting Log
| Date | Rounds Fired | Comment |
| --- | --- | --- |
| 11/21/2020 | 100 | The M&P 22 is just a joy to shoot, which is why it gets fed on a frequent basis. |
| 10/31/2020 | 200 | Our family friend really enjoyed the manageable kick the 22LR has. My son liked how he could group hits in rapid fire mode. |
| 10/24/2020 | 100 | After shooting the 40 Caliber G23, this feels like a toy, but it is fun to shoot. |
| 09/06/2020 | 100 | More bulls eyes with my .22 nail driver. |
| 7/12/2020 | 320 | Relaxing day at the range with my youngest son. |
| 6/27/2020 | 100 | Cheap, fun shooting. |
| 6/14/2020 | 100 | First outing of 2020. |
| 10/07/2016 | 250 | It's been a while since the .22 came out of the safe. What more could you want than cheap and fun shooting. |
| 03/28/2015 | 300 | |
| 02/08/2015 | 300 | |