Fifty Shades of Grey Matter starts with a librarian kicking a young man out of the library. According to the older librarian she's kicking him out because he likes to watch snuff films on the library computers. Good reason to kick him out.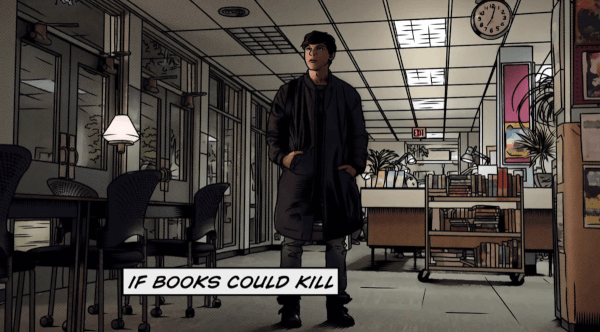 This introduces us to the episodes victim. A mousy blonde librarian isn't feeling so hot. Before she can go home sick though she ends up coughing up some blood and dying suddenly.
Once in the medical examiners office Liv makes herself a snack. I'm not sure what to call it.
One of my favorite parts of the episode is when we hear Kristin Bell's voice. It made me smile. I am assuming that Kristin is a fan of the show. Unfortunately for Liv, she is now on erotic author, librarian brains. Her victim loved to write erotica, and was sadly a victim of a marriage that wasn't able to satisfy her own erotic needs. Let's just say that Liv is on some brains that make her desperate for a specific type of attention.
While Liv is dealing with urges she struggles to contain, Major is dealing with his own troubles. His activities as a Zombie Assassin are threatening to catch up to him.
Fifty Shades of Grey Matter Scoring
Fifty Shades of Grey Matter was one of those great episodes. Liv, played by Rose McIver, is an amazing actress. She plays each "brain" so well. She also does naughty and sultry really well. Which is why this episode is scoring an 85/100, making this episode Worth Your Time.