Murphy's Law finds Team Murphy forced off the road by a traffic jam, which leads them to a defunct golf course crawling with zombies.

Things don't go well for the team once they at the golf course. There are too many zombies rushing them, and not enough bullets left in their guns. The Team gets split up and Murphy gets left out in the mix while Warren and the other "normals" take shelter in a bathroom.
Things are looking good for the team, but lucky for them, another group of survivors rolls in, and they are well armed and clear out the clubhouse, saving the day. At least for a few minutes. The group of newcomers saw Murphy in the midst of the undead, and they realize he's something special, and they want him.
A few drinks and roofies later and the newcomers steal away with murphy. leaving everyone else handcuffed to a zombie.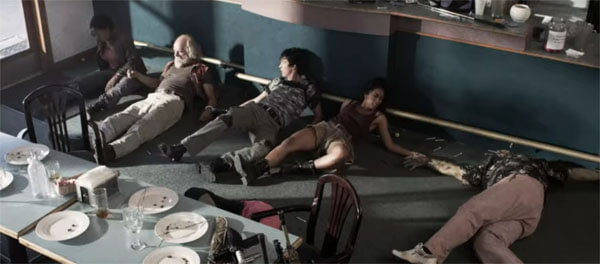 While the newcomers explain their plan to Murphy, the team is escaping from their cuffs. The plan is simple. The newcomers want Murphy to stroll through a pharmaceutical plant and get them oxy, because in the post apocalyptic world, oxy is money.
Citizen Z helps the team track Murphy once they escape their cuffs, while Murphy makes it into the plant.
Things go a little crazy at the end, and a major new Murphy Power is revealed. Thankfully, Team Murphy is united, kicks some butt, and gets ready for the season finale.
Murphy's Law scored an 80/100 and is Worth Your Time. The Best Zombie Kill for this episode is clear, Warren is a zombie killing machine.
Best Zombie Kill – Warren The Tank