The team is in Springfield, Illinois, and things aren't good. Zombie Baby Daddy starts with the team surrounded, and the only thing left to do is to kick some Zombie ass. This fight also confirms a few things we learned from last episode, Zombaby. The Zombies are attracted to Lucy, and Murphy's power over them doesn't work when they are locked on her.
This leads to several awesome Zombie Kills in the first three minutes of the episode.
First we see 10K using gears as sling shot projectiles…
Followed up by Warren with some slick machete work…
Doc also has a brief moment where he's not sure if he's having a bad trip when he comes fact to face with a bus full of Abraham Lincolns. I love Doc and the fun he brings to every episode.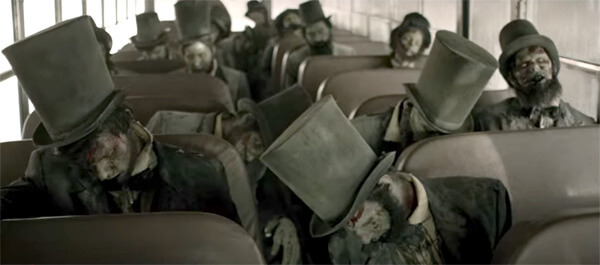 After the team takes care of the immediate Zombie threat they flee into the woods. Team Warren finds itself with two objectives. The first is for Warren to track down Vasquez, who keeps disappearing, while Addy, 10K, and Doc try to assess whether Lucy is going to become a threat, or a savior as she grows.
Addy, Doc, and 10K's attempts to get Murphy to let them hold the baby only spooks Murphy, forcing him deeper into the woods, where Lucy's Zombie attractive powers brings out a few Zombified woodland critters.

The Zombie critters end up chasing Murphy deeper into the woods, which leads him to a small homestead protected by a man and woman. Murphy realizes he can't take care of Lucy with everyone so focused on her, so he does what every Zombie Dad would do and makes two zombie slaves to take care of his baby.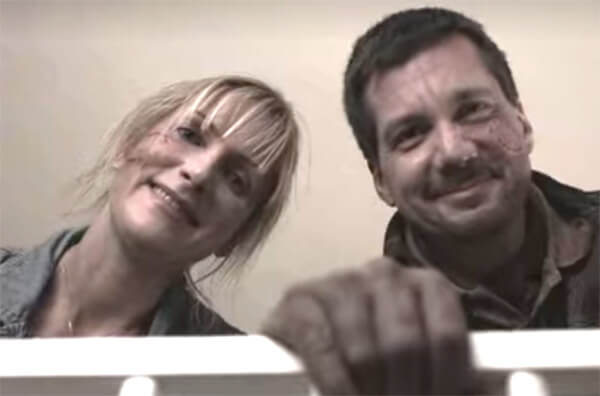 While Murphy is taking care of his child care situation, Warren and Vasquez are forced to fight for their lives, all while Vasquez reveals how was originally a federal agent before he was compromised by the cartels, and both Warren and Vasquez get to do some surgery on the other. They both make it, but everyone else isn't so lucky.
Cassandra is blindly loyal to Murphy, and in the process of trying to protect her maker, she hurts Addy, then pushes 10K too far. He's forced to protect himself, or die, and in the end, it costs Cassandra her life.
Doc tries his best to make 10K feel better, but 10K had feelings for her, which makes her death even harder to deal with. She was 10K's 3255th kill, and Murphy is pissed, but Warren keeps things from devolving into a fist fight.
Team Murphy has to continue on, for humanities sake.
Zombie Baby Daddy scored an 86/100 and is Worth Your Time.