Zombie Road feels like Z Nation's tribute to the Mad Max franchise., and they did a great job. Zombie Road opens with two marauders who have run a vehicle off the road and assassinate the passengers. This leads to one of the best one liners of the episode when Marauder 1 gets mad at Marauder 2 for using his firearm.
Marauder 1: Ever Blaster within 5 miles heard that!!!

Marauder 2: Don't be so negative, worry is poison. That's why you don't crap right.

Z Nation – Zombie Road
It was silly and dumb, but it made me laugh. Then both Marauders got violently eaten by radiation mutated zombies. We just got introduced to Blasters, the new, very fast, and very deadly zombies that the fallout has created.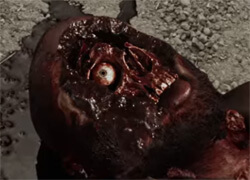 Team Murphy is on the road, trying to get further away from the nuclear fall out when they encounter another group of survivors being ambushed on the road. They watch from afar before Warren and the team tell their new member that they are going to help, because they are still good people.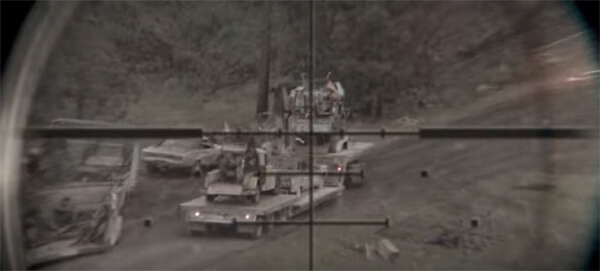 Warren and team help defend the small convoy from the bandits, but its not long before more bandits lead to a series of action packed gun battles.
We also get introduced to Z Weed, which on top of being relaxing and giving you the munchies, seems to make Cassandra remember a little bit of who she was before Murphy bit her.
Life post zombie apocalypse has been made significantly worse by the zombies being exposed to fallout. These "Blasters" are fast, can take a ton of damage and keep going, and worst of fall, they are immune to whatever power Murphy has over the normal undead.
For me, the Best Zombie Kill was when one of the Blasters fell off the semi and got sucked under the tires.
Zombie Road ends with Murphy, Cassandra, and Wrecking Ball have slipped away in one of the convoys cars, and thanks to Wrecking Ball and his tales of Z Weed and a potential strain of Z Weed as a cure, Murphy is all in on making his way to the source of the Z Weed in Minneapolis.

This sets us up for the next episode for Warren and team to chase after Murphy, and for us to find out more about Z Weed.
Zombie Road had lots of action, gore, and violence, and scored a 90/100. What cost it a few points? The first is the same thing that cost last episode some points. People are shooting at other people in the open, who are not far off, and keep missing. The second was the "sick bus". Everyone knows that when you die you turn, so it seems silly to keep a bunch of nearly dead, sick people, where they can get to you. Still, there was a ton of action in Zombie Road, and that is worth every other point this episode got.