Zombaby finds Team Murphy moving through a small town in Wisconsin. The Zombie apocalypse must have hit during their cheese festival, because the town is decked out with everything from a massive cheese wheel, to people in cheesy costumes. This remind Warren about how they turned the Liberty bell in Philadelphia into a weapon back in Season 1, Philly Feast. Thus we get an epic rolling cheese wheel of death:
After escaping the horde in Cheesy Town, Murphy's baby Momma, Serena, continues to suffer with horrible nausea.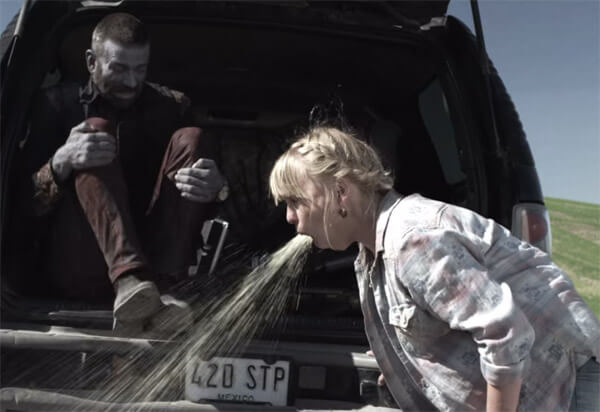 Team Murphy is trying to help with Serena when they are ambushed, which leads to Serena's awesome rage killing spree as she opens up with an M4, screaming that there is a baby on board. Good times.
Serena is about to pop, so Team Murphy heads for a local Mennonite community, hoping to find friendlies and supplies. This introduces us to another great moment in Zombie Television history, the Zombie Sheep!!!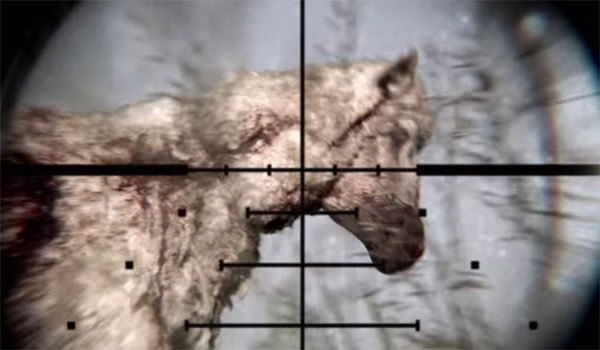 As if Zombie Sheep wasn't bad enough, the local zombies spew white powder when they are killed, which just happens to be Anthrax spores, which takes 10K down for the count. The Mennonites have some cipro, but not enough for everyone .
This leads to the next two acts of Zombaby. Addy leads a small group to a local town to find more antibiotics as Doc and Murphy stay back to help Serena give birth.
Unfortunately for 10K, Addy isn't able to find any antibiotics, and when she makes it back to the farm, 10K looks bad, and Addy collapses. Warren, Doc, and the bounty hunter are all ex military, so they have been vaccinated against Anthrax, but 10K and Addy didn't serve, so they are suffering.
Warren comes to a difficult decision. The Mennonites have enough antibiotics to save 10K and Addy, but only if they take what they need, which will leave the Mennonites to die. The Mennonites don't resist because its against their beliefs, they just let Warren take all the meds.
Back in the barn, Serena gives birth to a very Murphy-esque baby. I died laughing when the zombie wise men showed up.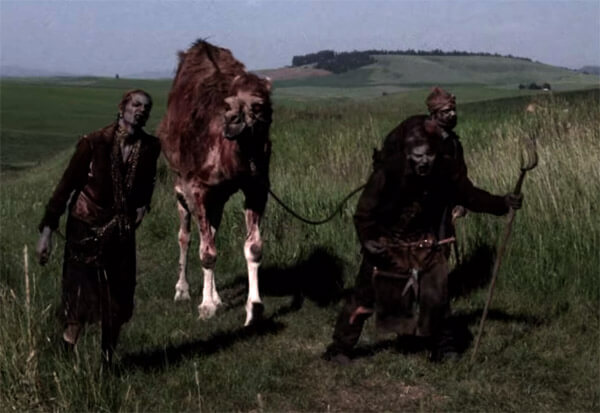 While everyone was focused on the new baby, a horde of zombies showed up to great the baby, leading to Serena making the ultimate sacrifice so Murphy and their baby can escape.
After escaping the farm, we also get to see Addy giving 10K a box of condoms, and giving him the "don't be stupid" talk. FYI, I did look for Billy Brand condoms for fun, but they appear to be made up for the show. It was very touching that Addy cares enough about 10K to give him the talk. We also learn that apparently 10K is a virgin, but Addy assures him there are girls out there for him.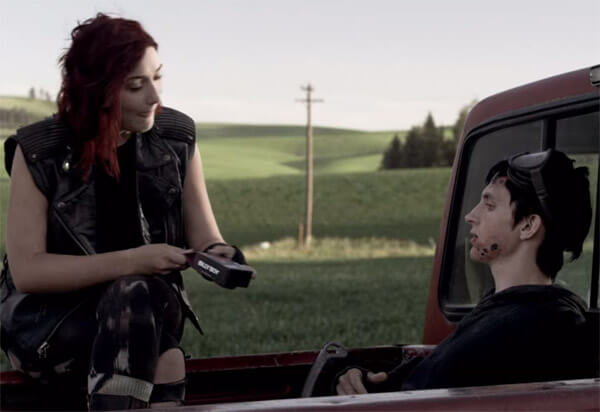 Zombaby ends with Murphy naming his little girl Lucy before cutting to the giant wheel of cheese as it continues to roll, taking out a cow before the credits roll.
Zombaby scored an 85/100 and earned every one of those points.