We Were Nowhere Near the Grand Canyon finds the team cruising along the highway in Nevada when Citizen Z makes contact.
Citizen Z: "Well people. If we weren't already in an apocalypse, this would be a damn obvious sign. What do you call something worse than an apocalypse? Because this is it. Whatever it is. Swarm. Horde. Zunami. There is no end in sight."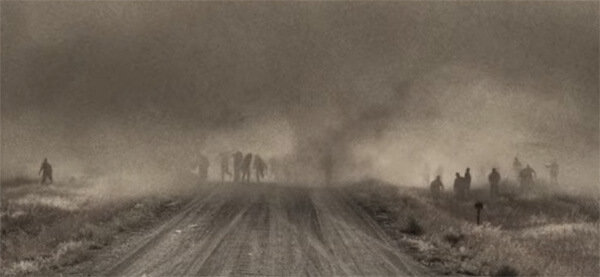 Unfortunately for Team Murphy, their RV breaks down, leaving them searching for help or a replacement. Doc and 10K end up being taken captive by Native Americans while Murphy, Warren, and Vasquez end up at a Native American casino.
While the team works through their issues with Native American hosts, trying to get them to believe a massive horde is coming, Citizen Z is dealing with one of the remaining fast zombies at Camp Northern Light. This leads to what for me was clearly the Best Zombie Kill of the episode.
After asking Warren for help to use a rocket, Citizen Z makes an epic kill with an anti tank weapon. And yes, the battery unit was down his pants so he could warm it up enough to make the shot.
Things are looking pretty grim for Team Murphy and their new Native Americans friends (after a rough start). There is a massive Zunami coming, and it is going to swarm everything in its path.
The episode ends with Warren telling Murphy he's going to have to pick a world to live in, and to remember that the humans are trying to save him, while the zombies are trying to eat him.
Thankfully Doc is a genius and looking at a cave paining of buffalo and it reminds him of how the Native Americans hunted in ages past.
We Were Nowhere Near the Grand Canyon becomes a staple comment in future episodes across multiple seasons and it was a fun episode that scored a 72/100.