Day 1 tells the origin stories of our main characters, and does a kick *ss job of doing it.
The story starts with Citizen Z, in federal custody, about to go on trial for hacking when a man from the NSA comes with one last offer. We drop the charges if you work for us, while passing Citizen Z a very odd note…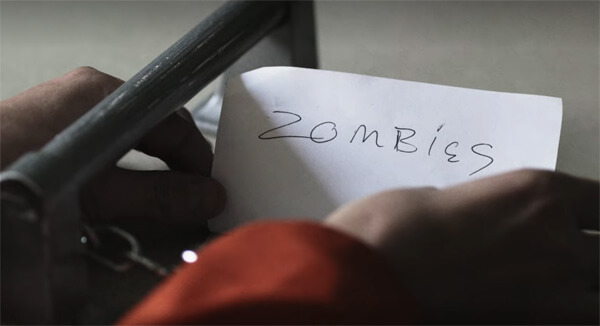 While Citizen is facing a hacker at Camp Northern Light, the Rest of Team Murphy has made it to the California border, and there isn't much there. With all our survivors walking across a barren, destroyed landscape, there is plenty of time for each of them to remember where they were when the biting started.
Warren was in Trenton NJ when she encounters her first Z.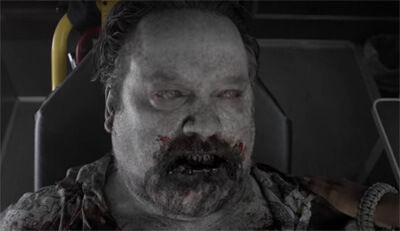 It doesn't take long for Warren to encounter Z's two, three, and so on. Lucky for her she had a .45 on her hip and instinctively went for headshots as her army buddies come stumbling in.
Next we get to see what Doc was going when the Zombie Apocalypse started, and I have to say, his story was one of my favorites. Doc was a drug and alcohol counselor, and I love his story.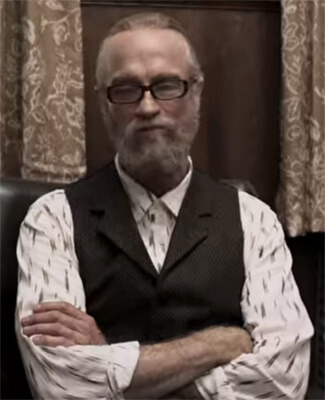 Doc is who I aspire to be. Fun, upbeat, and yet when push comes to shove, just fine with doing the shoving, and then hugging it out afterwards. After Doc helps the therapist next to him, he comes back and encounters his first Z, eating his patient.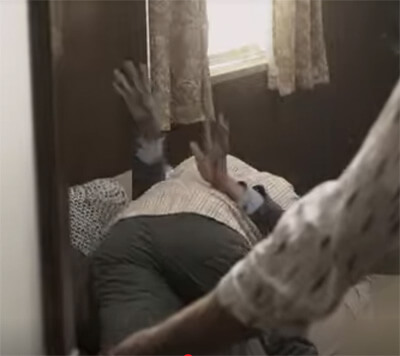 One of the things I love about Doc walking in on Zombie Lunchtime is how quickly he assesses the situation. He says he didn't mean to intrude, but his eyebrows are already furrowed, going through the options before he settles on "It's a damn Zombie."
Sadly for Doc, his five years of sobriety prior to the Z are about to end, because when people starting eating people, a few drugs are in order.
We cut back to Citizen Z next as he figures out what his hacker has been after. Someone hacked Camp Northern Light so they could keep track on the world's most valuable asset…Murphy.
We then cut to Addy watching ice hockey and get a blast from the past as we learn how she and Mack ended up as survival partners. She's watching the game when Mack and another skater get into a fist fight that is rapidly interrupted by an angry hobo zombie. If you look carefully in the shot below you can see just over the skaters right shoulder.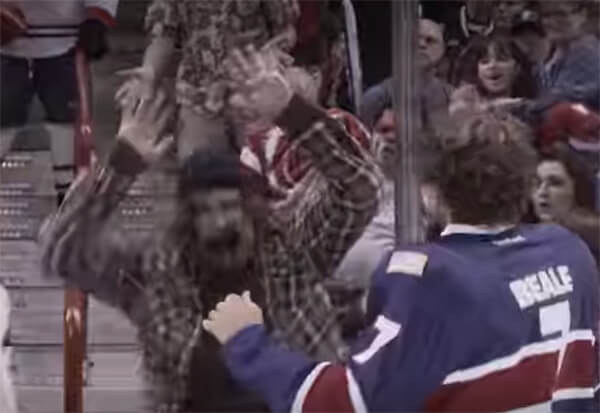 Addy ends up saving Mack before they flee the stadium together. This was a fun segment, but it was tough seeing Mack again. I did enjoy the Addy and Mack segment though.
As 10K is watching the birds overhead its his turn to remember where he was when it started. Of all the backstories, 10K's makes him look the youngest. He's out fishing when he stumbles upon a game warden with a few arrows stuck in her.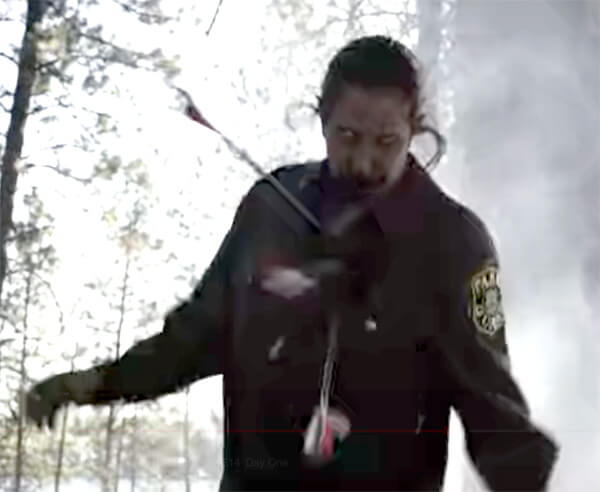 Lucky for 10K his father is there to pick off a few of the horde.
The next flashback is just as heartbreaking as Addy's. Vasquez is at the funeral parlor for his wife and daughter when the outbreak hits.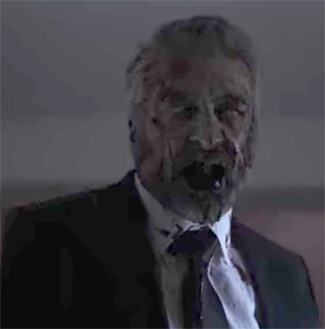 Sadly for Vasquez, after he takes care of the mortuary attendant, he has to face his turned wife as she breaks out of her casket.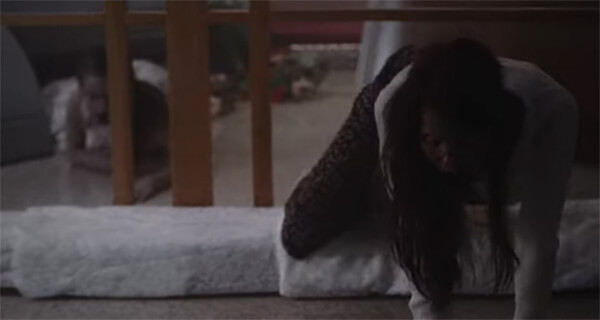 The final flashback belongs to Murphy. He's in prison, playing cards in the yard when the outbreak hits. It feels so wrong to see Murphy without blue skin!!!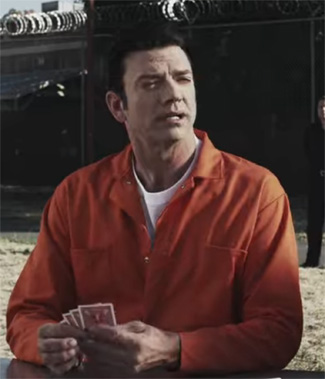 The card game doesn't last long. Two inmates get into a fight and after one stabs the other a few times, Murphy gets introduced to what is about to become his life as the stabbee quickly turns…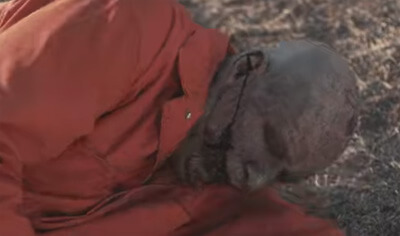 Murphy survives, but as he flees the yard, he is true to his "Murphy First" policy, locking the door behind him.
The writer's have done an amazing job making Murphy a complete d*ck, but yet he's likable. It's one of those things about Z Nation that is just so well done. Murphy is a horrible person in many ways, but he also has moments of good that shine through. I guess that appeals to all of us for obvious reasons.
Murphy's scene ends with him telling Warren he doesn't want to keep going. He's scared and is afraid it will hurt. Warren tells him she's not going to lie, It might hurt, but it's what has to happen.
We then cut to Citizen Z coming to the realization that someone has been using him to track Murphy the whole time, and he shuts down the servers that are left, trying to protect people he's never met, but has a deep connection to.
Day 1  ends with Team Murphy reaching the west coast. They've reached the ocean, and are just a few steps away from the meeting place where the CDC is supposed to pick them up and help make a vaccine from Murphy's blood.
Instead of finding a CDC lab Team Murphy finds themselves at a diner, or a Greasy Spoon as Murphy says. Warren and Vasquez go in to check it out only to find an older woman behind the counter, ready to offer tea while she keeps a MAC-10 just out of sight.
Day 1 was just a masterpiece in flashbacks and scored a 90/100, making it Worth Your Time.