The Murphy kicks off Season 2 of Z Nation.
The nukes are coming down, and the team is about to face some fall out.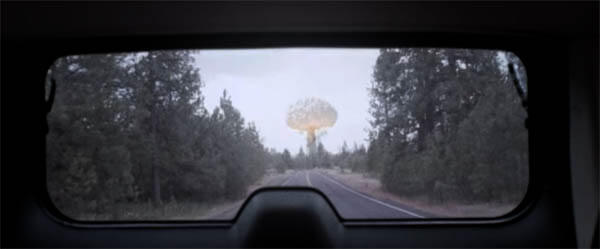 Murphy has run, and Team Warren barely escapes the initial blast, and Cassandra appears to crawl out of the crater of the lab, or at least what was Cassandra.
Citizen Z isn't faring too much better at Camp Northern Light. The nuke aimed at him appears to have hit a plane, bringing down a horde of zombies. Citizen Z survives, but the base is in bad shape. He barricades himself off from the undead long enough to send out an urgent call to whoever can hear him. He knows Murphy is on the loose, and tells anyone listening that there is a huge reward for getting Murphy to the west coast.
Mack and Addy are still at the Sisters of Mercy, but the nukes and one of their exiled children have torched the place, killing almost everyone. Mack and Addy drive away on a four wheeler as the woman that Murphy slept with back in Season 1, Episode 11, creeps out of the tree line, and guess what? Murphy is going to be a daddy!!!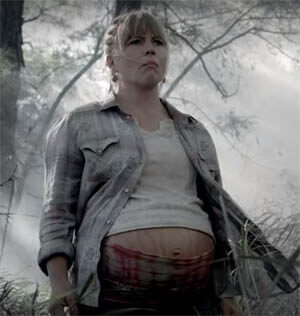 Murphy on the other hand is buck naked after shedding his skin, and decides to go clothes shopping, with a few zombies in tow. It's not long before a scavenger finds Murphy, and tries to take him prisoner so he can collect the bounty.
The plan doesn't go so well after Cassandra shows up. She's not quite herself, but she does seem to recognize Murphy. This kicks off an interesting bit of Murphy's quirks as he uses his "Zombie Whispering" to try and get two of the female zombies to kiss.
Warren, Doc, and 10K are somewhere out on the plains with no vehicle and no supplies, and Doc is hurt. Warren leaves them to go find supplies, help, or both. She doesn't get far before fatigue and depression make her question whether she wants to survive any longer.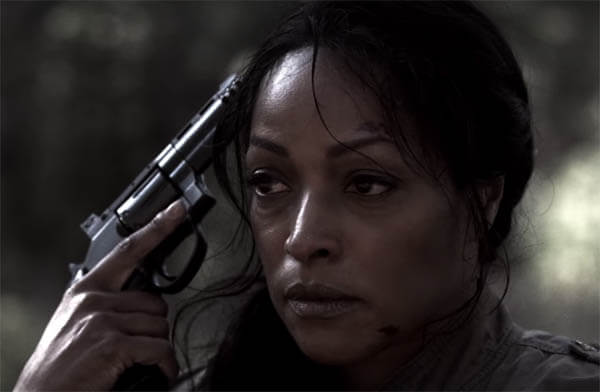 Warren is about to pull the trigger when she hears a girl's scream, and it renews Warren's purpose. All she needed was someone to save, and she goes into b*dass mode.
Warren really was at the end of her rope though. Once the girl is safe Warren passes out, hitting the ground hard.
Lucky for Warren, the kid is kind enough to take her home to safety after she passes out.
While Warren is enjoying the hospitality of the girl's family Mack and Addy are reunited with Doc and 10K.
Lucky for Warren, she meets back up with Doc, 10K, Mack, and Addy and the team is able to make up some ground using Mack's 4 wheeler to pull them along.
Team Warren finds Murphy a little ways down the road in Cheyenne Wyoming. Murphy has taken over the local strip club.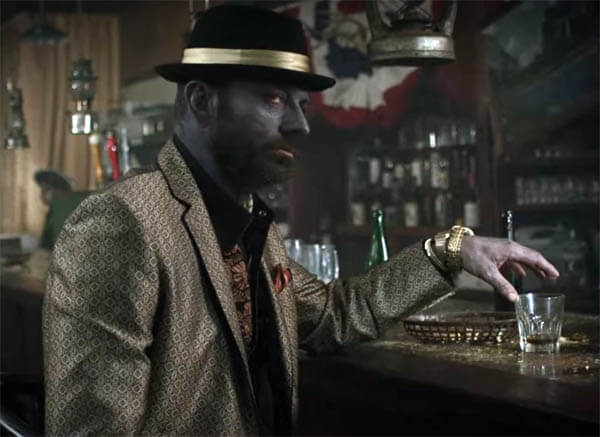 I think Addy has the best one liner of the episode when she looks at Cassandra's gold hot pants, and says, "I'm sorry, what is she wearing? Is that mildly impractical for the apocalypse?" Unfortunately for 10K, Cassandra doesn't seem to really recognize him, and she's clearly keeping herself between Murphy and the humans.
The episode ends with a zombie strip show that ends in a centrifugal force amputation that leaves the team distracted and vulnerable, giving another band of bounty hunters just the opening the newcomers need to get the drop on Team Murphy.
The confrontation ends with Murphy hitting the Zombie Panic button, leaving all the humans to fight for survival as Cassandra and Murphy flee out the back of the bar. This leads to the third awesome zombie kill of the episode with 10K using a fire extinguisher.
The episode ends with Team Warren going to follow Murphy before cutting away to Murphy's Baby Momma. She's standing on the road, looking left and right, before she asks her belly, "Which way is daddy?"
We then see the outline of a little hand move across the inside of her belly, pointing the way.
Wow, the Season 2 opening episode was packed with awesome scenes and storyline. I'm giving The Murphy a 90/100.
Now on to important questions. Let me know in the comments bellow which kill you think was the Best Zombie Kill. We have Warren's machete work, 10K's headshot, or 10K's fire extinguisher kill. For me the fire extinguisher takes it.
Fight me if you disagree.