Wildfire opens at the break of dawn, Rick calling out to Morgan on the radio, warning him that Atlanta is overrun, but that he did find his family.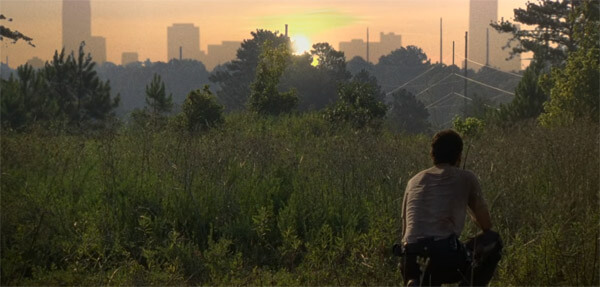 While Rick is trying to catch up with Morgan the rest of the crew is cleaning up the dead from the zombie attack. I really appreciate the fact that Daryl is spiking heads with a pick axe, because you don't want to be picking up a zombie to find out its only mostly dead, know what I mean?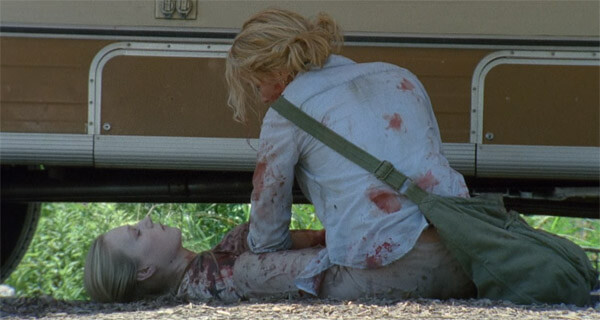 The clean up is mostly done when the survivors turn to focus on Andrea who refuses to leave her sister's side, going so far a to pull a gun on Rick and reminding him she now knows how the safety work. Daryl wants to put a bullet in Amy's head from a distance and walks away in disgust when the others disagree.
As the clean up crew is working Jacqui sees blood on Jim's shirt and panics, yelling out to the others that Jim was bit. T-Dog grabs Jim's arms so Daryl can lift up Jim's shirt as he begs that he's okay.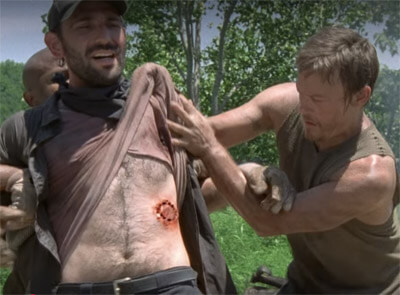 Daryl is proposing direct action. Pick axe blows to heads, and Dale regretfully agrees, but Rick hasn't lived through people turning from bites yet, and thinks there is maybe help to be had at the CDC. Shane would rather go to Fort Benning, believing the military would be their best hope of finding other survivors and safety, but it's a lot further away than the CDC in Atlanta.
After Rick takes Jim someplace safe Dale goes to talk to Andrea, telling her about his wife, and how mad he was when his wife died of cancer. He tells Andrea that her and her sister were the first people that he dared to care about. Andrea pulls out Amy's birthday present, feeling guilty for all the missed birthdays. Glenn leaves her to her mourning as Andrea puts the mermaid necklace around her sister's neck.
We then get to see Carol take out years of abuse on her husbands turned corpse, swinging Daryl's pick axe with enough fervor to make even Daryl raise an eyebrow.
Andrea is still beside Amy when she turns, twitching slowly before her eyes open, slowly turning to stare at her sister. Andrea apologizes as Amy rises, trying to take a bite. The others turn, realizing what's happening, afraid Andrea isn't going to be strong enough to do what is needed.
In the end Andrea does the needful and puts a bullet into her sister's head, but if you watch the shot it looks like she likely would have put a bullet through her other hand in the process, infecting herself with infected blood and brain matter in the process.
As Shane and Rick are burying the dead Shane blames Rick for taking half their manpower to go look for Merle while Rick says without the guns they would have been in even more trouble. While they are arguing Daryl piles in saying they need a leader, that the camp needs to know the rules, which is when Lori chimes in, telling Daryl they need to bury their dead, because its what people do.
Not far off Jim is suffering from a fever, seeing flashes of walkers as the virus eats away at his brain. Rick comes to talk to Jim, but Jim's in a fever dream, not fully aware of where he is. While Rick is talking to Jim, Lori and Shane are talking outside, which almost leads to Rick finding out just how well Shane was taking care of his wife while he was almost dying in the hospital bed. Shane short circuits the conversation after Lori chimes in to support Rick's CDC plan, and the two sheriffs head out into the woods to do their security sweep.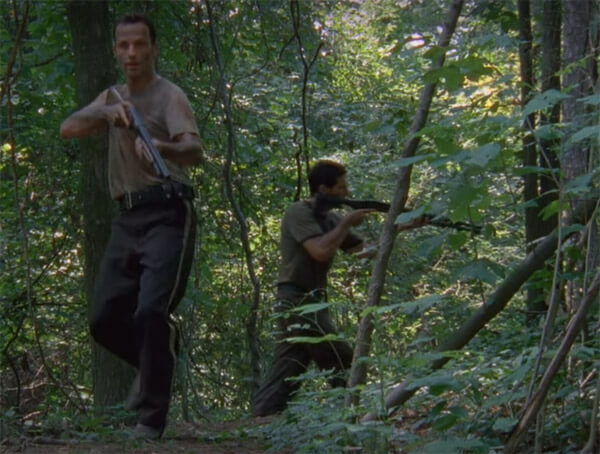 This leads to a very nerve wracking moment where Shane is clearly tempted to kill his old partner.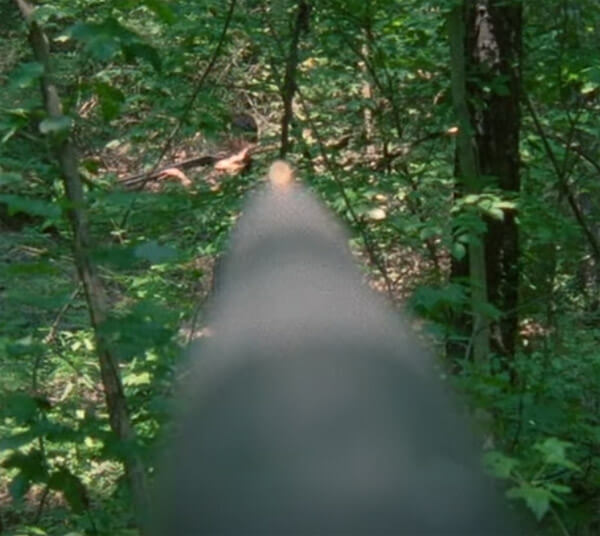 When Shane lowers the weapon, Dale is there, having seen the whole thing.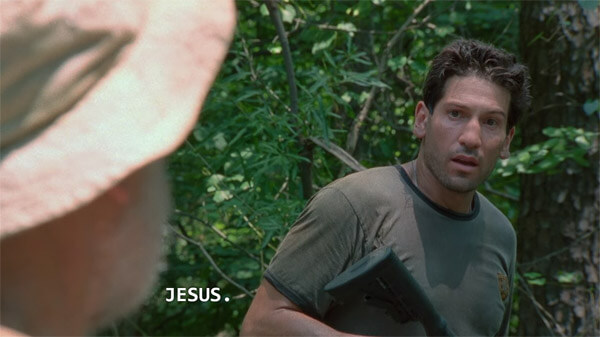 Shane tries to play it off, pretending he thought Rick was a walker, and that they might have to start wearing reflective vests, but Dale's face says it all. He doesn't believe Shane any further than he could throw him.
When they get back to camp everyone groups around the fire, and Shane says that he thinks they should all stay together, and that means agreeing with Rick's plan to head for the CDC. Rick shares the news with Morgan on the following dawn, telling him he left a map behind if he wants to follow.

The caravan has formed up, and everyone except for Morales and his family are going to head for the CDC. Rick and Shane gives Morales a revolver and half a box of shells as a farewell present.
The caravan rolls out, on their way to the CDC as Jim burns with fever in the back of the RV. They don't get far before the RV blows its radiator hose. Shane goes to find parts when Jacqui comes out to get Rick, Jim isn't doing well. Jim has a moment of clarity, and begs Rick to leave him behind. He's in pain and every bump in the road is an agony.
In the end the group agrees to let Jim make the decision and leave him propped up against a tree as they roll away.
We are then introduced to Jenner, the sole survivor at the CDC facility.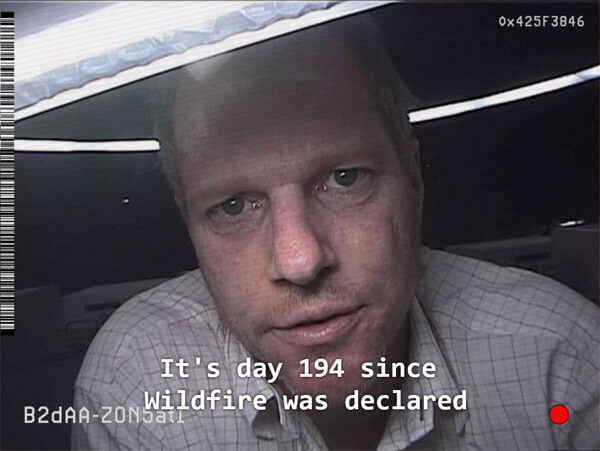 Jenner is recording his updates and we learn that he's concerned about savings Amps, and is having trouble sleeping due to being underground. We then see him working in a biohazard lab in a space suite when there is a small accident that leads to his experiments being burnt in a decontamination cycle.
This leads to Jenner voicing his loneliness and desperation, which ends in him admitting he's considering suicide.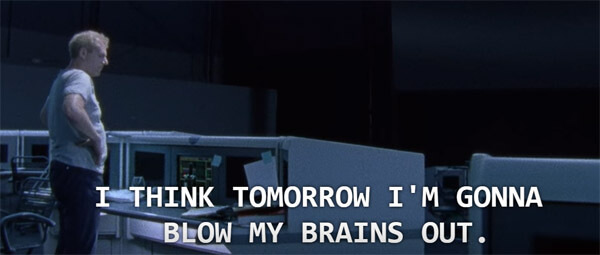 Back on the surface the survivors have made it to the CDC and there is evidence a fierce, last ditch effort to defend the installation went on just outside its walls.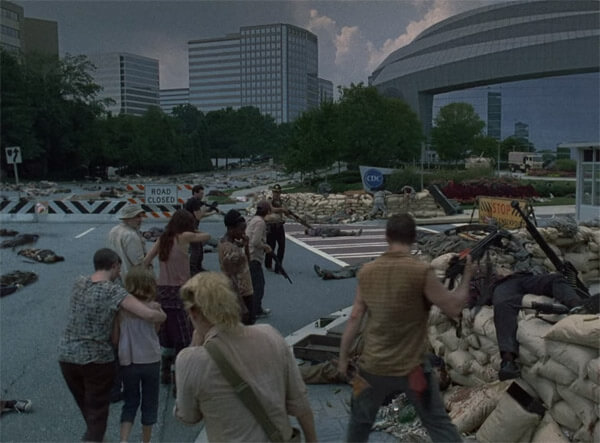 There are bodies everywhere, as well as what's left of defense positions. As the group approaches Jenner is pulled to monitors by motion alarms, but when the team gets to the entrance the doors to the CDC are closed and sealed with protective shutters.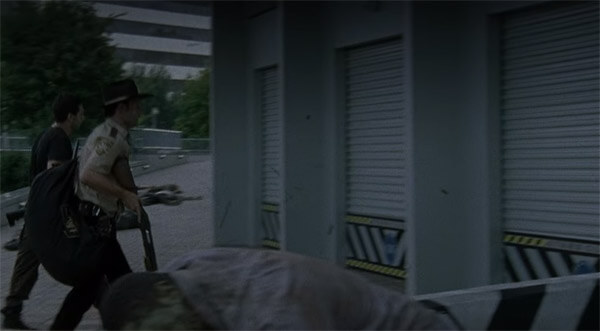 The team is just about to flee in a panic when the camera moves. They can't be in the city when night falls. Rick bangs on the shutters and begs to be let in, they are out of gas and supplies. Jenner watches as Rick begs, and opens the doors just before the team flees the city.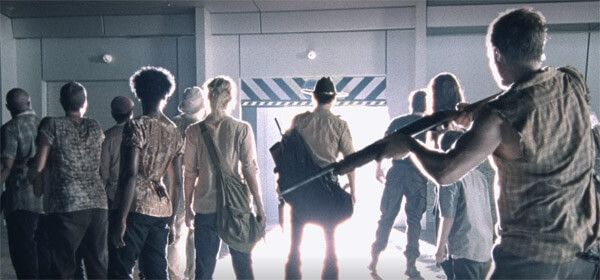 Wildfire ends with the survivors looking into the CDC as the doors open, flooding light out into the coming darkness.
Wildfire is Worth Your Time and scored a 95/100. There is so much depth to every scene and the acting and writing is just top notch. The only thing that would have pushed this amazing episode up to a 100/100 would have been getting to see some flashbacks or security footage of the CDC compound being overrun.