Killer Weekend was originally released as Fubar in 2018. Why the name change? I have no idea, but it does make me worry. It is usually not a good sign. Maybe they had to change it because the initial reviews were horrible? I guess I'm about to find out.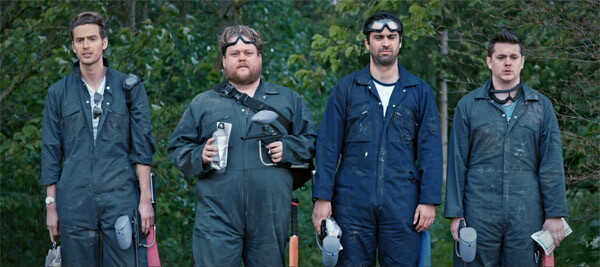 The premise is simple:
When a hopeless stag party goes on a mock zombie survival weekend, an unfortunate turn of events leave them fighting for their lives.

– Killer Weekend
The story starts out with a group of friends who have planned a paintball zombie adventure as a bachelor party. Based on the description, I was expecting it to turn out to be "real Zombies" but this is really just a dark comedy about a bunch of friends who become murderers. Each step down the path takes them further and further from who they are, or at least who they think they are.
Killer Weekend Scoring
This is not a Zombie Movie, so I'm only giving it a 16/100, but if you liked Tucker & Dale vs Evil, you might like Killer Weekend as well. It is nowhere near as good as Tucker & Dale vs Evil, but there is a bit of overlap in the main theme.
As a Non-Zombie movie its actually pretty good. There are a lot of one liners, and a good many of them land. I recommend having a few drinks and watching it – just don't expect a Zombie Movie.
Let me know in the comments if you agree, or disagree, either will work.